RICK HARRISON - STAR OF THE HIT TV SHOW "PAWN STARS®" SHARES HIS STEPS TOWARDS BETTER HEALTH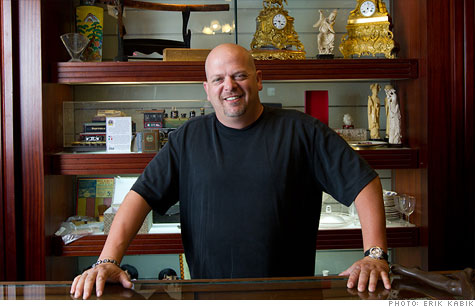 TAKING STEPS TO REDUCE VERY HIGH TRIGLYCERIDES: WHY TAKING THE EXTRA STEP MATTERS
Regular physical activity, including walking, positively impacts health and has often been suggested in addition to conventional drug therapy. Physical activity is even more important for people with high levels of fat in their blood, such as very high triglycerides (VHTGs).
While blood pressure and cholesterol levels are most often closely monitored for risk of heart disease, very high triglycerides are also an important health risk that Americans need to know about.
Rick Harrison, star of the hit television show, "Pawn Stars®," is available to share his story of living with very high triglycerides, including his diagnosis and common misconceptions. He'll also discuss his latest projects.
About Rick:
Rick Harrison has been working to reduce his very high triglycerides since he was diagnosed just over three years ago. In addition to treatment, Rick focuses on a healthy diet and exercise to help him keep his VHTG under control. Rick is a dynamic personality who wants to walk through his journey with your viewers.
MISS KAY ROBERTSON, STAR OF A&E's DUCK DYNASTY RELEASES HER NEWEST COOKBOOK DUCK COMMANDER KITCHEN PRESENTS CELEBRATING FAMILY & FRIENDS
From New York Times bestselling author, star of A&E's Duck Dynasty, and matriarch of the popular Robertson family, comes a savory new collection of recipes that gives you and your family plenty of reasons to sit down together and share a meal, love, and laughter. Duck Commander Kitchen Presents Celebrating Family & Friends highlights Miss Kay's favorite recipes to celebrate New Year's Eve, Mother's Day, Fourth of July, Christmas dinner, and everything in between.
Miss Kay is a master of the back-country, home-cooked meal. She has been cooking ever since she was a little girl and has perfected her skills through years of practice on the Robertson clan. Following the success of the New York Times bestselling Miss Kay's Duck Commander Kitchen (2013), she has gone back to her cupboard and pulled out more of her down-home, mouthwatering recipes, this time grouping them around reasons to get together—holidays, family gatherings, etc.
In addition to more than one hundred recipes, Miss Kay opens her heart to share hard-won wisdom and special memories, along with beautiful full-color photos and family pictures. And true to the Robertson faith, you'll find scriptures sprinkled throughout Miss Kay's newest collection of recipes.
Take a peek into the off-camera life of America's favorite duck-loving family, the foods they love, and the wisdom and legacy that make a family strong.
Duck Commander Kitchen Presents Celebrating Family & Friends now available.