MOVIE & ENTERTAINMENT EXPERT BEN LYONS - THE BEST OF MOVIES AND TV SHOWS | SPRING BLU RAY AND DIGITAL HD HIGHLIGHTS
Highlighting Latest Movie and Television Releases on Blu-ray/Digital HD and the devices that play them!
Ben Lyons is a Television, Radio, and Online host and producer who covers pop culture like nobody else. Each month with his DEN (Digital Entertainment News) segment, Ben highlights the latest Blu-ray and Digital HD releases and the best ways to watch them.
Ben's next DEN segment is Tuesday, March 31st and he will highlight some great Spring movies and some of the hottest full TV show seasons available on Blu-ray /Digital HD. Ben will have something for everyone, whether you are looking to catch up on the hot TV series you missed or are looking for the perfect Easter basket gift.
Ben is a special correspondent on EXTRA and regular contributor for ESPN LA radio. He is also the host of The Sidebar on Yahoo, an in-depth interview series featuring the biggest names in Movies, TV, Music, and Fashion. Ben is the lead host on Yahoo's LIVE movie premiere and awards show coverage. He reviews movies on Mario Lopez's national radio show and has recently, been on The View, Wendy Williams, ESPN's SportsNation, On Air with Ryan Seacrest, Good Morning America, and The Artie Lange Show. Previously he appeared on the E! Network and E! News as their lead film correspondent and movie critic. Born and raised in New York City, Ben is the grandson of legendary New York Post columnist Leonard Lyons, and is the son of film and theater critic Jeffrey Lyons. The Lyons family has been covering pop culture in American media for more than 80 years.
Interview Sponsored by The Digital Entertainment Group and Consumer Electronics Association
CAROL KOZLOWSKI-EVERY - KOZLOWSKI FARMS - EASTER PROMOTIONS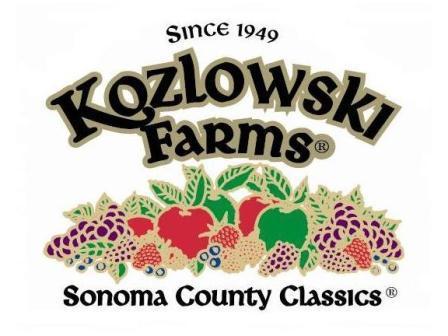 Kozlowski Farms—Preserving Sonoma's wine country kitchen tradition.
At Kozlowski Farms, when we say—"it's just like my grandmother used to make"— we mean it. All our products began with founder Carmen Kozlowski's legendary recipes, including old fashioned jams, no sugar apple butter, no sugar fruit spreads and homemade pies - including Carmen's fabulous Gravenstein Apple Pie. We believe that the best foods from Salad Dressings to Chipotle Grilling Sauces begin with the very best ingredients. As one of Sonoma County's oldest family-owned farms, we're big on tradition—the kind where everyone stops what they're doing and comes to the table. Let's eat! That means you too—visitors are always welcome at Kozlowski Farms.
Look for our always changing KozClub! Specials. We feature selected products at special promotional prices.
**NEW 12 PACKS – BUY YOUR FAVORITE KOZLOWSKI FARMS PRODUCTS IN 12-PACKS AND SAVE!**
KOZ CLUB $1.99 SHIPPING SPECIALS ON 'SPREAD IT AROUND' GIFT BOX & 'JAM IT UP' GIFT BOX
WWW.KOZLOWSKIFARMS.COM