SPRUCE UP FOR SUMMER WITH LIFESTYLE AND DESIGN EXPERT KELLY EDWARDS - SUMMER-SEASON HOUSEHOLD TIPS
Summer is around the corner, and as the sun starts to shine brightly through the windows, your viewers are likely realizing that it's time to spruce up the home! Lifestyle and design expert Kelly Edwards is on hand and available to give her latest tips and tricks to get the home in order.
ABOUT KELLY:
Kelly Edwards is the co-host and design coordinator for HGTV's "Design on a Dime" as well as STYLE Network's "Tacky House". In addition to being seen weekly on television, Kelly can also be seen as the segment host and home decorating expert for Shelter Pop where she offers online visitors her trade secrets and unique approach to design. The celebrity designer has been offering dwellers with decorating dilemmas, distinctive design tips, bargain-decorating projects, and total home makeover transformations inspired by personal style and popular trends. Kelly is well known for her knack in re-purposing everyday items into extraordinary collectibles, refurbishing unique home accessories, and crafting recipes for creative cleaning solutions.
Most recently Kelly has been seen on the Marie Osmond Show, Rachael Ray show, in the pages of national magazines such as Cosmopolitan, Good Housekeeping, Life & Style and Midwest Living, and deemed over the airwaves as the "MacGyver of Design", thanks to her amazing ability to turn a simple space into an innovative interior with only a $1,000 budget. Not just another designing diva, this former teen beauty queen is also a do-it-yourself darling with passion for all things self-created from fabrics to fashions to foods.
PAM STARR – OWNER/WINEMAKER, CROCKER & STARR WINES & E-AUCTION CHAIR, AUCTION NAPA VALLEY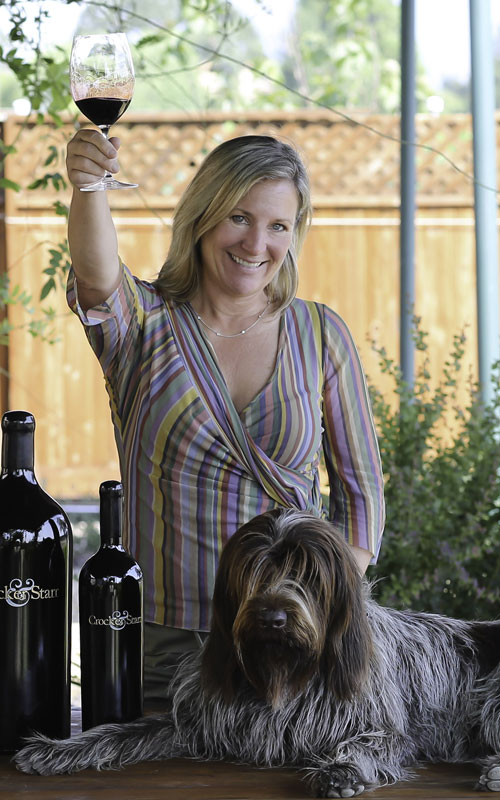 AUCTION NAPA VALLEY - THE AMERICAN WINE CLASSIC JUNE 4-7, 2015
Insider's access to the cool cellars and warm hospitality of renowned Napa Valley vintners. Your choice of dozens of parties, ranging from blue-jeans casual to wear-your-finest formal, each hosted by the people behind some of the world's most recognized wines. More than 300 auction lots, yours for the bidding - from a single case of wine to trips offering experiences not available anywhere else. Return home with memories to last a lifetime and perhaps bragging rights to some amazing wines. Proceeds from this weekend support community health and children's education. To date, Auction Napa Valley has invested more than $145 million in Napa County nonprofit organizations.
AUCTION NAPA VALLEY'S E-AUCTION OPEN TO ALL BEGINNING SUNDAY, MAY 31
Bidding on nearly 200 Napa Valley wine lots to benefit community health and children's education
The Napa Valley Vintners (NVV) invites wine lovers from around the globe to participate in Auction Napa Valley's E-Auction, this year showcasing nearly 200 lots of extraordinary, often hard-to-find Napa Valley wines and memorable wine country experiences. The Auction Napa Valley E-Auction opens for bidding on Sunday, May 31 at noon PDT at auctionnapavalley.org. Spirited bidding will last nearly a week, with the E-Auction closing in waves starting at 8 p.m. on Saturday, June 6, 2015. E-Auction lots are currently available for preview at auctionnapavalley.org. Although Auction Napa Valley, the NVV's annual fundraiser benefitting community health and children's education, is sold out, the E-Auction is open online to bidders from anywhere in the world.
In addition to a treasure trove of Napa Valley's coveted wines—from highly allocated, iconic Cabernets to wines crafted by a vanguard of talented young winemakers and wines on the verge of being discovered—dozens of this year's lots also feature intimate tastings, meals and accommodations at winery homes.
Potential bidders can:
Collect wines that are rarely available in the marketplace
Explore Napa Valley's diverse styles and varieties
Host unique family gatherings
Purchase one-of-a-kind gifts to mark a special occasion
Acquire an insider's itinerary for a Napa Valley visit
E-Auction lots can be explored in the following categories:
Instant Cellars (24 or more bottles of wine)
Verticals (some quite rare and many older vintages)
Insider Experiences (meals and special tastings with vintners and winemakers in private Napa Valley locations)
Sleepovers (overnight accommodations in Napa Valley and beyond)
Big Bottles (large format bottles, many of which are not otherwise available)
Collaboration (where multiple wineries are involved, often with a common theme)
For those who simply want to support the causes funded by the NVV through Auction Napa Valley proceeds, contributions in any amount can be made to lot 301, Fund-A-Need. Proceeds from this lot go directly toward lifting children in the Napa Valley community out of poverty and helping them to lead healthy and successful lives. Visit auctionnapavalley.org beginning Sunday, May 31 at noon PDT to view the lots and bid.
ABOUT PAM AND CROCKER & STAR:
Pam Starr has been the co-owner, manager and winemaker of Crocker & Starr since its inception in 1997 when she helped resurrect the vineyards on the Crocker Estate in St. Helena and established a winery to create world-class wines. After toiling as a winery employee for 18 years, Pam's transformation at a relatively young age into owner, manager and winemaker was unique and remarkable. It required a special mix of skill, passion and dedication. All of which describe Pam Starr.
Pam's love affair with winemaking began as a harvest intern for Sonoma Cutrer in Sonoma after graduating from the University of California at Davis in 1984 with a degree in Fermentation Science. Headed down a different path, the daughter of an orthopedic surgeon who was planning to go to dental school quickly switched gears. Attracted by the fast pace, the pleasures of working the land and the wine itself, Pam knew she'd found her calling. "I was simply smitten – the way one is when falling madly in love. Winemaking is mysterious, it's sexy, it's magical." And it's been her life since.
After the internship, Pam worked for Edna Valley Vineyard in San Luis Obispo stacking barrels for a season. Her dream of becoming a winemaker began to take shape. For the next six years she was an enologist and assistant winemaker for Carmenet Winery in Sonoma, a job that taught her how to run a winery from cellar to bottle. In 1991, she became the winemaker for Spottswoode Vineyard & Winery in Napa Valley where she worked until she and Charlie Crocker established Crocker & Starr and she built the foundation of the business. At the same time Crocker & Starr opened its doors, Pam began wine consulting for Adastra Vineyard in the Carneros, Gemstone Vineyard in Yountville and Garric Cellars of Calistoga, among others.
Passionate about translating terroir into wine, Pam is known for her distinctive Bordeauxstyle blends that express a deep sense of place. For this enthusiastic and inspired winemaker who views her job as translating soil into wine, great wine must taste of the sun, of the earth it comes from and of the place it grows.
Pam is a member of the Napa Valley Vintners, Appellation St. Helena, American Society of Enology and Viticulture, Concierge Alliance Napa Valley and Wine Entre Femme, an international consortium of women winemakers. She is married, lives in Napa and embraces mountain biking, scuba diving, water skiing, sailing, gardening and motorcycling wine roads with her husband. Pam's dog Griffin, a Wirehaired Pointing Griffon, is her loyal vineyard companion.
WWW.CROCKERSTARR.COM
AUCTIONNAPAVALLEY.ORG
STEVE EVANS - THE MOVIE GUY
GREAT MOVIES OPENING THIS WEEKEND AND BOX OFFICE PREDICTIONS AND HOPES. FIND OUT WHAT MOVIES ARE WORTH YOUR HARD EARNED MONEY. GET SET FOR THE WEEKEND.
REDDI-WIP AND BERRY BREAKFASTS
Jump start every morning with a little joy with berries and a whoosh of real cream. Heading into berry season, stop by your local farmer's market and grab your favorite berries for breakfast.
Reddi-wip is the perfect addition to any breakfast including yogurt, waffles, crepes and pancakes.
For an added 15 calories per serving, make your berry breakfasts even sweeter with the real cream of Reddi-wip.
Top a morning parfait with different berries and Reddi-wip for a light summer recipe.
Mix your favorite berries with your favorite yogurt topped with Reddi-wip for a quick and light breakfast you can enjoy all summer long.
Hosting a brunch? Reddi-wip, at 15 calories per serving, adds a light and fun touch to your table.
How could you not start your morning off with a joyful and fun whoosh of real cream?
WWW.REDDIWIP.COM