DR. YAEL VARNADO - WINTER HEALTH WOES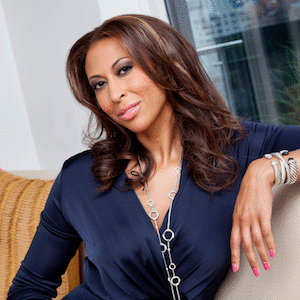 Christmas cough? Hanukkah headache? Thanksgiving tummy ache? The holiday time conjures up memories for us all… BUT also some less favorable recollections like that holiday dinner we missed because of strep throat or the office party that our flu chills crashed.
A good defense is the best offense. Instead of just fighting an illness when you get it, Physician and Health Expert Dr. Yael Vernado is here with prevention tips from the pros to help us keep ourselves and our loved ones healthy this time of year.
Dr. Yael Varnado, known as "Dr. V" is a practicing physician at The Johns Hopkins Hospital with over a decade of experience. Dr V is a regular medical guest on CNN, The Dr. Oz Show, Fox, Today, NBC, CBS, Women's Health, Shape and many more. Dr V's professional medical highlights include conducting and publishing breast cancer research and founding a non-profit organization focused on providing healthcare to undeserved populations, among many other accomplishments. In addition to working as a physician, Dr V is a wife, a mother, and a friend to women and men with questions and concerns about their well being.
Among the topics Dr. V will discuss, are:
• How you can prevent illness
• Health myths debunked
• The best cold & flu remedies
• And more …
GEOFF NATHANSON - LAST MINUTE GIFT IDEAS
LAST MINUTE GIFT IDEAS
Are you a holiday shopper that hates to deal with crowded malls and retail stores so you end up waiting until the last minute to buy gifts for a friend, family member or that special someone in your life? Or maybe you just realized that you forgot to but a gift for someone on your list? Not to worry! Geoff Nathanson is here today to guide us through the last few days of holiday shopping.
HIP HOP STAR & FORMER MIDDLE SCHOOL TEACHER DEE-1 - EDUCATES STUDENTS ON THE IMPORTANCE OF GOING TO COLLEGE
SIXTH ANNUAL STUDY SHOWS HOW PAYING FOR COLLEGE HAS CHANGED SINCE THE RECESSION
NEW Study from Sallie Mae & Ipsos Shows How Families Are Paying for College in the New Economy
When educator turned hip-hop artist Dee-1 finished paying off his student loans, he celebrated by writing the hit song, "Sallie Mae Back." Now, the lyrical master of financial literacy is teaming up with Sallie Mae to help students get on the right track to paying back their student loans. And with recent graduates making their first student loan payment this month, December is the ideal time to officially release the "Pay Off Your Student Loans Playlist," a set of tips, tools, and resources from Dee-1 and Sallie Mae. On December 19, the popular rapper is available to discuss the video and what paying off his college loans inspired the video.
You'll also learn why the Dee-1 and Sallie Mae collaboration on paying back student loans comes on the heels of the recently completed "Dee-1's Knowledge for College" tour, presented by Sallie Mae, during which Dee-1 and Sallie Mae visited 18 high schools in five states and awarded a total of $95,000 in scholarships. It's a unique and informative public service interview. We hope you'll book a window!
DEE 1'S WILL SHARE HIS 'PLAYLIST' FOR PAYING BACK STUDENT LOANS:
PERCENTAGES–What portion of the college bill is funded by scholarships, grants, savings and loans
COSTS OF COLLEGE–How the cost of education has changed since the recession and how families have changed their decision making
PRACTICAL TIPS—How families can afford to pay tuition without breaking the bank
WWW.SALLIEMAE.COM/DEE1