RAGHAVAN IYER – JAMES BEARD AWARD WINNER/AUTHOR, SMASHED, MASHED, BOILED, AND BAKED AND FRIED, TOO!
SMASHED, MASHED, BOILED, AND BAKED AND FRIED, TOO!
A Celebration of Potatoes in 75 Irresistible Recipes
The 4th largest crop in the world - potatoes are prized by billions for their versatility. A staple at many meals, some folks like to keep it simple and some folks may be looking for other delicious ideas for your potato!
Master teacher, 2016 James Beard Award winner, and beloved cookbook author RAGHAVAN IYER is a potato addict. And in his new book "Smashed, Mashed, Boiled and Baked and Fried, Too," Raghavan introduces us to a spirited, mouthwatering , continent- by-continent celebration of everyone's favorite ingredient. It's a celebration of potatoes in 75 Irresistible recipes that pay homage to the myriad culinary traditions that place the potato center stage!
Covering the gamut from finger foods to soups and salads, entrees, side dishes, and even desserts, SMASHED, MASHED, BOILED, AND BAKED — AND FRIED, TOO! masterfully distills the potato's many cultural incarnations into delicious, easy - to - follow recipes for the home cook. With mouthwatering full - color photographs throughout , this collection showcases :
Appetizers like Cheesy Tarragon Tots , Water Ches tnut Potato Potstickers , and Sweet Potato Samosas
Mains ranging from a delectable Canadian Lamb - Potato Tourtière to Potato - Stuffed Chiles Rellenos and Moroccan Potato Stew with Saffron Biscuits
For sides, there's no resisting Iyer'sUltimate Mashed Potatoes, Vegetable-Filled Potato Knishes, or Hasselback Potatoes with Cardamom Butter
To finish the meal, try Thick-Cut Potato Crisps with Dark Chocolateor a decadent Sweet Potato Pithivier
Meticulously researched, the recipes in SMASHED, MASHED, BOILED, AND BAKED—AND FRIED, TOO! are tied together with stories and anecdotes that weave in the cultural, historical, and socialinfluencesof the potato over its 10,000-year history. Along the way,
The result is a charming, informative, glorious tributeto one of the world'sfavoritecomfort foodsthat's equally at home on a holiday tableat a summer barbecue,or as part of ahome-cooked weeknight dinner any time of year.
WWW.RAGHAVANIYER.COM
TECH GIFTS FOR THE HOLIDAYS W/ TECH COLUMNIST JENNIFER JOLLY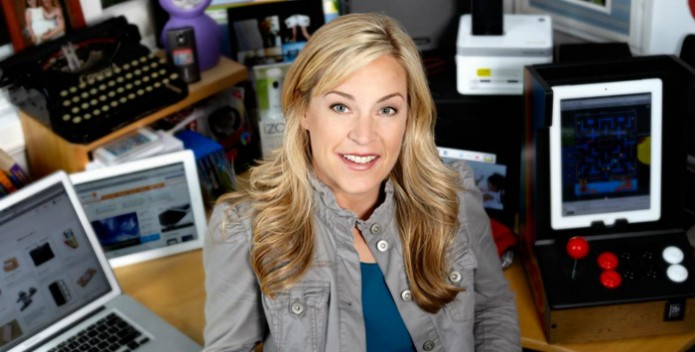 Americans will spend more than 36-billion dollars on tech toys this holiday season, breaking all kinds of previous records for gadget-gifts as nearly 70% of us plan to put electronics at the top of our lists.
Emmy Award-Winning Consumer Tech Expert Jennifer Jolly is back with the best gadgets for everyone in the family:
TECH THE HALLS WITH THE LATEST
Must-Have Tech Gadgets & Goodies For The Holidays
Alright you procrastinating shoppers, it's time to find the right gift, but not sure where to go or what to buy? Join USA Today Tech Columnist Jennifer Jolly as she shares with your listeners some of the must-have tech gadgets and goodies hitting store shelves this holiday season. Tech gifts are number one on the gift-giving list, so make it a Holly, Jolly Tech-Mas and whether it's dad, mom, brother or sis, Jenn will have something for everyone's list.
Emmy award-winning consumer tech journalist, Jennifer Jolly: hosts two digital lifestyle series; TechNow for USA Today and Tech's Appeal, with Chip Chick - the largest tech news and information site for women. Both series provide a no-geek-speak go-to for your wired world, giving you the how-to and what-for in a way you can totally understand.