STEPHANIE HONIG FROM HONIG VINEYARD AND WINERY JOINS US IN STUDIO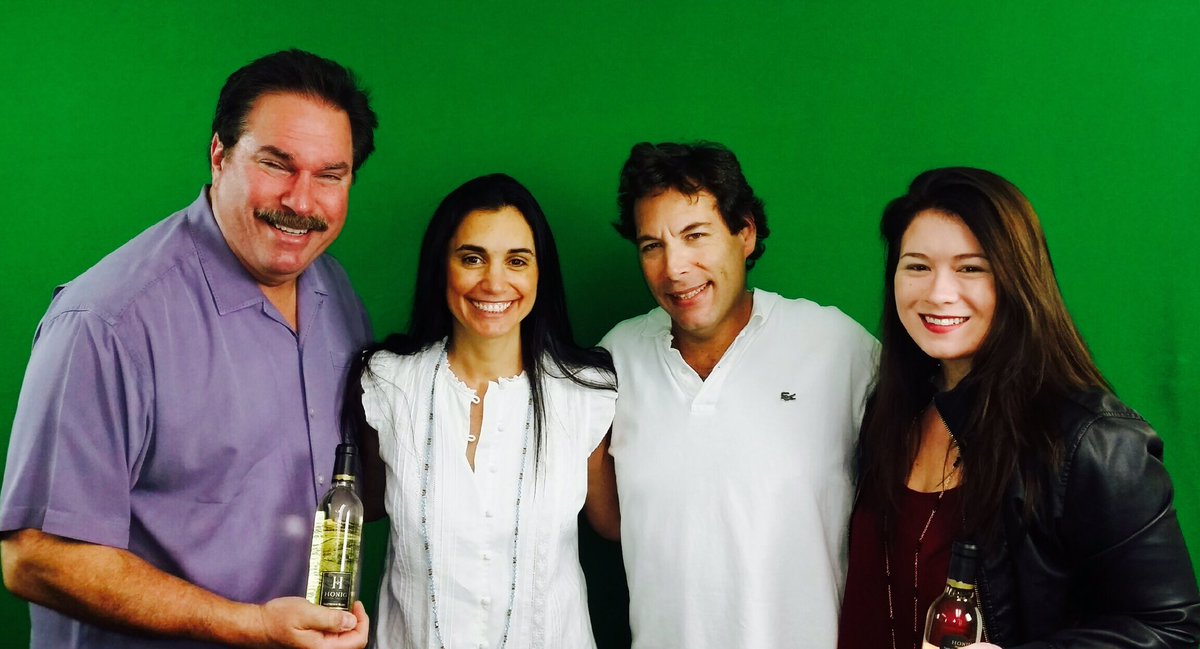 Mike Horn, Stephanie Honig, Paul Stern, Courtney Kadera
ABOUT STEPHENIE HONIG
Stephanie Honig was born in Havertown, Pennsylvania. At the age of six, she moved with her family to Buenos Aires, Argentina, then to Florida in 1994, where she attended Florida International University, graduating in 1997 with a Bachelor's degree in Hotel and Restaurant Management. While attending FIU she also spent time in Europe, studying at the Oxford Brookes University in England. She then moved to Philadelphia and worked as a Sales Manager for Marriott Corporation.
In 2000, she moved to New York to pursue a career in the wine industry, working as a Sales Manager for Clicquot, Inc., and for Rudd Winery as the Eastern Regional Sales Manger. In 2005, she earned the WSET (Wine & Spirit Education Trust) Higher Certificate and the WSET Diploma. She left Rudd in 2006 to import her own wine brand from Argentina. She also taught wine classes at the French Culinary Institute in New York and at Florida International University.
In 2006, she moved to the Napa Valley and married Michael Honig. Stephanie travels the globe developing Honig's international and national presence, and handles the public relations for the family business. She serves on the Public Relations Committee, the Marketing Committee and the International Ambassadors Committee at the Napa Valley Vintners. She is active in raising funds for mental health and for Type 1 diabetes research. She lives on the Honig property in Rutherford with her husband Michael, their daughters Sophia and Lola, sons Sebastian and Santiago, and their dogs Raisin and Kota.
THE HONIG STORY
In 1964, Louis Honig purchased a 68-acre ranch in Rutherford, in the heart of the Napa Valley. The vineyard was planted with Sauvignon Blanc and Cabernet Sauvignon grapes, which he sold to neighboring wineries. Louis worked to create a family gathering place at the ranch, for his children and grandchildren, while he dreamed of the day he could retire from his San Francisco advertising agency and make wine from his vineyard.
Louis passed away before he could realize his dream, leaving the estate to his family. In 1981, as a tribute to his legacy, his family produced a few hundred cases of Louis Honig Sauvignon Blanc in the vineyard's old tractor barn. After the wine won a Gold Medal at the Orange County Fair, the family decided to increase production, and Honig Vineyard & Winery was born.
In 1984, at the age of 22, grandson Michael Honig took over management of the vineyard and winery. In 1989 the family began producing small amounts of Cabernet Sauvignon. As the business grew, family members Regina Weinstein, Steven Honig, and Stephanie Honig joined Michael in the winery.
The Honig family are leaders in sustainability, both in the vineyard and the winery, and what began as a small "garage" winery has today become a successful family enterprise, with everyone working collaboratively to run an inspiring and socially responsible business.
Winemaker Kristin Belair focuses production solely on Sauvignon Blanc and Cabernet Sauvignon, and Honig wines can be found on the wine lists across the country. Louis Honig's vision of bringing his family together to share in the beauty and bounty of Napa Valley, while producing outstanding wines, has become a reality.
WWW.HONIGWINE.COM
SUSAN ZIRINSKY – EXECUTIVE PRODUCER, 48 HOURS
"48 HOURS" INVESTIGATES IN "A STUDENT OF MURDER"
Saturday, Feb. 27. 10:00 PM ET/PT
Yancy Noll, a well-liked Seattle wine steward left work one evening in 2012 and headed home. Ten minutes later he was dead.
Peter Van Sant and 48 HOURS investigate the death of Noll and the trail that would lead police to an unlikely suspect in "A Student of Murder" to be broadcast Saturday, Feb. 27 (10:00 PM ET/PT) on the CBS Television Network.
On his commute home, Noll stopped at a red light. A BMW pulled alongside. Shots rang out. Four out of five bullets fired hit Noll in the head, killing him instantly. But why? Was it a case of road rage on steroids or something else entirely?
"When you prosecute murder cases for as long as we have, the random nature of death is what gets in your head," says Prosecutor Kristen Richardson.
"There was a killer on the loose," says KIRO-TV reporter Alison Grande. "Anybody could have been the next target."
The murder grabbed headlines and the attention of the city's commuters. Noll was seemingly an everyman, an easygoing guy who enjoyed hiking with his dog. He had no criminal history, wasn't known as a hothead, and his personal life didn't give police any ready-made clues for why someone would want him dead. His murder was a mystery without any answers.
But a few weeks later, police got a tip that led to Dinh Bowman, a young man described as a genius, a dazzling engineer with his own boutique robotics business. He had entered college at age 12 and was a world-class fencer as a young teen. But as police looked closer, they uncovered evidence which they said revealed that Bowman was good at many things, including murder. What they uncovered would shock investigators and change everything.
Van Sant and 48 HOURS report on the murder and the case against Bowman through interviews with investigators, prosecutors, witnesses to the shooting, and others. 48 HOURS: "A Student of Murder" is produced by Paul LaRosa and Jonathan Leach. Doreen Schechter and Phil Tangel are the editors. Al Briganti is the executive editor. Susan Zirinsky is the senior executive producer.
Chat with members of the 48 HOURS team during the broadcast on Twitter and Facebook. Follow 48 HOURS on Instagram. Listen to 48HOURS podcasts at Play.it.
STEVE EVENS – THE MOVIE GUY
GREAT MOVIES OPENING THIS WEEKEND AND BOX OFFICE PREDICTIONS AND HOPES. FIND OUT WHAT MOVIES ARE WORTH YOUR HARD EARNED MONEY. GET SET FOR THE WEEKEND.