DOMENICA MARCHETTI – AUTHOR, THE GLORIOUS VEGETABLES OF ITALY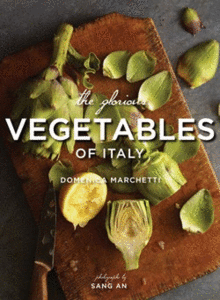 Domenica Marchetti specializes in contemporary Italian home cooking. Her articles have appeared in the Washington Post, Cooking Light, Fine Cooking, and other publications.
She's a fantastic interview and wonderful expert, author of five titles including: The Glorious Pasta of Italy, Big Night In and The Glorious Soups and Stews of Italy. Please check out the release for her new book below and her website for more into: www.domenicacooks.com.
ABOUT THE BOOK:
Domenica Marchetti's childhood memories of Italian summers, where nearly every day began with a trip to the farmers' market, are the inspiration behind these more than 100 recipes showcasing Italy's glorious vegetables. Sniffing, poking, and prodding (and then haggling over) such fresh offerings as elegant, long-necked fennel; dark, crimped leaves of Tuscan kale; the scarlet beauty of radicchio; and delicate baby zucchini with blossoms still attached was a family affair and the beginning of her life-long love of vegetables.
Italian home cooks prepare these vegetables with careful thought, mixing them into frittatas and savory tarts, letting them shine atop pizza, and giving them equal time with meat and seafood at the center of the meal.
Domenica does the same here, with such varied recipes as Cherry Tomato and Red Onion Foccacia, Roasted Beet and Carrot Salad with Roasted Fennel Seeds, Spring Risotto with Green and White Asparagus, and Smashed Green Beans and Potatoes with Pancetta.
Preserves and condiments are also represented with such delights as Tomato Marmalade and Pickled Snacking Peppers, while essential basics such as Fresh Egg Pasta Dough, Simple Tomato Sauce, and Sauteed Rapini embrace the ease with which vegetables are incorporated into Italian-style meals.
These treasured recipes comprise a mix of tradition and innovation—some handed down from previous generations, others collected during the author's travels throughout Italy, and more created in her home kitchen. She hopes they will inspire you to bring vegetables into the heart of your own kitchen as well.
MORE ABOUT THE AUTHOR:
Domenica Marchetti is a writer and cooking teacher who specializes in contemporary Italian home cooking. Her articles have appeared in the Washington Post, Cooking Light, Fine Cooking, and other publications. She is the author of The Glorious Pasta of Italy, Big Night In and The Glorious Soups and Stews of Italy (all from Chronicle Books). She lives with her family in Virginia and can be reached through her website,
www.domenicacooks.com.
Sang An is New York – based, Korean born photographer specializing in food, interior, and still life. He is a graduate of Rochester Institute of Technology with a BFA in advertising photography. His work has appeared in many magazines including Martha Stewart Living and Real Simple.
RAY KRAUSE – PROPRIETOR, WESTBROOK WINE FARM VINEYARD AND WINERY - CALIFORNIA WINE MONTH RECEPTION & WINE TASTING 9/12
Westbrook Wine Farm is a vineyard and winery in the Sierra Nevada Foothills of eastern Madera County, California, near Bass Lake and Yosemite National Park. Our mountain vineyards are planted to field blends of Cabernet Sauvignon, Cabernet Franc, Malbec, Merlot, Petit Verdot, Gros Verdot and Carmenere. We practice sustainable farming and minimalist winemaking. We make our wine in the traditional Claret style by co-fermenting grapes, rather than by making separate varietal wines and blending them. Our Fait Accompli includes six and our Museum, three of the eight red varieties permitted for use in Bordeaux or Meritage style wines.
ABOUT RAY:
Ray Krause started hauling hoses in the cellars of Fresno's Roma Winery as "Fermentation Control Specialist" in 1964. It was the year after his enrollment in the Oenology degree program at Fresno State College(now CSUF) which was facilitated by a scholarship from the original San Joaquin Valley Wine Growers Association. After completing his studies and a three year tour with the U.S. Army Air Defense Command, Ray relocated to the Santa Clara Valley where he performed the duties of Hospitality Director and, eventually, National Sales Manager for the Mirassou family winery. Striking out on his own in 1975, he formed several product specific wine production and marketing entities which culminated in his ownership of the Farview Farm Vineyard Winery in Templeton, California and a wine specialty store, Grape and Grain in Fresno.
Ray's passion for "growing" wine was realized with his 1994 purchase of the forty- acre "Paint Horse Ranch" along Fine Gold Creek in the historic Sierra gold mining hamlet of O'Neals. The dream became a reality (Fait Accompli) in 1999 when the first grapes from the carefully orchestrated three year old red Bordeaux varietal vineyard were harvested. The following year Tammy became co-winemaker and the year after that, Mrs. Krause. Tammy shares in all vineyard and winery responsibilities except the operation of their recalcitrant fifty-five year old Ford 8N tractor. With her organoleptic prowess, she is particularly valuable in wine blending and bottling decisions at Westbrook Wine Farm. She frequently judges at the prestigious Orange County Fair Wine Competition. Ray and Tammy have but two goals; to achieve a life in balance and to make wine which is at least as good as the best in the world.
ABOUT THE CALIFORNIA WINE MONTH RECEPTION & WINE TASTING:
The Madera Vintners Association will host "California Wine Month Reception & Wine Tasting," celebrating California Wine Month in September on its 10th anniversary. California Wine Month was proclaimed by Governor Jerry Brown to acknowledge the state's rich wine history and the contributions of its vintners and growers to the lifestyle and economy of the Golden State. Local wineries, restaurants and food exhibitors will join together on the evening of September 12th to pour wines complemented by delicious and culturally diverse food.
A rare evening that gathers so many of the area's wineries in one location, come and talk with local winemakers, viticulturists, and winemaking families who will be sharing information at the media reception about a variety of industry topics including sustainable farming, water conservation and techniques, growing the local wine industry through start-up winery services, barrel fermentation techniques, and more about the diverse award-winning wines that contribute to the bounty of Madera's "buy local" community.
The event proceeds benefit the Madera Vintners Association's Scholarship Program, which awards students every year in Viticulture and Enology programs at California State University, Fresno, encouraging those continuing in our wine heritage.
Guests will enjoy the wine and food exhibitors at San Joaquin Wine Company's new tasting room and outdoor park in Madera, while listening to live music by "Encanto", a latin jazz band. Guests will also have the opportunity to participate in the People's Choice Award by voting for their favorite wine as they taste each on this special evening.
The family winemakers of Madera County are proud to be a part of the California wine industry. Come join us and be part of the celebration!
WWW.WESTBROOKWINEFARM.COM