FINANCIAL COACH AND AUTHOR CHARLOTTE STALLINGS - HOLIDAY CREDIT AND DEBIT CARD FRAUD PREVENTION
HOW TO COMBAT FRAUD THIS HOLIDAY SEASON
With tips and tricks on how to keep your credit card info safe using location services
The holiday season brings with it an uptick in shopping, and consequently, an uptick for cases of fraud. Online card fraud has nearly doubled between 2014 and 2018. Fortunately, we have financial expert Charlotte Stallings, author of, "I Wish Someone Had Told Me," who can address how to protect yourself around the vulnerable holiday season. Her book is especially relevant as we head into the holiday buying season, when your viewers and listeners will be thankful to have this renowned expert tell them important tips for protecting identity and credit. Stallings has also teamed up with U.S. Bank to explain how combining geolocation with mobile phone technology can reduce credit card theft and prevent credit disruption.
During the holiday season, consumers frequently make large purchases outside of known locations when traveling. By matching the location in these circumstances, a new U.S. Bank app can help ensure that transactions on customers' cards are approved, minimizing disruptions and further reducing the risk of fraud. This easy-to-use mobile app automatically provides consumers with an added layer of convenience and protection.
WWW.USBANK.COM
GARRETT BUSCH - BOARD OF MANAGERS, THE MERITAGE RESORT AND SPA & PROPRIETOR/CEO, TRINITAS CELLARS - UPDATE ON TOURISM AND WINE FROM NAPA VALLEY
WELCOME TO THE MERITAGE RESORT AND SPA
Unmatched Luxury In The Heart Of California Wine Country
Acre upon acre of sun-soaked vineyards. Lavish accommodations paired with extravagant amenities. Award-winning cuisine celebrating the finest of Napa Valley's bounty. Indulgent spa treatments in the serenity of an underground Estate Cave. The Meritage Resort and Spa perfectly blends world-class luxury with exceptional hospitality to bring you the ultimate Napa Valley resort experience.
Luxury Accommodations Await
We invite you to immerse yourself in the elegant comfort of our guestrooms and suites. Each of our 322 beautifully appointed guestrooms, including 12 lush suites, are designed with your complete well-being in mind. Warm Tuscan-inspired décor welcomes you; plush beds, cozy robes, and exclusive amenities ensure restorative tranquility; and picturesque views from exclusive balconies or patios soothe, as the warmth of the golden sun welcomes you to another magnificent day at The Meritage.
Sumptuous Cuisine Delights
Experience culinary excellence in Napa Valley at The Meritage Resort's restaurants, bars, and lounges. Seasonal menus burst forth with flavor at Siena as California and Italy expertly collide; a delectable array of fresh pastries, savory baked goods, rich espressos, and refreshing smoothies await at Blend; and, an extensive selection of Napa Valley's finest wines, along with premier liquors, signature crafted cocktails, small bites, and shared plates, are served at the Lobby Bar. Satisfying your desire for lighter fare and cooler concoctions, is our seasonal, poolside Terrace Bar, while Crush Ultra Lounge is the premier destination for food and fun in Napa Valley, featuring luxury bowling lanes, big screen TVs featuring sports entertainment, specialty cocktails, and a menu filled with favorites.
Exclusive Amenities Captivate
Enjoy the absolute best of Napa Valley without ever leaving our resort. Built into the hillside beneath our nine-acre vineyard, is the spectacular Estate Cave. Home to the award-winning Spa Terra and the renowned Trinitas Cellars Tasting Room, it is the only facility of its kind in Wine Country. Descend 40 feet underground and arrive at a state of total relaxation and rejuvenation, relishing in the lavishly appointed private treatment rooms, soaking pools, steam grottos, and water walls of one of America's Top 100 Spas. No trip to the Estate Cave and Napa Valley is complete without indulging in a custom flight of Trinitas Cellars wines with artisan chocolate pairings, savoring the exceptional flavors in the most unique of settings.
Our Four-Diamond luxury hotel features exemplary facilities and services above ground, as well. Nine acres of stunning vineyards with hiking trails adorn the hillside behind our resort with paths leading to Napa's Grape Crusher Statue. Swimming pools and whirlpools provide refreshing recreation, while private poolside cabanas and outdoor seating around fireplaces offer idyllic settings for repose. Also included in our array of amenities is our state-of-the-art fitness center and Our Lady of Grapes Chapel. Should you decide to explore more of California's Wine Country, The Meritage Resort and Spa offers convenient guest transportation to downtown Napa and Oxbow Public Market on our deluxe 27 passenger shuttle.
Remarkable Venues Impress
Fairytale weddings become dreams come true. Business mixes flawlessly with pleasure. Special occasions shine and events amaze at The Meritage. Offering over 50,000 square feet of flexible premier event space, The Meritage Resort and Spa is the perfect location for your next event. With an impressive array of indoor, outdoor, and underground event space, coupled with the talent and dedication of our event planning experts, The Meritage is the leading venue for Napa Valley events.
WWW.MERITAGERESORT.COM
WWW.TRINITASCELLARS.COM
SCOTT C. ANDERSON - NATIONAL GEOGRAPHIC'S THE PSYCHOBIOTIC REVOLUTION: MOOD, FOOD AND THE NEW SCIENCE OF THE GUT-BRAIN CONNECTION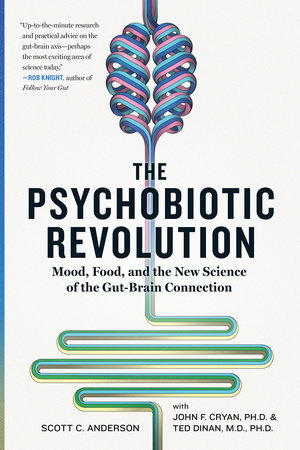 THE PSYCHOBIOTIC REVOLUTION: Mood, Food and the New Science of the Gut-Brain Connection
It's true! Your gut is messing with your mind. More specifically, your microbiota has been controlling your moods, arguably from the time you were just a twinkle in your parents' eyes. Renowned medical researchers John F. Cryan and Ted Dinan are leading a "psychobiotic" (psycho- meaning "mind" and biotic meaning "life") revolution that is upending long-held doctrines in almost every branch of biology. Millions suffer from the epidemics of gut problems and depression. Is there a link? Recent findings reveal ground-breaking scientific evidence correlating diet to mental health—from depression to the development of Alzheimer's Disease. In The Psychobiotic Revolution: Mood, Food, and the New Science of the Gut-Brain Connection, Cryan and Dinan teamed up with veteran journalist Scott C. Anderson, combining complex scientific facts with helpful illustrations to tell the intriguing story of how our gut controls our brain. It provides a helpful path forward for those who are afflicted by such diseases as well as general advice for everyone who wants to feel better, physically and psychologically.