IAN BLACKBURN – OWNER/FOUNDER, WINE LA & FOUNDER/CO-WINEMAKER, BEEKEEPER CELLARS – TALKS ABOUT A BIG EVENT COMING UP, STARS OF PINOT
STARS OF PINOT
The best Pinot event of the year is back, and it's bigger and better than ever! Hosted by WineLA, STARS of Pinot 2016 will be held at the luxurious Sofitel Los Angeles at Beverly Hills. This "STAR"-studded event will feature over 200 Pinot wines created by 60 of the world's top producers. All guests will enjoy unlimited wine tasting, tray passed hors d'oeuvres, a silent auction benefitting the T.J Martell Charity and an assortment of breads, cheeses, and chocolate. VIP guests are invited to attend our VIP Pinot Panels with Discussions & Tastings, enjoy a delicious VIP Buffet, and receive a VIP Gift Bag packed with fabulous items to take home.
WHEN/WHERE:
JULY 20, 2016
SOFITEL LA at Beverly Hills
8555 Beverly Blvd
Los Angeles, CA 90048
TIME:
Trade: 12PM-3PM
VIP: 6PM
Gold: 7PM
Silver: 7:30PM
Event ends at 9:30PM
ABOUT BEEKEEPER CELLARS
Beekeeper Cellars is the vision of best friends and co-winemakers Ian Blackburn and Clay Mauritson. The two collaborated after adventurous individual careers in the wine business, and at last, decided to work together on a project of their own.
Clay, a 7th generation grape grower, and his family found themselves the owners of a significant slice of the Rockpile Appellation, through an amazing set of historical land transactions. The Mauritson family realized the potential and parented the creation of the ROCKPILE AVA. In 1998, Ian and Clay climbed the hill and watched the Madrone Spring Vineyard get planted, while discussing the future of Rockpile and the dream it represented.
In 2008, Clay saw the fruits of his family's labor taking shape and came to Ian with a unique opportunity to source some of the Rockpile fruit. He told Ian in the difficult days of 2008, "now is the time to get in and build the business and have it take shape as the market improves, and to not wait until business is strong as you will have a hard time getting access to the right quality assets." Ian took heed of Clay's wise comment and said "When your best friend is Clay Mauritson and he offers Rockpile fruit and to assist with winemaking…... you make Zinfandel."
In Los Angeles, Ian operates a specialty wine marketing organization known as wineLA and has pioneered wine education for the past 20 years (since 1995) through www.learnaboutwine.com and www.wineLA.com. Beekeeper Cellars is also involved in Ian's Masters of Wine Thesis project and provides him the winemaking training he requires to help pass the difficult Masters of Wine exam...an ongoing pursuit.
ABOUT IAN BLACKBURN, CSW, JWE ¬ LEARNABOUTWINE & WINELA PROFESSIONAL SOMMELIER
Ian drinks wine for a living and plans 50¬‐100 public and private events a year. Ian stays busy buying collectible wines for high profile clients, planning luxury wine trips for his audience, hosting corporate events, and studying for his Master of Wine. Since 1995, LearnAboutWine has done the hard work of building a better culture for fine wine, opening the doors for more quality products to enter the marketplace and has taught over 800,000 students. With a reach of over 80,000 current subscribers and followers, LearnAboutWine now focuses on the best quality events and classes, and wine credential programs which have graduated over 1000 wine students in the last 9 years with a Junior Wine Executive credential (JWE).
WWW.WINELA.COM
WWW.BEEKEEPERCELLARS.COM
MINDFULNESS & MEDITATION EXPERT ANDY PUDDICOMBE - FIND OUT HOW TO IMPROVE HEALTH & HAPPINESS FOR A YOUNGER AUDIENCE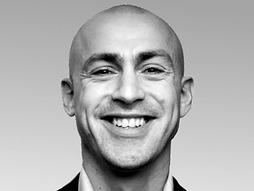 World Famous Mindfulness & Meditation Expert Andy Puddicombe Explains Why a Meditation App with 7 MILLION Users has a NEW Version for Kids
A great deal has been written about how a positive attitude can greatly improve the overall health of a person. That's just one of the important reasons that Andy Puddicombe and Rich Pierson developed a program and a wildly successful app to teach people mindfulness and meditations. In fact, Headspace is meditation app on a mission to improve the health and happiness of the world that has more than 7 million worldwide users. It's been so successful that Puddicombe is launching Headspace for Kids, introducing mindfulness meditation to a new, younger audience.
The Kids series provides short meditations designed especially for children from toddlers to pre-teens, with the aim of giving them the very best start in life. It focuses on five key, child-development topics with the aim of introducing meditation at an early age. Themes such as Kindness, Focus, Sleep, Calm and Wake Up are introduced that can help with issues facing children and parents.
ABOUT ANDY PUDDICOMBE:
In his early 20s, Puddicombe traveled to the Himalayas to study meditation on a journey that took him around the world, culminating with ordination as a Tibetan Buddhist monk. This inspirational speaker then completed a degree in Circus Arts, and has combined entertainment skills with an inspirational message that has mesmerized audiences around the world and made him a widely sought-after speaker. Puddicombe is the author of two books, available in 25 countries and 10 languages. He has been featured widely in international press, appearing in Vogue, NYT, FT, Entrepreneur, Men's Health and Esquire, to name but a few. He also makes regular appearances on TV and online, having been featured on BBC, Dr Oz, Netflix and TED.