HOTDOG EXPERT JASON WISHENGRAD FROM THE STAND HELPS US KICK OFF NATIONAL HOT DOG MONTH!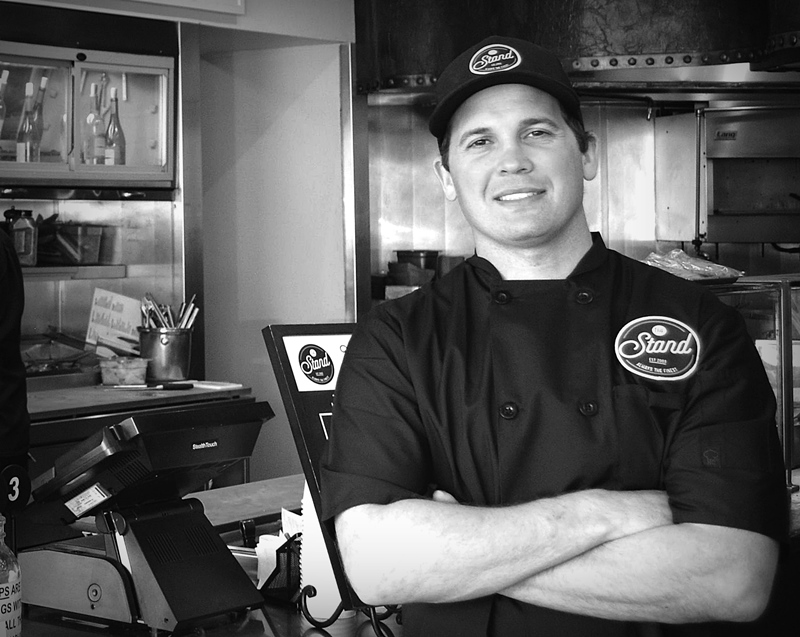 Redefining today's casual dining scene, The Stand delivers quality, speed and a diverse menu designed to meet everyone's needs. With locations in Encino, Century City, Woodland Hills, Northridge, and soon to be Irvine, The Stand breaks fast casual stereotypes by catering to both families and young millennials looking for unique, high quality classic American food, at an affordable price. The menu consists of a variety of custom made-to-order original burgers and grilled chicken sandwiches, such as The Stand Burger and Southwest Chicken, as well as sausages and hotdogs, all that can be enriched by a selection of more than twenty loaded toppings including Bacon Tomato Jam, Stand Chili, Chimichurri Slaw, Crispy Onion Strings and Fried Egg. A wide variety of salads, sides and veggies are also offered, including Chili Fries and Chimichurri Slaw. Priced to satisfy a wide range of needs and dining occasions, The Stand brings the comfort of early century American diners to Southern California with a unique, modern
ABOUT JASON WISHENGRAD
-
Executive Vice President /Designer/Culinary Director
Jason Wishengrad was born and raised in Newport Beach, CA, before heading east to attend Boston University. Graduating with a degree in Advertising & Communication, Jason immediately began working for his father's restaurant, The Stand, focusing on business development. As Executive Vice President, Jason oversees daily operations, culinary development, business development, and construction projects. Responsible for the creation of the menu at The Stand and all culinary movements, Jason is also behind the process of design, handling all design aspects of the restaurant, including graphics, menus, menu boards, metal work and advertisements.
WWW.THESTANDLINK.COM
NATIONAL HOT DOG MONTH
Hot Diggity Dog! Or should I say dogs! Now that weather has warmed up and gotten nice outside, grilling season is upon us yet again. Time to fire up those grills and buy some nice juicy hamburgers, sausages…. and hot dogs, of course! July is National Hot Dog Month. Grab your dogs and toppings, because here are some interesting bits on an American classic! The exact origins of hot dogs are unknown, but likely their predecessor was brought over by immigrants. What we do know, however, is how they are made (what they are made of). Hot dogs are usually pork or beef, but they can be made from poultry as well. The meat is put into a machine to be finely ground until it resembles a paste or batter (don't look it up….trust us). Spices and/or flavorings are added for flavor and some brands add sugar or corn syrup for sweetness. Some brands also add preservatives to extend the shelf life of the product. After the meat has been finely ground, it is sent to a machine that pumps the meat into the casings. A number of brands use cellulose casings, but some still use traditional natural casing. After being pumped with meat, the casings go through another machine to link the casings into strands of hot dogs. Afterwards, the strands of hot dogs are sent to an oven to cook. During this stage, smoke may be used to add extra flavor. After cooking, the dogs are showered in water to let them cool before being sent to packaging. If cellulose casing was used, the hot dogs are sent to another machine to remove the casing. Then they are cut into individual dogs, packaged and sealed ready to be sent to a store near you.
Some Fun Facts :
Joey Chestnut currently holds the world record in hot dog eating by eating 69 hot dogs (and buns) in 10 minutes
The Tokyo Dog food truck located in Seattle, WA has the record for the most expensive hot dog , costing $169
The longest hot dog on record, made by Novex SA of Paraguay in 2011, is 668 ft. and 7.62 in. (203.80m.)
STEVE EVANS – THE MOVIE GUY
GREAT MOVIES OPENING THIS WEEKEND AND BOX OFFICE PREDICTIONS AND HOPES. FIND OUT WHAT MOVIES ARE WORTH YOUR HARD EARNED MONEY. GET SET FOR THE WEEKEND.