JASON WISHENGRAD – EXECUTIVE VICE PRESIDENT/DESIGNER/CULINARY DIRECTOR OF THE STAND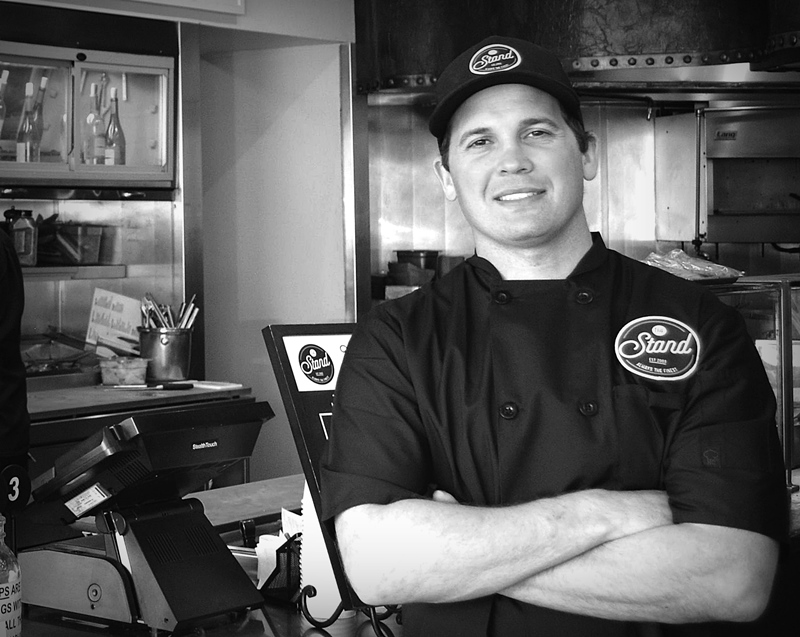 Redefining today's casual dining scene, The Stand delivers quality, speed and a diverse menu designed to meet everyone's needs. With locations in Encino, Century City, Woodland Hills, Northridge, and soon to be Irvine, The Stand breaks fast casual stereotypes by catering to both families and young millennials looking for unique, high quality classic American food, at an affordable price. The menu consists of a variety of custom made-to-order original burgers and grilled chicken sandwiches, such as The Stand Burger and Southwest Chicken, as well as sausages and hotdogs, all that can be enriched by a selection of more than twenty loaded toppings including Bacon Tomato Jam, Stand Chili, Chimichurri Slaw, Crispy Onion Strings and Fried Egg. A wide variety of salads, sides and veggies are also offered, including Chili Fries and Chimichurri Slaw. Priced to satisfy a wide range of needs and dining occasions, The Stand brings the comfort of early century American diners to Southern California with a unique, modern twist, offering American classics redefined.
ABOUT MURRAY WISHENGRAD
-
CEO-President
With more than 40 years of experience as a multi-unit operator, Murray Wishengrad opened The Stand in 2003 in Encino, CA, before expanding to additional locations in Woodland Hills, Century City and Northridge, CA. Beginning his business career by developing rental car franchises, Budget Rent a car and Dollar Rent a Car, he sold all business shares in 2003, before opening The Stand alongside former Budget partner, Richard Shapiro. Since 2003, Murray has grown The Stand to a multi-location business, with future expansion planned. As CEO-President/Co-Managing Member, his duties include handling all major business decisions, in addition to strategic planning and coordination of all other activities with his operating partners, his sons Jason and Zachary.
ABOUT JASON WISHENGRAD
-
Executive Vice President
Jason Wishengrad was born and raised in Newport Beach, CA, before heading east to attend Boston University. Graduating with a degree in Advertising & Communication, Jason immediately began working for his father's restaurant, The Stand, focusing on business development. As Executive Vice President, Jason oversees daily operations, culinary development, business development, and construction projects. Responsible for the creation of the menu at The Stand and all culinary movements, Jason is also behind the process of design, handling all design aspects of the restaurant, including graphics, menus, menu boards, metal work and advertisements.
MENU
The Stand's menu features American classics with innovative spins and unique ingredients. Offering a large selection of burgers, highlights include The Stand Burger with Grilled Onions, Lettuce, Tomato, Pickles & Stand Burger Sauce; The Business with Beef Burger, Porchetta, Bacon, Pickled Peppers & Onions, Garlic Mushrooms, & Sweet Chili Aioli; Ultimate Egg with American Cheese, Fried Egg, Bacon, Pickled Peppers & Onions, & Sweet Chili Aioli; Apple Slaw Turkey, Turkey Burger with Apple Slaw, Butternut Squash, Cheddar Cheese, Lettuce, & BBQ Sauce.
In addition to burgers, The Stand offers a large range of "standwiches" and salads, such as Spicy Beef Short Rib with Chipotle & Beer Braised Short Rib, Green Chile Aioli, Arugula, Swiss Cheese, Garlic Mushrooms, Parmesan, Red Onion & Ciabatta; Seared Ahi Tuna with Sesame Slaw, Fresh Pickled Jalapeno, Crispy Onion Strings, Orange Sesame Dressing & Ciabatta; and Sesame Kale Salad with Kale, Heirloom Tomatoes, Roasted Tomatoes, Chickpeas, Sunflower Seeds, Diced Bacon, Feta Cheese, & Lemon Sesame Vinaigrette.
Stand Dogs and Sausages can be custom made or selected from the menu offerings, including Big Red Chili Dog with 1/4lb Big Red, Stand Chili, Cheddar Cheese, Tomato, and Yellow Onion; Guac-On-Fire Dog with 1/4lb Big Red, Guacamole, Pickled Pepper & Onions, Cilantro Lime Aioli, & Tortilla Strips; and Three Pigs Sausage with Bratwurst, Bacon Tomato Jam, Porchetta, Swiss Cheese, Chimichurri, Green Apple & Red Onion Slaw.
Also offered are Fries, Sides and Veggies including Porchetta Fries, Stand Gourmet Chili, Chimichurri Slaw, Brussels Sprouts, Sweet Potato Fries, and Mac N' Cheese. All in addition to decadent desserts such as the Stand Cobbler a Seasonal Cobbler with Vanilla Wafer Crust and Hand Scooped Vanilla Ice Cream and the Brownie Sundae with Vanilla Ice Cream, Hot Fudge, & Whipped Cream.
BEVERAGES
The Stand serves a variety of featured draft & bottled beers as well as Stand House Wine. Also served is Stand Blonde Ale, a large 20oz. brewed special by Golden Road Brewing. Additionally, The Stand offers bottled water, bottled sodas, fountain sodas and iced tea.
HOURS:
Encino, Woodland Hills & Northridge: 11 a.m. – 9 p.m. Daily
Century City: Monday – Friday 8 a.m. – 4 p.m.
WWW.THESTANDLINK.COM
ACTRESS TARYN MANNING – PROMOTING ORANGE IS THE NEW BLACK SEASON 4 PREMIER - FRIDAY JUNE 17TH ON NETFLIX
The 4th season of Orange is the New Black premiers on Friday June 17th!
You've seen TARYN MANNING in Crossroads, 8 Mile, Hustle & Flow and much more! Taryn plays the controversial religious zealot Tiffany "Pennsatucky" Doggett, in ORANGE IS THE NEW BLACK.
Orange Is the New Black is an American comedy-drama series created by Jenji Kohan. The series is based on Piper Kerman's memoir, Orange Is the New Black: My Year in a Women's Prison (2010), about her experiences at FCI Danbury, a minimum-security federal prison. Orange Is the New Black is streamed on Netflix, and premiered on July 11, 2013.
Orange Is the New Black has become Netflix's most-watched original series. It has received critical acclaim and many accolades. For its first season, the series garnered 12 Primetime Emmy Award nominations winning three. A new Emmy rule in 2015 forced the series to change categories from comedy to drama. For its second season, the series received four Emmy nominations. Orange Is the New Black is the first series to score Emmy nominations in both comedy and drama categories. The series has also received six Golden Globe Award nominations, six Writers Guild of America Award nominations, two Producers Guild of America Awards, an American Film Institute award, and a Peabody Award.
SERIES PLOT:
The series revolves around Piper Chapman (Taylor Schilling), a woman in her 30s living in New York City, who is sentenced to 15 months in Litchfield Penitentiary, a minimum-security women's federal prison in upstate New York. Piper has been convicted of transporting a suitcase full of drug money for her then girlfriend Alex Vause(Laura Prepon), an international drug smuggler. The offense had occurred 10 years prior to the start of the series, and in that time, Piper had moved on to a quiet, law-abiding life among New York's upper middle class, so her sudden and unexpected indictment seriously disrupts her relationships with her fiancé, family, and friends.
In prison, Piper is reunited with Alex (who named Piper in her trial, resulting in Piper's arrest), and they re-examine their relationship and deal with their fellow prisoners. The show often shows flashbacks of significant events from various inmates and prison guards' pasts. These flashbacks typically explain how the inmate came to be in prison or otherwise further develop the character's backstory. The majority of the characters featured are in prison for offences related to narcotics, fraud, and larceny, while some are in prison for organized crime, homicide, and aggravated assault charges. Most are from lower- and middle-income backgrounds, although some are from wealthy backgrounds, and others are from broken or dysfunctional families. The show also depicts corruption and inadequacies of the U.S prison system and the abuse of power by some correctional officers upon female inmates. As the series has progressed, the focus on Piper as the lead character has lessened and shifted to the ensemble and concurrent plot themes.