MARGE KLINDERA – BUTTERBALL TURKEY TALK LINE EXPERT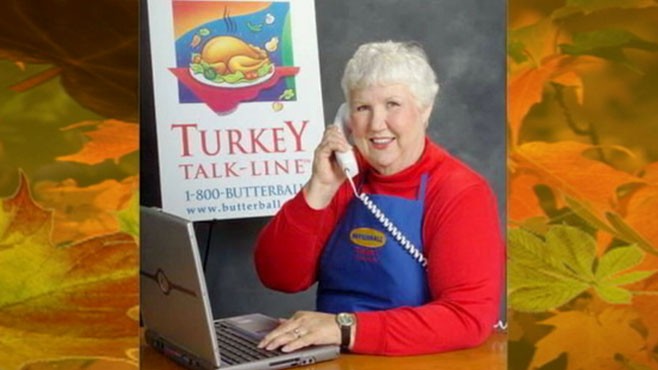 Each Thanksgiving for the last 30+ years, the Turkey Talk Line fields thousands of consumer calls with questions from basic turkey 101 – like thawing and basting the bird - to SOS emergency calls hours before the Thanksgiving meal.
This year, the Talk Line is giving new meaning to the popular #TBT (which means 'throw back Thursday' if you didn't know) with a special Thursday edition - "Throwback Thanksgiving" - asking everyone to share nostalgic Thanksgiving memories this holiday season. The experts are also digging into the Talk Line archives for never before seen photos, archived recipes and their most memorable calls since the 1980's.
MARGE WILL TALK ABOUT
Tried-and-True, "Turkey 101": tips on holiday meal prep
Turkey Then & Now: how the Thanksgiving table has changed over the decades
Most Memorable Calls: as Talk Line experts dig into the archives they'll throwback to some of their most memorable calls
1-800-BUTTERBALL (1-800-288-8372)
WWW.BUTTERBALL.COM
JOAN LAWRENCE FROM THE TOY INDUSTRY ASSOCIATION (TIA)WILL SEPARATE FACT FROM FICTION WHEN IT COMES TO THIS YEARS' SELECTION
Fall is in full swing and the holiday season is around the corner! As wish lists begin to grow, shoppers need to not only look out for toys that top the list, but also need to be sure their selections are safe for the kids on their shopping list.
ABOUT JOAN
Joan Lawrence - As Toy Industry Association (TIA) Vice President of Safety Standards and Regulatory Affairs, Joan Lawrence manages TIA's product safety programs encompassing the development of safety standards as well as industry and consumer safety education. Her experience and leadership within the industry spans a broad range of issues – from product safety and quality to environmental and other corporate social responsibility initiatives.
Joan is an advocate for uniform toy safety standards and leads an expert committee that oversees and develops the US safety standards for toys -- working with medical and child development experts, engineers and toy designers, government, industry, and consumer representatives -- to ensure that our US standards are among the toughest in the world.
A lifelong child safety advocate, Joan is the daughter of a prominent pediatrician and, herself, a mother of three young children . . . making her commitment to toy safety much more than a job.
WWW.TOYASSOCIATION.ORG
STEVE EVANS – THE MOVIE GUY
GREAT MOVIES OPENING THIS WEEKEND AND BOX OFFICE PREDICTIONS AND HOPES. FIND OUT WHAT MOVIES ARE WORTH YOUR HARD EARNED MONEY. GET SET FOR THE WEEKEND.