LARRY THE CABLE GUY - HELPING AMERICANS LIVE LIFE TO THE FULLEST DURING PRIME HEARTBURN SEASON – SUMMER BBQS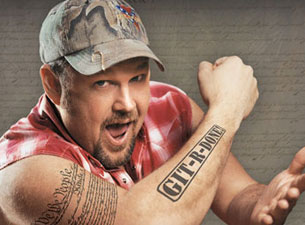 Larry the Cable Guy is a multiplatinum recording artist, Grammy nominee, New York Times Bestselling author, Billboard award winner and one of the top comedians in the country. Although he's usually travelling the country performing sold-out shows, this summer he's working with Prilosec OTC to help Americans live life to the fullest during prime heartburn season – summer BBQs!
Larry talks about two of the hottest summertime celebrations Prilosec OTC will be going to on the "You Can't Beat Zero" tour, including the Fourth of July Celebration at the country's largest Army base, Fort Bragg, and Chicago's Air and Water Show! He'll talk about his favorite ways to enjoy barbeque and share details on how you enter the You Can't Beat Zero Sweepstakes. Throughout the summer viewers will have the chance to win $1000 cash prizes every 14 days and a grand prize of $10,000 and all the fixin's for an epic end of summer barbeque event of their own.
Larry the Cable Guy, Comedian Larry the Cable Guy is a multi-platinum recording artist, Grammy nominee, New York Times Bestselling author, Billboard-award winner and one of the top comedians in the country. For three seasons, he was the host of Only in America with Larry the Cable Guy for History. In each episode, Larry visited various sites across the country revealing bits of real history while immersing himself in different lifestyles, jobs and hobbies that celebrate the American experience. He completed the Them Idiots Whirled Tour with Jeff Foxworthy and Bill Engvall and Larry, Jeff and Bill also star in an animated show for CMT called Bounty Hunters. Larry's road to stardom included the Blue Collar Comedy Tour, which grossed more than 15 million dollars. The tour's success led to Blue Collar Comedy Tour, The Movie, two more Blue Collar concert films and a television show, Blue Collar TV. Larry has also created The Git-R-Done Foundation, which was named after Larry's signature catchphrase, and has donated more than 7 million dollars to various charities. He was named to Forbes Celebrity 100 list in 2006, 2007, 2011 and 2012.
SHELLEY KEKUNA – EXECUTIVE DIRECTOR, KAANAPALI BEACH RESORT ASSOCIATION - 2014 KFRESH
In two years, Ka'anapali Fresh has become 'the most blogged about' culinary destination event on Maui. Produced and hosted by Ka'anapali Beach Resort Association, (whose members include resort hotels and condominiums, world-class golf courses, shopping centers, restaurants and ocean activity providers) the three-day festival features Maui-inspired cuisine paired with local farms and international wines and spirits.
It's our credo that good food brings people together no matter where they're from … We invite you August 29 – 31, 2014 to explore the bounty of the island with dishes creatively prepared by our resort chefs as well as celebrity chefs from Hawai'i. Discover new ways to build cocktails with fresh ingredients, explore a Maui farm, and experience authentic Hawaiian culture.
Along the way, indulge in the beauty of Hawai'i's legendary master-planned resort at Ka'anapali: stroll on America's Best Beach, frolic with marine life in the clear blue sea or simply enjoy the warm sun and lush landscape.
KAANAPALIFRESH.COM
STEVE EVANS - "THE MOVIE GUY"
GREAT MOVIES OPENING THIS WEEKEND AND BOX OFFICE PREDICTIONS AND HOPES. FIND OUT WHAT MOVIES ARE WORTH YOUR HARD EARNED MONEY. GET SET FOR THE WEEKEND.