GARY SINISE- AN AMERICAN TRADITION ON PBS FOR 25 YEARS: THE NATIONAL MEMORIAL DAY CONCERT - LIVE FROM THE U.S. CAPITOL
PBS's National Memorial Day Concert will mark its 25th anniversary with a special tribute to our men and women in uniform, their families at home, and all those who have given their lives for our country. Live from the West Lawn of the U.S. Capitol, the inspiring night of remembrance will: offer veterans from Afghanistan the grateful thanks of our nation; commemorate the 70th anniversary of World War II's D-Day invasion on the beaches of Normandy; and look back at the stories of service and sacrifice featured throughout the years during the annual concert.
The concert will be co-hosted for the ninth year by Joe Mantegna and Gary Sinise, acclaimed actors who have dedicated themselves to veterans' causes and supporting our troops in active service. The live program airs Sunday, May 25th, 8:00-9:30 p.m. Eastern, before an audience of hundreds of thousands, millions more at home on PBS, and our troops serving around the world on the American Forces Network.
To talk about the 2014 National Memorial Day Concert," North American Network is offering five- to six-minute telephone interviews with Gary Sinise. Interviews are being scheduled for Monday, May 19, from 10:00am to 12:00pm Eastern Time. To book an interview window, please call.
LEE SCHRAGER - FRIED & TRUE: MORE THAN 50 RECIPES FOR AMERICA'S BEST FRIED CHICKEN AND SIDES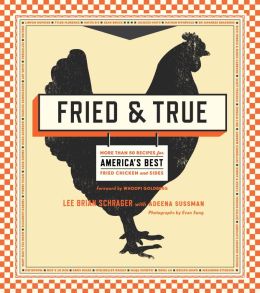 Whether you prefer it cold out of the fridge or hot and crispy on a buttery biscuit, you will find your new favorite fried chicken recipe inFried & True, serving up more than 50 recipes for America's most decadently delicious food.
Lee Schrager has left no stone unturned in his quest to find America's best fried chicken. From four-star restaurants to roadside fry shacks, you'll learn how to brine your bird, give it a buttermilk bath, batter or even double batter it, season with loads of spices, and fry it up to golden perfection. Recipes to savor include:
--Hattie B's Hot Chicken
--Yotam Ottolenghi's Seeded Chicken Schnitzel with Parsley-Caper Mayonnaise
--Marcus Samuelsson's Coconut Fried Chicken with Collards and Gravy
--Jacques-Imo's Fried Chicken and Smothered Cabbage
--The Loveless Café's Fried Chicken and Hash Brown Casserole
--Blackberry Farm's Sweet Tea–Brined Fried Chicken
--Charles Phan's Hard Water Fried Chicken
--Thomas Keller's Buttermilk Fried Chicken
--Wylie Dufresne's Popeyes-Style Chicken Tenders and Biscuits
Sink your teeth into Fried & True, the source of your next great fried chicken masterpiece and a tribute to America's most beloved culinary treasure.
ABOUT: Lee Brian Schrager is credited with creating one of Miami's biggest tourist attractions, the Food Network South Beach Wine & Food Festival (SoBe, as it is known), which has raised more than $10 million for the Florida International University School of Hospitality and Tourism Management, and the Southern Wines & Spirits Beverage Management Center. Schrager's Food Network New York City Wine & Food Festival benefits the Food Bank For New York City and Share Our Strength. He is a graduate of the Culinary Institute of America and is a vice president of Southern Wine & Spirits of America, Inc.
SPECIAL GUEST GARY PISONI JOINS IN ON THE WHAT'S COOKIN' SHOW!
Winegrower Gary Pisoni comes from generations of farmers who tended row crops long before he was born. His parents, Swiss-Italian immigrants, Eddie and Jane Pison, began farming vegetables in the Salinas Valley in 1952.
Pisoni enjoyed drinking and collecting fine French wines while in college. When he graduated, he was eager to find a way into the wine business. When he told his father he wanted to plant grapevines on the family cattle ranch in the Santa Lucia Highlands, he was met with several objections, not the least of which was the cost. Gary countered to his father, "Have you ever been to a $250 lettuce tasting?" His father relented and a legendary vineyard was born in 1982. Gary's positive energy has made him a household name and a passionate pioneer among Pinot circles.
Gary planted his first 5 acres of own-rooted vines in virgin soil at 1,300 foot elevation. It took ten years of witchers and well drillers to tap into a water source on the sixth try. Water turned the wilderness into a garden and made Gary's dream come true. The original vines are rumored to be from suitcase cuttings from a famous domaine in Vosne-Romanee, now called the Pisoni clone or selection.
Winemaker son Jeff and grape grower son Mark created the Pisoni label, releasing the first estate Pinot Noir in 1998. A second label, Lucia, debuted in 2000. Pisoni fruit quickly became highly prized in California and Pisoni Vineyard put Santa Lucia Highlands on the map, becoming one of California's true 'cult' vineyards. Many top producers craft a Pisoni vineyard-designate Pinot Noir (Arcadian, Capiaux, Morgan, Patz & Hall, Peter Michael, Siduri, Tantara, Testarossa). Gary Pisoni also manages nearby Garys' Vineyard with Gary Franscioni.
The Pisoni Estate Pinot Noir is sold exclusively through a mailing list. The Lucia wines are made in larger quantities and are sold through a mailing list offering and retail distribution (see Lucia in Winery Directory).
To coinicide with the 30th anniversary of Pisoni Vineyards, a Pisoni Estate Chardonnay was offered with the 2010 vintage. Chardonnay was initially planted at Pisoni Vineyards in 1982, but the fruit has gone into Lucia Chardonnay. The Pisoni Chardonnay comes from some original 30-year-old vines and some from blocks planted in 1999. Only 100 cases produced.