PHIL KEOGHAN - EMMY AWARD WINNING HOST OF THE AMAZING RACE - THE 24TH SEASON COMES TO AN EXCITING CONCLUSION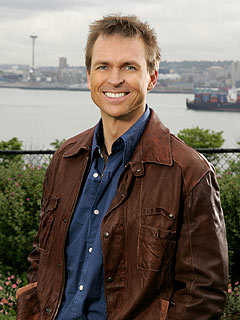 The 24th season of THE AMAZING RACE comes to an exciting conclusion, Sunday, May 18, 8-9 PM ET/PT. Chat with the Emmy Award winning Phil Keoghan about the Amazing All-Star season & preview the finale!
BIO:
An Emmy award winning producer and host of The Amazing Race, Phil Keoghan, has experienced a life full of travel and adventure. He started traveling around the world at the age of two and has been globetrotting ever since. Serving as host and a producer of CBS's multi Emmy Award-winning reality series, THE AMAZING RACE, Keoghan continues to travel at a pace few could match.
After surviving a near death experience at the age of 19, where he found himself lost at 120 feet inside a 22,000 ton ship wreck, Keoghan was prompted to write a list of things to do before he died. For more than 20 years, he has lived this, Life List, in front of a TV camera working in more than 100 countries as an actor, author, television host, producer, and cameraman.
Some of his adventures include having a five star meal on top of an erupting volcano; changing a light bulb on top of Verazano bridge; breaking an unofficial bungy jumping record with eight others; swimming from Asia to Europe across the Bosporus; and putting a golf ball across Scotland. Most recently, he rode his bike from Los Angeles to New York City to help raise awareness for the National MS Society. Keoghan filmed the grueling 3,500 mile adventure and turned it into a documentary film titled THE RIDE.
Phil's challenging Life List evolved into his life philosophy and the title of his best selling book, No Opportunity Wasted, NOW, (Eight ways to create a list for the life you want). The book was later developed into an award winning television series produced in the US, Canada and New Zealand.
With a passion to help others get the most out of life, Keoghan is a regular motivational speaker at colleges and major corporations throughout North and South America, Asia, New Zealand and Australia.
DANIEL WINER - CEO OF JUICEPRESSO
Beyond it's sleek design, Juicepresso has the smallest footprint of any in-home slow juicer. Internally Juicepresso houses a powerful DC motor, which is why we guarantee it to last at least seven years with daily juicing. Other cold pressed juicers use AC motors which are larger and less powerful, leaving you with a bulky appliance on your countertop.
While other cold press juicers operate at 80 RPM the Juicepresso operates at an incredibly slow 40 RPM. Although juicing time remains the same as traditional speed juicers, your fruits and vegetables are pressed slower, providing maximum juice extraction. Juicepresso provides up to 40% more juice than loud, old-fashioned juicers and since pressed juice lasts up to three days in your fridge, you can juice less often.
Inside the clear plastic drum lies Juicepresso's greatest feature. It's patented three in one screw! Other cold press juicers have several internal parts. Juicepresso has one, making it easy to clean. Simply pull your three in one screw out of the drum, rinse and place in the dishwasher. It's that easy, and we've made it BPA free!
Juicepresso is a great addition to any kitchen. There is simply no better way for you to enjoy the many benefits of juicing in your home.
WHY COLD PRESSED:
Cold press juicers operate at a very low speed, slowly squeezing juice out of fruits and vegetables. Cold press juicers or masticating juicers typically use an auger and strainer to squeeze and push juice out. Using the slow juicing or cold press juicing method, a slow juicer creates very little friction and no heat. This effectively retains all the enzymes and nutrients in fruits and vegetables, producing juice with no separation. Cold pressed juice does not oxidize quickly and can last for up to 72 hours in the refrigerator. The pulp that is produced is also much drier, meaning that the maximum amount of juice has been extracted from fruits and vegetables. Juicepresso Pulp can be used in many delicious recipes from baked goods to baby food!
Cold press juicers produce up to 40% more juice than high speed juicers. The machine essentially pays for itself. Traditional centrifugal juicers operate at high speed. A shredder disc or spinning blade is used to pulverize fruits and vegetables against a metal strainer, generating a force that separates the juice from the pulp. High speed creates friction and heat, which can destroy nutrients and enzymes from fruits and vegetables. The juice extracted from centrifugal juicers also separates and oxidizes much faster. This oxidation causes your juice to begin losing nutrients minutes after juicing. The pulp extracted is a lot wetter, yielding much less juice than a slow juicer.
EXECUTIVE CHEF OLIVIER ROUSSELLE, LUXE SUNSET BOULEVARD HOTEL – WINEMASTERS May 17th, 2014
ON SUNSET RESTAURANT:
Luxe Sunset Boulevard Hotel's fashionably designed Bel Air restaurant, On Sunset, presents the celebrated cuisine of Executive Chef Olivier Rousselle. Known for discriminating taste, our menus feature seasonal California fare with a splash of French influence. Bel Air fine dining is available al fresco on the comfortable and luxurious patio or indoors in the main dining room. Dine with us and experience one of the best restaurants in Los Angeles. On Sunset Restaurant holds a variety of special events in our Bel Air restaurant. Read on for more information, and check back often for new gourmet tastes.
JAZZ SUNDAY BRUNCH:
Besides gourmet dining and 24-hour in-room dining, On Sunset is known for a spectacular Sunday Jazz Brunch. Stocked with specially-prepared plates and a variety of traditional brunch favorites, guests can enjoy swinging live music with their meal. It's a great brunch, with great live jazz at a great price. Chef Olivier wouldn't have it any other way.
BIO:
World-class chef Olivier Rousselle, whose culinary experience spans over three continents, has created exquisite lunch and dinner menus featuring seasonal California fare with a fresh French twist for Bel Air fine dining at On Sunset Restaurant.
Executive Chef Olivier Rousselle originally hails from Paris, and his family ties are rooted in Gascony located in the Bordeaux region of the country. His formal culinary studies began at the ripe age of 16 in Paris with an externship in Gascony under the tutorship of famed chefs Bernard Ramouneda and Andre Daguin. Upon graduation, he was immersed in the fast paced environment of a traditional French Brasserie in Paris, where he learned to love the art of travel.
London was his next culinary adventure destination where he worked alongside chefs Keith Podmore and Keith Stanley, both from the prestigious Academy of Culinary Arts. While working with Podmore, Rousselle sharpened his skills in some of the most prestigious gentleman's clubs in London, where he often cooked for Prince Charles, the Queen Mother and other members of the Royal Family. Another continent was tugging at his chef's coat, and soon Rousselle moved to South Africa's wine country where he helped transform "La Couronne" Hotel and Winery to world class status along with award-winning chef, Peter Goffe-Wood.
After that successful experience, Rousselle decided to move to California to explore the phenomenon of 'farm fresh' cuisine and to experience the culinary scene in the U.S. Prior to joining On Sunset Restaurant, Rousselle was the executive chef at Michael's in Santa Monica for four years.
THE CALIFORNIA WINEMASTERS:
is a perennial Wine Spectator Top 10 Charity Wine Auction set for May 17, 2014 at Warner Bros. Studios in Burbank. This extraordinary event showcases 50 international chefs and 75 of California's Finest Wineries. "Winemasters" has raised almost $26 million in support of the mission of the Cystic Fibrosis Foundation.
The CF Foundation is a nonprofit donor-supported organization dedicated to attacking cystic fibrosis from every angle. It's focus is to support the development of new drugs to fight the disease, improve the quality of life for those with CF and ultimately, to find a cure.
The Foundation's drug development success has been recognized by Harvard Business School and by publications such as Forbes, Discover Magazine and The Wall Street Journal.
WWW.LUXEHOTELS.COM/SUNSET
CALIFORNIAWINEMASTERS.ORG