On Today's Show:
CRNtalk.com
Joel Fisher "Wine Guru"
Josh Duhamel - Actor
(2010 Drambuie Competition)
Andrea Cavaliere - Cecconi'sItalian Restaurant (truffles)
Beverly Lynn Bennett "CIG to Vegan Cooking"
Joel Fisher "Wine Guru"
The wine columnist for the Culinary Connection of the Chefs de Cuisine Association of California. He was a Contributing Editor of Patterson's Beverage Journal. From 1999 to 2006 he was a wine instructor for theCulinary Arts Department of the Art Institute of California-Los Angeles and is a founding
partner of the educational Wine Vine and Dine, which conducts programs throughout Southern California. Sommelier for the Escoffier Association of Southern California, Joel is also a member of Patterson Magazine's tasting panel. Joel travels extensively through "wine country" and frequently broadcast live from various winerys & vineyards. Dr.Fisher is a member of the Society of Wine Educators, The Circle of Wine Writers (UK) and was awarded a Wine Enthusiast Media Scholarship for2005 at the Culinary Institute of America. He is the author of the Wine Work Book now in its 6th edition. In 2004 he co-led a program for chefs and culinary students to the Culinary Olympics in Erfurt, Germany and to wineries in Burgundy and Champagne. In June 2006 he again led aprogram, "Wine and Cuisine of Iberia," to Spain and Portugal.In the 1960's, Joel M. Fisher (JMF) served in many Washington positions,including as Public Relations Director to Charlie Rhyne's World Peace Through Law Committee, before returning to California to teach. Two years later he was awarded the Ford Foundation supported National Committee Fellowship and was appointed Director of the Arts and Sciences and State Legislative Divisions of his party's national committee. As part of the 1968 presidential campaign, Fisher operated in 13 states.
Josh Duhamel - Actor
JoshDuhamel just wrapped production on "Life as We Know it" starringopposite Katherine Heigl for Warner Brothers. He is currently in NYworking on the film "The Romantics" in which he stars alongside KatieHolmes and Anna Paquin. Duhamel received three consecutive Daytime EmmyAward nominations for Outstanding Supporting Actor in a Drama Seriesfor his portrayal of Leo du Pres on "All My Children," and took homethe Emmy in 2002. He went on to star as Danny McCoy on NBC's popular one-hour drama "Las Vegas" with James Caan. Originally from North Dakota, he currently resides in Los Angeles with his wife, singer Stacy Ferguson "Fergie" from the famed Black Eyed Peas. 2010 DRAMBUIE PURSUIT COMPETITION A-List Actor Seeks Teammates for 100-Mile Outdoor Adventure Racein Scotland With numerous movie and television roles under his belt,Josh Duhamel will bring his intensity and charisma to the Scottish Highlands next May by participating in an endurance challenge that isnot for the faint of heart. Josh will compete in the 2010 Drambuie Pursuit, an epic outdoor adventure race across the wild terrain of the Scottish Highlands – and he's looking for adventurous Americans to join Team Josh! Fans can sign up for a chance to join Josh's team atwww.PursuitOf1745.com. From speedboat racing and whitewater rafting,to archery and mountain climbing, Team Josh will enjoy the experienceof a lifetime as they race in the footsteps of the legendary BonniePrince Charlie, for whom Drambuie was originally crafted. After afailed attempt at taking over the British throne in 1745, the Princeleft to his loyal subjects the secret recipe for Drambuie. Each year,teams from around the globe celebrate the Prince's ambitious journey bytrekking through a rugged 100-mile race course retracing his voyage. In May 2010, fifteen international teams of four will compete head-to-head in the challenging race across Scotland. As the captain of one of theU.S. teams, Josh is currently seeking applicants to join his team of modern rebels. As part of Josh's participation in the Drambuie Pursuit,a charitable donation will be made to charity. Details to be provided upon confirmation of interview. Please visit
PursuitOf1745.com
for more information about the 2010 Drambuie Pursuit. Drambuie wascreated more than 260 years ago exclusively for Prince Charles EdwardStuart of Scotland. It is a unique combination of aged Scotch whiskies, heather honey and a blend of herbs and spices; a recipe keptsecret since 1745. From the Gaelic "an dram buidheach" – the drink that satisfies – Drambuie is enjoyed by those who appreciate its timeless, yet distinctive taste. Drambuie can be served on the rocks,in classic cocktails such as the Rusty Nail, or more contemporary longdrinks such as the Drambuie and Soda.
Andrea Cavaliere - Cecconi'sItalian Restaurant - W Hollywood, CA
Cecconi's is a classic Italian restaurant serving breakfast, lunch, and dinner aswell as cicchetti (Italian tapas), seven days a week. We are located on the corner of Melrose Avenue and Robertson Boulevard in West Hollywood.Join us for a meal in the main restaurant, on the terrace, or at the bar with its wood-burning oven. Have a party in the Butterfly Roomwith seating for up to 40 people. The Butterfly Room
private hire
offers intimate fine dining, a private entrance is also available. Enzo Cecconi - the youngest ever general manager of the famous Cipriani restaurant in Venice - came to London in 1978 and opened Cecconi's London. It became an overnight success, and in the 80s, was a mecca for the rich and the royal. One lunchtime, during Ascot week, one waiter remembers serving members of four different royal families on four different tables. En zo Cecconi gave many Londoners had their first taste of fresh pasta, beef carpaccio, tiramisu, rocketand Bellini cocktails. He was devoted to spectacular food and service,and brought theatre to the restaurant, finishing guests' dishes in front of their eyes and showing them the magic of the food, which until that point had been kept behind the closed doors of the kitchen. In1999, after 21 years under the ownership of Enzo Cecconi, Cecconi's closed. A year later Hani Farsi took over the restaurant and refurbished it completely. In February 2004 it reopened with Nick Jones of Soho House as a partner. In January 2005 Soho House took full ownership. In July 2005 Cecconi's closed for two months to undergo acomplete refurbishment taking the restaurant back to its Venetian roots. The space was redesigned by Ilse Crawford (Soho House London and New York and Babington House).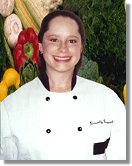 Beverly Lynn Bennett "CIG to Vegan Cooking"
Greetings, I'm
Beverly Lynn Bennett
,and I'm passionate about vegan cuisine! I've been working inrestaurants, in one form or another, for most of my life. At the age of12, I started out helping wash dishes at the club that my parentsbelonged to, and the rhythm and pulse of working in a busy kitchenbegan to get in my blood. I later would work my way up through theranks of various restaurants, and I eventually became a certifiedfoodservice operations manager as well as acquiring a culinary artsdegree from the University of Akron. In 1987, I became a vegetarian,and a few yearslater I went completely vegan, and it was the best decision I evermade! I never felt healthier, and knowing that I was no longercontributing to animal suffering made me feel even better. As a vegan,I can bake and sauté with the best of them, and I'm passionate aboutshowing the world just how delicious and nutritious food actually canbe when it's free of animal products. In the early 1990s, I wasfortunate enough to discover that a few vegetarian restaurants actuallyexisted in Northeast Ohio, where I lived at the time. There I was finally able to put my culinary talents to work without compromising my beliefs. I worked at several vegetarian restaurants in the years that would follow, my favorite of which was the famed Zephyr vegetarian restaurant (now a non-vegetarian pub) located near Kent State University, where I worked for four years as chef. From 1998 to 2000 Iwas the vegan chef at Tabor's Thyme Cafe, formerly a mostly organic,vegetarian restaurant in Berea, Ohio. In 2002, I became a regular columnist for the best vegan publication anywhere,
Veg News Magazine
.My column, "Dairy-Free Desserts," features some of my recipes for vega goodies that aren't available on this site or anywhere else. Unlike most other mainstream veg-related publications, VegNews is completely vegan-oriented and is on the cutting edge of reporting on what'shappening in the world of veganism. Also in 2002, my partner
Ray Sammartano
and I relocated to the very vegan-friendly city of Eugene, Oregon, andwe're loving it here! From 2002-2006, I worked for a long-establishedlocal natural foods store creating a daily assortment of fresh, organicvegan dishes and desserts. In 2007, I decided to take some time awayfrom working in restaurants in order to devote more time to writing,developing recipe ideas for upcoming cookbooks, and spreading the vegan message online and through cooking demonstrations, and as a consultantand contributor to various media projects. I am very proud to have contributed to and written several books in recent years. In 2005, I wrote
The Complete Idiot's Guide to Vegan Living
with Ray. It was the first book on veganism in the popular Idiot's Guide series. In 2008, we wrote a follow-up to the book titled
The Complete Idiot's Guide to Vegan Cooking
, which features over 200 new recipes and variations as well as being loaded with vegan cooking tips, advice, and information.