CHRIS BRODY - MARKETING MANAGER, DIGIORNO - TALKS ABOUT DIGIORNO'S NEW PRODUCTS AND INNOVATIONS WORK
ARTISAN STYLE MELTS
Snack-sized melts with fine cheese and premium toppings on artisanal focaccia bread. New Artisan Style Melts are the perfect snack anytime.
DIGIORNO® Artisan Style Melts start with authentic focaccia bread – crispy on the outside and tender and delicious inside. Topped with carefully selected, premium ingredients, these melts make the perfect snack or mealtime accompaniment.
•
PEPPERONI SPECIALE
•
SPICY SAUSAGE POMODORO
•
CHICKEN BRUSCHETTA
•
QUATTRO FORMAGGI/FOUR CHEESE
A PIZZA HISTORY
We've come a long way from our Chicago roots, but we've always stood by the deliciousness of fresh-baked pizza. From thick to thin and everything in between, we have something for everyone..
ORIGINAL RISING CRUST
We introduced the world to an oven-ready, rising crust pizza more than two decades ago. And we haven't looked back since. Our self-rising crust has big, juicy toppings that are paired with our signature sauce for the fresh baked taste of delivery pizza in your very own home.
IT'S SIMPLE. Our passion is pizza. Great pizza. Amazing pizza. The pizza you deserve. We make the kind of pizza that makes your mouth water and your senses celebrate. With a crust that rises to every occasion. And toppings that never cease to amaze. Pizza created from the knowledge that the freshest taste, comes baked from the freshest place – your oven. This is pizza that delivers on delicious every time, because... It's not delivery, it's DiGiorno.
WWW.DIGIORNO.COM
CHEF CHARLIE OWEN – EXECUTIVE CHEF, HULA GRILL KAANAPALI TALKS INVOLVEMENT WITH THE HAWAII FOOD AND WINE FESTIVAL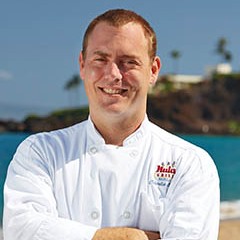 JOIN US AS WE CELEBRATE THE HOSPITALITY, CULTURE AND CUISINE OF THE HAWAIIAN ISLANDS.
Our oceanfront, open-air restaurants invite you to relax in the warm ambiance of a plantation era beach house while savoring Hawaii regional seafood. Here fresh fish and locally grown produce are combined to create amazing menu offerings that are as colorful as they are flavorful and are rivaled only by the spectacular ocean view from our beachfront locations.
ABOUT CHARLIE OWEN
Accomplished and award winning chef, Charlie Owen learned to cook as a child with family members using fresh produce, fish and game from the family farm where he grew up around Louisville Kentucky. Farm to table is just what they did, long before it was cool. After receiving a culinary degree from Sullivan Universality in Louisville, Charlie went on to train in top restaurants and caterers in Aspen Colorado before becoming personal Chef for a prominent Aspen and Memphis family. He made his first appearance in Maui kitchens in 2001 as a line cook at Mama's Fish house. He would soon meet his wife there and start building their family. Charlie spent the next few years back in Louisville running several successful restaurants before accepting an Executive chef position at Yum! Brands headquarters. Here he enjoyed many successes including development of an onsite organic garden for use in the food outlets over their two campuses.
LEGACY OF ALOHA (BY T S Restaurants)
"Legacy of Aloha" is the name given to our company's charitable efforts. It takes on many forms and faces, but is grounded in the spirit of giving without an expectation of receiving anything in return. Impacting our local communities in a lasting, positive way is at the core of the T S philosophy and value system.
Our primary focus is to support locally based organizations with causes that are close to our hearts such as combating hunger, preserving our natural resources perpetuating the Hawaiian culture, and supporting our kupuna or elderly.
We are very proud of the special role Legacy of Aloha plays in our company as it embodies an important part of the vision our Founders, Rob and Sandy, had for T S Restaurants. It keeps us focused on giving back and making an impact right in our backyards in each one of the communities that T S calls home.
HULAGRILLKAANAPALI.COM