ERIC GROSSMAN - AUTHOR, CRAFT SPIRITS
CRAFT SPIRITS
know the makers
infuse your own
create new cocktails
The first book to combine reference and practical how-to information from the most pioneering distillers around the world, and the first global catalog with photographs of every important craft spirit.
Small-batch artisan spirits have arrived in a big way, with micro-distillery start-ups hitting record levels around the world and hand-crafted spirits crowding the top shelf.
From vodka to rum to moonshine and more, Craft Spirits is your guide to which spirits to try and which pioneering distillers to watch.
Craft Spirits will bring out your inner mixologist with cocktail recipes for each spirit it features, and will inspire you to shake or stir your own unique signature cocktail. Tasting notes, step-by-step advice, and profiles of the key micro-distilleries in every category make this book a must-have for enthusiasts.
Highlighting more than 250 of the most important craft spirits, Craft Spirits is the first book of its kind, and author Eric Grossman, a key influencer within the industry, brings his knowledge of craft spirits and international cocktail trends to its pages.
CELEBRITY FITNESS AND WELLNESS EXPERT DAVID KIRSCH OFFERS FOOD AND FITNESS TIPS TO GIVE THE WHOLE FAMILY A SPRING TRAINING BOOST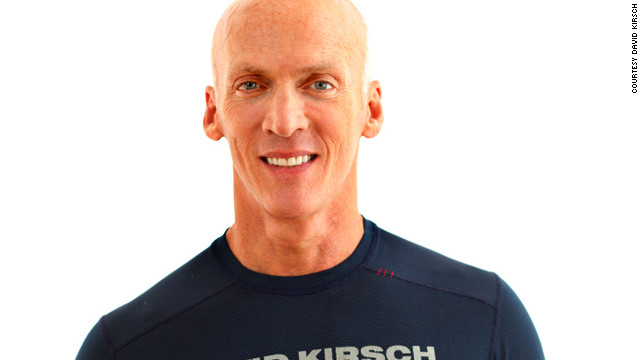 Celebrity Fitness and Wellness Expert David Kirsch Offers Food and Fitness Tips to Give the Whole Family a Spring Training Boost
Spring is here and summer is just around the corner, presenting the perfect opportunity to kick off a healthy routine for the whole family. But with families constantly on the move and juggling busy routines, it's not always easy for everyone to stay fit, eat well, and maintain a healthy lifestyle. Eating well and getting the right amount of exercise isn't just important for adults, it's equally important for kids as well.
Celebrity fitness and wellness expert, David Kirsch, is available to show, tell and demo food and exercise tips and tricks to give the whole family a healthy boost that will lead to lasting improvements to their overall health and well-being. David has tips to help the whole family maintain physical fitness, improve nutrition and live healthier including:
Mind Over Matter –Changing your mind-set can actually change your body. David will provide tips direct from his new book "Ultimate Family Wellness," a simple, step-by-step plan to keep even the busiest families healthy and fit.
Navigating Nutrition – From world class athletes to busy families, high protein foods made with only natural, non-GMO ingredients should be on your shopping list. David will showcase some of his favorite, delicious tasting Chobani Greek Yogurt products, including three new Rio-inspired limited edition flavors to celebrate the approaching Summer Games, and Chobani Kids® Pouches and Tubes – a perfect portable snack for the little ones.
Scrap the "Cookie Cutter" – Different workouts work for different people. David will demonstrate and discuss how to customize activities and workouts for different ages and body types to see lasting results.
ABOUT DAVID KIRSCH
A single dad of young twins, David realizes how important it is to establish healthy lifestyle habits early and demonstrates how a few simple changes can make a lifetime of difference. His latest book, "Ultimate Family Wellness," a simple, step-by-step plan to keep even the busiest families healthy and fit, has already garnered acclaim from several of his celebrity clients including Kate Upton, Liv Tyler and Jennifer Lopez, who actually penned to forward.
With over two decades of experience uncovering and harnessing the powerful connection between mind, body and spirit, David Kirsch has become a leading authority on achieving optimal health and wellbeing at any age or fitness level. An early proponent of tapping the power of the mind to sculpt the body, David is a true visionary in the field of wellness. Throughout his years as a sought-after trainer, David has transformed the bodies—and lives—of countless devotees through his signature combination of mind-body conditioning, multi-tasking workouts and smart nutrition. From founding New York's award-winning Madison Square Club to developing unprecedented supplements, classes and techniques designed to maximize workouts, David has been a pioneer in the wellness field throughout his long career.
In addition to authoring five books, and five fitness DVDs, including the bestseller The Ultimate New York Body Plan and the best-selling accompanying DVD, David has appeared on numerous television shows to share his fitness and wellness expertise, including The Today Show, E! and CNN World News, Dr. Oz, Live with Regis and Kelly and The View. Through his books, fitness DVDs, recipes, supplements and more, David Kirsch offers every man and woman access to the wellness regimen he has developed for some of the world's most discerning clients. Additionally, as a single father of four year old twin girls, he has expanded his wellness empire to include areas such as family and child fitness, nutrition and wellness. His website, DavidKirschWellness.com, represents a passport to the complete David Kirsch lifestyle, with expert tips, supplements, workout gear and more.
NEW RESEARCH ON MODERN LOVE WITH THE HOST OF THE HIT SHOW 'MARRIED AT FIRST SIGHT',
PEPPER SCHWARTZ, PHD

One of the Nation's Top Relationship Experts Shares an Study that Explains How Americans Feel about Marriage, Divorce & Relationships
Pepper Schwartz, PhD., is one of the top experts in the nation. She's best known as the Co-Host of the unique and top-rated show MARRIED AT FIRST SIGHT, but is also the author of 25 books on relationships. She is truly recognized as one of the premiere experts on dating in today's society. In our contemporary world, relationships are constantly changing with internet dating sites, marriage and divorce. Dr. Schwartz discussed with us the fascinating findings in a new AVVO Relationship Study that provided some interesting and surprising information about the way people feel about relationships.
To see the full study visit,
www.avvo.com
or join the conversation at @Avvo or use the hashtag #AvvoStudy
CLICK HERE FOR THE FULL STUDY
CLICK HERE FOR MORE INFO ON THE STUDY
ABOUT DR. SCHWARTZ:
She is Professor of Sociology at the University of Washington and earned her Ph.D. from Yale University. She is the author of 25 books, including two New York Times Best Sellers. Dr. Schwartz is presently the Love, Sex, and Relationship Ambassador for AARP and writes a column for them. Married at First Sight is in its third season on the A&E Network. The show is a daring social experiment in which six singles will marry a complete stranger.