GEORGE MILIOTES - DIRECTOR OF BEVERAGE & HOSPITALITY SEASON'S 52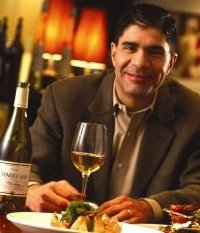 George Miliotes is a passionate educator and inspiring leader at Seasons 52, a new fresh grill restaurant concept. As Director of Beverage and Hospitality and one of the world's few Master Sommeliers, George oversees all aspects of Seasons 52's wine and beverage program, from the development of the award- winning wine list to educating and motivating service teams about wine.
Miliotes is a tremendous leader and innovator, who is credited with bringing a global, by-the-glass wine program to casual dining. His unique by-the-glass program encourages guests to make adventurous choices, mixing and matching wines with each course of their meal. A firm believer in education and knowledge-sharing, Miliotes continues to study wine while enhancing Seasons 52's wine list through his travel around the world. The result of his worldwide search is a stellar international wine list that is adventurous, yet approachable and inviting.
In March 2007, Miliotes became one of only 200 Master Sommeliers worldwide,passing a series of rigorous examinations that require the candidate to identify grape variety, country of origin, district of origin and vintage of six wines by taste and sight alone.
George Miliotes is the grandson of Greek immigrants and a child of the restaurant and hospitality business. His family owned a specialty market and café in Orlando, Fla., Mr. Dunderbacks, which became a gathering spot for local chefs and served as the starting point for Miliotes' passion for food and wine.
Miliotes' family also traveled extensively to some of the world's most respected wine regions, including Germany and France. These experiences enhanced his knowledge of wine and motivated him to pursue a career in the hospitality industry. Miliotes joined Chris' House of Beef, an Orlando landmark, and created a wine list that earned Wine Spectator magazine's "Best Award of Excellence" for four consecutive years, from 1988 through 1991. Miliotes later became the general manager of Walt Disney World's California Grill where he not only created another award-winning wine list, but also one of the first lists in the country to offer 100 wines by the glass.
Miliotes' honors include Restaurant Wine's 2006 "On-Premise Wine Marketer of the Year" award, Cheers magazine's 2007 Best Chain Wine Program Award for Seasons 52's wine list and Wine Spectator's Award of Excellence 2009-12.
JOHN GAMMON – FROM ABC'S EMMY AWARD-WINNING PRIMETIME FAMILY SITCOM THE MIDDLE
Ruggedly handsome and comedic Midwesterner, John Gammon, leads off ABC's Emmy Award-winning primetime family sitcom THE MIDDLE as the lovable but mischievous "Darrin." Airing Wednesday nights at 8pm/7c, Gammon shines alongside "Everybody Loves Raymond" star Patricia Heaton and "Scrubs" Neil Flynn who play a couple balancing their marriage and family in the Midwestern state of Indiana with semi nudist teenage son Axl (Charlie McDermott), their awkward high school daughter Sue (Eden Sher), and last but certainly not least their youngest child Brick (Atticus Shaffer). Gammon stars as Darrin, the best friend to Axl (Charlie McDermott) who much to Sue (Eden Sher) and her family's surprise, Darrin (John Gammon) finds her "cool" and professes his love in the memorable karaoke style tune "
Magical Trash Can Kiss
".
A country boy at heart, Gammon was born in Arkansas and raised in Ohio by two schoolteacher parents in a very academic based household. A natural athlete, playing lacrosse and wrestling through high school, he returned to the South for college and graduated with B.A. degree in Spanish & Latin American Studies. Finding his academic requirements met within his family, he followed his aspiring actor siblings to Hollywood and began immersing himself in classes, to improve work and land his first big break, landing THE MIDDLE as his 3rd ever audition. In his spare time, the single 20-something enjoys jujitsu and spending time with his boxer pitbull mix puppy, Arnold.