INGRID HOFFMANN - CELEBRITY CHEF SHARES EASY & DELICIOUS RECIPE IDEAS & TIPS TO KEEP YOUR HEART HEALTHY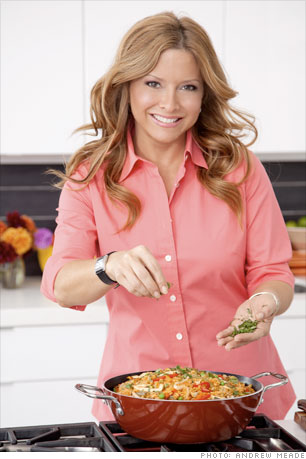 Cardiovascular disease remains the number one cause of death in the United States. In addition to a healthy lifestyle and exercise, little steps like easy ingredient swaps when cooking, can be the key to a healthy heart. To kick-off American Heart month, celebrity chef and author Ingrid Hoffmann is on hand to provide simple and delicious ways to be kind to your heart. She is a big believer that eating healthy and taking good cardiovascular care doesn't have to be boring – it can be delicioso! She is available on Wednesday, February 5 for live interviews to share cooking and prep tips on how to make your meals more heart healthy. In addition, Ingrid will debut an easy, heart healthy recipe that will delight the whole family and share information on new research about cooking and corn oil.
Ingrid Hoffmann professional eater and host of Simply Delicioso (Cooking Channel) and Delicioso (Univision), is passionate about food and entertaining and spends each day sharing her enthusiasm and talent with an international audience. In 2010, Ingrid partnered with Spanish media giant, Univision, to take her Delicioso brand to a new level. Hoffmann and Delicioso are featured in a range of cooking segments and capsules across Univision Networks, including popular morning show "Despierta America" and daytime show "Hoy," as well as an online/mobile platform with Univision Delicioso. Her latest book LATIN D'LITE: Delicious Latin Recipes with a Healthy Twist is available in bookstores nationwide in both English and Spanish.
www.ingridhoffmann.com
LARRY LIPSON - COSTA RICA WINE REPORT
For fifty years Larry Lipson was the food critic for the Los Angeles Daily News and now reports from Costa Rica weekly with his thoughts and favorite picks for Food & Wine. His lovely Wife Lillian is also on hand at the Lipson Institute for advanced wine studies.