Pro Football Legend Jerome Bettis & Cookbook Guru Robin Miller
The former Pittsburgh Steelers Running Back is one of the best all-time running backs in the NFL (5th overall in rushing). Jerome Bettis is also the 2001 recipient of the Walter Payton Man of the Year Award, and expected to be inducted into the Hall of Fame when he becomes eligible. He also serves as an analyst for NBC's "Football Night in America" studio show. "The Bus" finished his NFL career in January 2006 after 13 seasons, retiring immediately following the Pittsburgh Steelers' 21-10 win over the Seattle Seahawks in Super Bowl XL in his hometown of Detroit. Bettis was selected to the Pro Bowl six times, including his rookie season. Bettis finished his college career at Notre Dame averaging 5.7 yards per carry and was drafted by the Los Angeles Rams 10th overall in 1993. He was named NFL Co-Rookie of the Year and also earned Sporting News Rookie of the Year and Rams MVP honors. Bettis is severely allergic to shellfish. Bettis established "The Bus Stops Here Foundation" in 1996 to help improve the quality of life for disadvantaged and underprivileged children. In 2002, he was named the NFL Walter Payton Man of the Year for his community involvement and work by his foundation. Bettis and his wife Trameka live in Atlanta, Ga. with their daughter Jada and son Jerome. The Bettis' also maintain a home in Pittsburgh, Pa.
Robin has fifteen years of experience as a food writer and nutritionist and is the author of the bestselling cookbook Quick Fix Meals. She is the host of Quick Fix Meals with Robin Miller. Robin's recipes and nutrition features can be seen regularly in Cooking Light, Health, Shape, Men's Fitness and Toddler magazines. Currently, she appears on local, network and cable television. Programs of particular interest include: The Early Show (CBS), Regis & Kelly, The View, The Today Show (NBC), Good Morning America (ABC), CNN, ABC's Eyewitness News, CBS Evening News, Fox News Channel, Food Network, Discovery Channel, Health Network, and Joan Lunden's Women's Supermarket Network. She has written eight books: Robin to the Rescue, Quick Fix Meals with Robin Miller, Picnics, Verdure, The Newlywed Cookbook, The Daily Soup, Jane Fonda, Cooking for Healthy Living and The Newlywed Cookbook. Robin is severely allergic to eggs.
Nearly six million Americans are at risk for anaphylaxis – a severe allergic reaction that happens quickly and may cause death – and numerous studies indicate that the rate of anaphylaxis has increased in recent years.
Life-threatening allergic reactions may occur as a result of exposure to allergens including foods such as peanuts, tree nuts, fish, shellfish, dairy, eggs, soy and wheat; insect stings; latex and medication, among other allergens. Food is the most commonly-identified anaphylaxis trigger.
Professional football legend Jerome Bettis, who is allergic to shellfish, and Food Network star Robin Miller, who is allergic to eggs, both take essential life-saving steps as part of their overall severe allergy action plan, including avoiding their allergens and carrying an epinephrine auto-injector. Miller and Bettis will carry Auvi-QTM (epinephrine injection, USP), a new epinephrine auto-injector now available via prescription. Auvi-Q is the first-and-only compact epinephrine auto-injector with audio and visual cues for the emergency treatment of life-threatening allergic reactions. Bettis and Miller are teaming up to help people like them, as well as parents and caregivers of those at risk for anaphylaxis by providing allergy-friendly recipes and tips for those hosting Big Game parties.
Eric Johnson - Winemaker - Talley Vineyard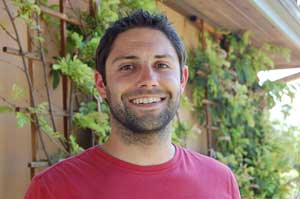 Winemaker Eric Johnson is a graduate of Cal Poly San Luis Obispo where he studied Wine and Viticulture and Agricultural Business Management. He joined Talley Vineyards in 2007.
Eric was raised on a family farm in Los Banos, California. "I appreciate the tradition of quality that the Talley family has fostered since they began farming the Arroyo Grande Valley in 1948," he said. "I believe that the world's greatest wines are defined by place as opposed to winemaking manipulation." In addition, Eric has a great work ethic and passion for excellence. "A great winemaker needs flair, imagination and the inspiration of divine discontent."
Eric has traveled to France, Italy, New Zealand, Argentina and Chile for the opportunity to explore wine grape regions or work harvests. In his spare time, Eric enjoys outdoor sports, food and wine. He lives in San Luis Obispo.