Auto Expert Doug Brauner - Luxury Cars

Join national auto expert Doug Brauner LIVE from the Concours d'Elegance, in Pebble Beach, CA on Thursday, August, 16th, from 6:00am to 1:00pm ET as he provides insight on some of the most lust-worthy luxury cars on the market and some more affordable than you think. Once each year, on the third Sunday in August, about 200 of the most prized collector cars and motorcycles in the world roll onto what is often called the best finishing hole in golf — the famed eighteenth fairway at Pebble Beach. Tire meets turf and transformation occurs: the stage is set for one of the most competitive events in the automotive world. The occasion is the prestigious Pebble Beach Concours d'Elegance. Not only is Doug the current writer and voice of the Telly Award winning show "DRIVE," on Discovery Networks, he's a 15-year automotive broadcaster who has appeared on numerous morning shows and a certified mechanic in California, who owns two auto repair shops and turns wrenches every day in addition to hosting a wild weekend LIVE automotive show every Sunday, in Sacramento, CA. THE CAR CZAR with Doug Brauner is the most watched show in its time period every weekend. The Car Czar Show attracts more women than men, and Doug's hilarious over the top interactive live shots make him a must for your high-energy morning show.
Marsh Mokhtari HOST "Extreme Chef"
Food Network takes seven of America's most fearless chefs out of their kitchens and drops them into some of the most extreme locations in the second season of Extreme Chef premiering Thursday, August 16th at 10pm ET/PT. Over the course of five episodes, from the scorching deserts of California to the exotic jungles of Thailand, the chefs test their physical prowess, mental toughness and culinary skills as they compete in grueling and seemingly impossible culinary challenges including pulling out needles from a cactus pad to create a tasty dish, and creating a meal in 60 minutes on a floating dock, while the chefs rescue their ingredients from a capsized fishing boat in the ocean. Hosted by TV veteran and seasoned world traveler Marsh Mokhtari, each episode features the chefs competing in challenges judged by a rotating panel of notable guest judges, with the bottom two chefs facing off in a final showdown challenge to determine which chef goes home. In the end, one chef is able to consider themselves the most Extreme while taking home a $50,000 grand prize. Special guest judges this season include Simon Majumdar (Next Iron Chef judge, food journalist), Ben Sargent (host of Cooking Channel's Hook, Line & Dinner), and Troy Johnson (host of Crave, food critic and journalist).
Duffy Keys / Christina Machamer - "B Cellars"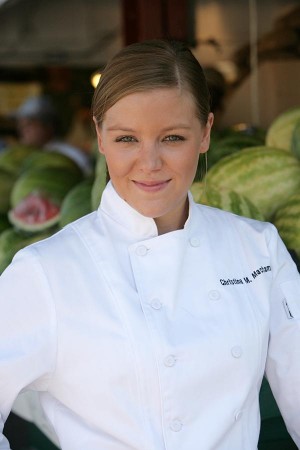 B Cellars is located in Calistoga on the historic Silverado Trail, just a few minutes from downtown Calistoga, nestled beneath the Vaca mountain range in the Napa Valley. Founded in 2003 by business partners Duffy Keys and Jim Borsack, B Cellars is a premium winery and tasting lounge committed to the artisan approach to create complex, perfectly balanced wines. A modern-day négociant in the classic French model, B Cellars crafts exceptional blends produced from grapes procured from Napa Valley's most coveted vineyard properties. The B Cellars approach delivers flavor profiles rarely available from single-vineyard, single-varietal wineries, making B Cellars vintages ideal for pairing with creatively articulated foods. B Cellars' multi-vineyard winemaking strategy, allows for the blending of matchless varietals from around Napa Valley to create unique wines with distinct character, depth, and "layers" of flavors. B Cellars produces wines from Napa Valley's most sought-after, marquee vineyards, offered at prices substantially lower than other producers who have access to many of the same vineyards. B Cellars' hand-crafted wines are made from grapes grown on nine prime Napa Valley vineyard sites, including To Kalon, Dr. Crane, Caldwell, Williamson Ranch, Juliana, Maldonado, Star, Stagecoach, and Lewelling.