DAVE ASPREY - DISCUSSES THE HEALTH PERKS OF COFFEE AND HIS BRAIN BOOSTING DIET
BIOHACKING EXPERT DISCUSSES THE HEALTH PERKS OF COFFEE AND HIS BRAIN BOOSTING DIET
Dave Asprey, biohacking expert and entrepreneur, is living proof of the value of managing your own biology using nutritional techniques. Asprey began his career in Silicon Valley, where the stress of working as an executive wore on his body: He was tired, suffered constantly from "brain fog," and, at one point, weighed 300 pounds. After trying various diet fads to no avail, Dave spent more than two decades "hacking" his own biology – working with world-renowned doctors and scientists to uncover the latest, most innovative methods for enhancing mental and physical performance. It was during this time he created Bulletproof coffee.
DID YOU KNOW?
The average coffee drinker has 3.1 cups per day, or 70 gallons a year – enough to fill a bathtub.
Coffee has been linked to improved memory recall, and can also help prevent Alzheimer's, heart disease, gout, and type 2 diabetes.
Coffee drinkers are 50% less likely to get liver cancer than those who avoid the beverage.
SOME OF HIS TIPS INLCUDE:
REDUCE & REPLACE. Eliminating sugar, corn syrups, and even natural sweeteners like maple syrup and honey, will keep your blood sugar and brain function balanced.
ELIMINATE THE FAKE STUFF: Avoid all synthetic additives, colors, and flavors. This includes aspartame, MSG, dyes, and artificial flavors.
CHOOSE DAIRY CAREFULLY: Remove all processed, homogenized, pasteurized, and non- or low-fat dairy products. Full fat, raw, whole dairy from grass-fed cows is well-tolerated by most people.
GIVE YOURSELF A COFFEE UPGRADE: Looking for new coffee flavors? Try adding turmeric, ginger, collagen protein, or cayenne to your coffee for creative flavor and a healthy upgrade.
SHARON MILLER, HEAD OF SMALL BUSINESS, BANK OF AMERICA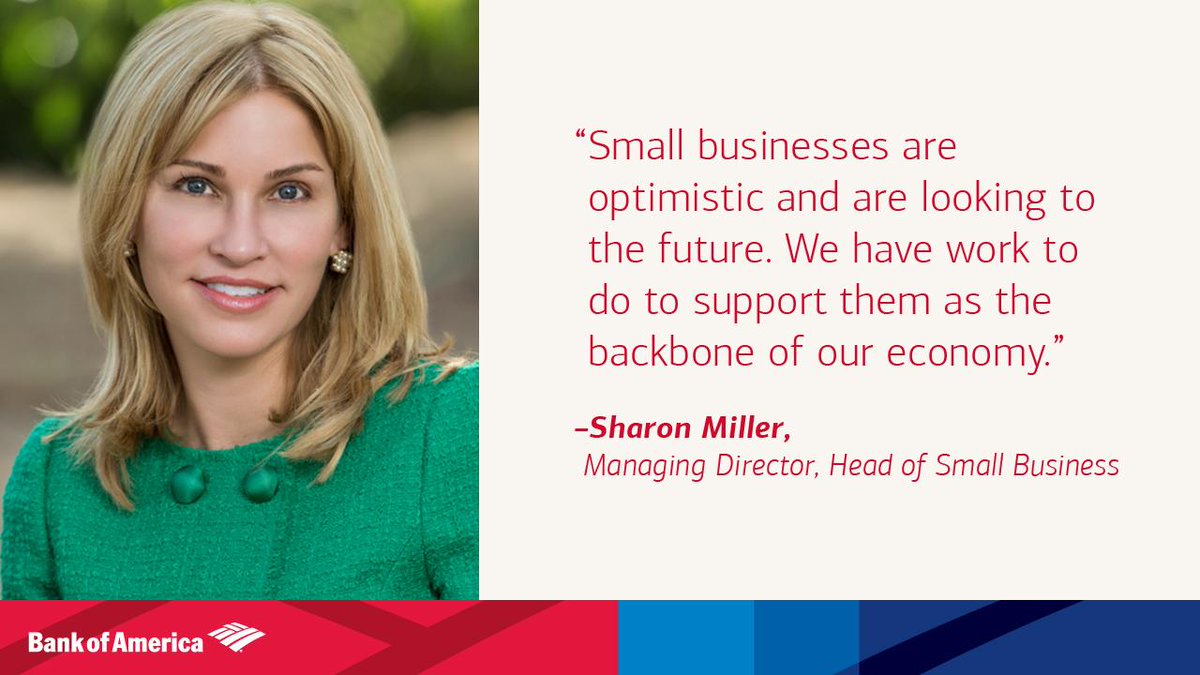 WOMEN ENTREPRENEURS EXPECT BIG CRACKS IN THE GLASS CEILING OVER THE NEXT 20 YEARS
Women Say Work-Life Balance is Achievable Despite Some Challenges
Women entrepreneurs see gender equality in the workplace on the horizon, according to the 2017 Bank of America Women Business Owner Spotlight, an annual study of 1,000 small business owners.
BANK OF AMERICA WOMEN BUSINESS OWNER SPOTLIGHT KEY FINDINGS:
Women entrepreneurs predict significant strides for women in the workforce over the next 20 years, including:
80% believe there will just as many – or more – women than men in STEM fields
68% believe women will match or exceed men in holding C-suite or executive leadership roles
66% believe women will surpass men in small business ownership
61% foresee women achieving pay equity with men
71% believe at least 25 states will adopt state-enacted paid maternity leave policies
Women entrepreneurs are increasingly upbeat about the economy, though taking a wait-and-see approach on revenue, growth and hiring
Women small business owners have shown significant YOY increases in optimism toward the economy:
45% believe their local economy will improve in 2017 vs. 37% in 2016
44% believe the national economy will improve in 2017 vs. 25% in 2016
While more optimistic YOY, women entrepreneurs have less confidence in the economy than their male counterparts
On a positive note, women entrepreneurs' concern over specific economic issues also dropped YOY:
68% expressed concern over the cost of health care in 2017 vs. 74% in 2016
Less than half are concerned about consumer spending, corporate tax rates and commodities prices
54% of women SBOs plan to grow their business over the next five years vs. 60% in 2016
19% plan to hire in the year ahead, on par with 2016
44% expect their revenue to increase in 2017 vs. 54% in 2016
WWW.BANKOFAMERICA.COM/SMALLBUSINESS
FORMER MLB OUTFIELDER AND CURRENT MANAGER OF THE LA DODGERS DAVE ROBERTS – OWNER, RED STITCH WINE
Drawn together through a blind tasting group, our families (the Aurilias, Miceks and Roberts) have become close friends and devoted wine enthusiasts. Beginning in 2007, we have enjoyed incredible tastings in our homes and at our favorite restaurants across California and around the world. As our love for wine brought us closer together, our relationships across Napa and Sonoma grew deeper as well. After the 2008 baseball season ended for Rich and Dave, we started to lay the groundwork for our venture into the wine business. Enjoying one incredible tasting after another across the Napa and Sonoma Valleys, visits with Rolando Herrera of Mi Sueño Winery, and the story of his passion for the art of fine wine, led us to friendship and an ultimate partnership. Rolando's knowledge, relationships and enthusiasm for Red Stitch have given us the opportunity to source incredible grapes from some of the finest vineyards in the Napa Valley.
Since the formation of Red Stitch, Rich, Dave, Tricia, John and Noelle have been intimately involved in the winemaking process, and have worked closely with Rolando and the entire Mi Sueño family to craft a blend of Cabernet Sauvignon and Malbec that would stand the test of time. This hands-on approach defines our group's desire to be involved in all aspects of the winemaking process. The inclusion of the Malbec varietal in our flagship Cabernet Sauvignon is both due to the varietal's outstanding characteristics and the layers that it brings to the wine, as well as the fact that a fantastic Malbec tasting first brought our families together in San Francisco!
Since our inaugural 2007 vintage, we are proud to have deepened our relationships with the wine community. In 2011, we were fortunate to partner with the renowned vineyards Soberanes and Sierra Mar in the Santa Lucia Highlands, to craft two outstanding vineyard designate Pinot Noirs. Both wines have become an integral part of the Red Stitch portfolio, and we could not be more thrilled!
Our Team
In life it is clear that wine often brings strangers together around a table and turns them into friends. The Red Stitch story is no different in this regard. Starting around a table in Patagonia, Argentina and bringing the families together for the first time at a Malbec tasting in San Francisco; wine has played a special role in the creation of The Red Stitch Wine Group. Please meet the Aurilias, the Miceks, and the Roberts.
David & Tricia Roberts
Owners
David and Tricia Roberts grew up in San Diego, California and were high school sweethearts. The Roberts were married in 1997 and have two children, Cole and Emmerson. In 2010, Tricia completed sommelier school and is a Certified Specialist of Wine. Soon after in 2011, she founded her interior design firm, Tricia Roberts Design and has been incorporating her classic style from coast to coast.
David graduated from UCLA and went on to have a happy and successful 10 year career as a Major League baseball player. He will long be remembered by Boston Red Sox fans for his "Steal of the Century" in Game 4 of the 2004 American League Championship Series against the New York Yankees. David retired from playing baseball in the spring of 2009 and is the new Manager of the Los Angeles Dodgers.
David and Tricia developed a shared passion for wine over their time together and took their first of many trips to Napa Valley during the harvest of 2002. They enjoy spending time together as a family with their two children at their home in Southern California.
WWW.REDSTITCHWINE.COM