IN HONOR OF NATIONAL LASAGNA DAY CYNTHIA PECK FROM ANGELO'S AND VINCI'S JOINS THE SHOW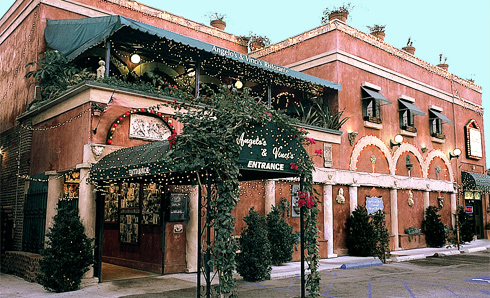 OUR HISTORY
Forty-three years ago, our restaurant was built with tradition and has since continued with tradition. At our home in the old marketplace, we tribute our ancestors who came to America in the late 1800's – their spirit and their recipes!
A little about this old building…
Originally built as an L-shaped marketplace in the days when Fullerton was an orchard (early 1900's), the local farmers would bring their produce in from the fields by horse and wagon to sell to the townspeople. The original wood trusses of the old roof system may still be seen in the Venetian Room. Approximately twenty years later, renovation of the building changed it from its original L-shape to a square. This was accomplished by the large wood barrel trusses (an unusual truss!), which can be seen in the Sicilian Room and the Piazza Fantasia. During our renovation in 1992, the old wood, terra cotta tiles and brick was salvaged and re-used to keep alive the feeling and memories of those days long ago.
About our décor…
Be prepared when you walk into Angelo's and Vinci's Ristorante to be overwhelmed! With surprises in every corner, you won't know where to look first! You will sit amidst the art of the great masters, in an Italian town square complete with the storefronts of old Italian butcher and cheese mongers, fruit and wine vendors, seamstresses showing their wares, and more. Fairy lights abound under cathedral ceilings as our ancestors smile down at you from the Family Love Altar. Explore and you will be surrounded by colorful Sicilian puppets, the carnival masks and canals of Venice, and the romance of Romeo & Juliet. Find our mystical Room of the Moon…and don't forget King Kong, Dracula, Frankenstein, witches, ghosts and who-knows-what that await you in the Monster Wine Cellar!
And, as for Hollywood…
Founder, Steven Peck, renowned Hollywood dancer, choreographer and veteran actor of over 100 movies and television performances, has delightful photographs of over 40 years of famous stars, directors and dancers. Frank Sinatra, Dean Martin, Gary Cooper, Robert Taylor, Broderick Crawford, Kirk Douglas, Walter Winchell, Sam Wanamaker, Vincent Minnelli, Sylvester Stallone, Ted Danson, David Hasselhof, Ray Sharkey, Shirley MacLaine, Cyd Charisse, Dolly Parton, Joan Collins, Raquel Welch, Olympia Dukakis, Shelly Winters and so many more. Films from Paramount, Twentieth Century Fox, Warner Bros., MGM, Desilu, United Artists, Universal Studios, to name a few.
Ask for a "Walking Tour" brochure to find out more about the meaning and dedications behind our décor!
WWW.ANGELOSANDVINCIS.COM
EMMA SWAIN - CEO, ST. SUPÉRY ESTATE VINEYARDS AND WINERY - NEW TASTING SALON IN BEVERLY HILLS
St. Supéry Estate Vineyards and Winery is a 100% Estate Grown, Napa Valley sustainably farmed winery. We are located in the renowned Rutherford growing region in the heart of Napa Valley. Our vineyards and winery are certified Napa Green. We are proud to be recognized for our exceptional Sauvignon Blanc, Cabernet Sauvignon and estate red and white blends. All of our wines are estate grown, produced and bottled.
ST. SUPÉRY ESTATE TASTING SALON- BEVERLY HILLS
Opening August 2017 – August 2018
408 N. Rodeo Drive
Beverly Hills, CA 90210
Hours of Operation: Monday – Saturday 11am – 7pm and Sunday 12pm – 6pm
WWW.STSUPERY.COM
STEVE EVANS - THE MOVIE GUY
GREAT MOVIES OPENING THIS WEEKEND AND BOX OFFICE PREDICTIONS AND HOPES. FIND OUT WHAT MOVIES ARE WORTH YOUR HARD EARNED MONEY. GET SET FOR THE WEEKEND.