GEORGE BURGESS, DIRECTOR OF THE UNIVERSITY OF FLORIDA PROGRAM FOR SHARK RESEARCH - SHARKFEST ON NAT GEO WILD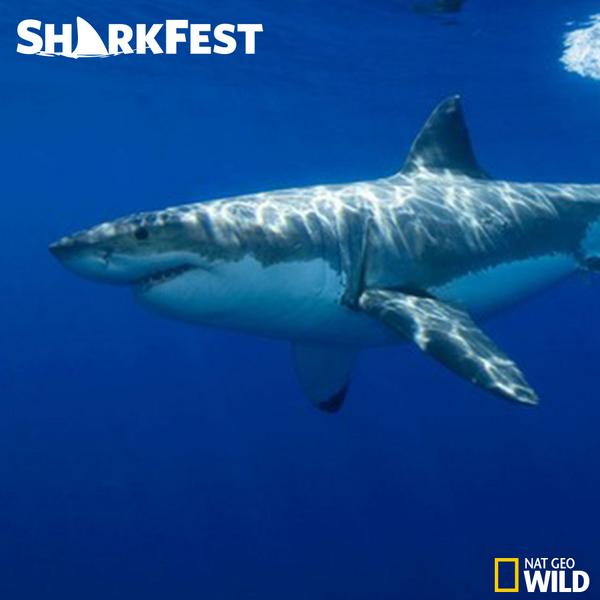 DIVE INTO SHARKFEST WITH BRAND NEW JAWSOME SHARK PROGRAMMING AIRING SUNDAY, JULY 23 AT 8 PM ON NAT GEO WILD
SharkFest, television's second-best-known week of sharks, returns to Nat Geo WILD on Sunday, July 23 at 8 PM ET. In addition, decorated Olympian Ryan Lochte makes a splash to help spread the word about the most sharks per square inch on television. Celebrating its fifth anniversary, SharkFest presents factual shark stories incorporating innovative research technology to reveal compelling insight on some of the most unique shark species in the world. With the help of scientists and shark experts, SharkFest will deliver the facts and raise awareness about these "jawsome" animals in more than 131 countries and 38 languages.
Check out SharkFest 2017's fantastic program schedule here:
Shark v Predator
Premieres Sunday, July 23 8/7c
SharkFest kicks off with a look at the animals that dare to take on sharks. Seals, crocodiles, octopi, bobcats and even birds have gone head to head with these elite killers, and we've uncovered the footage to prove it. Watch rare moments when a shark ends up on the receiving end of an attack. It's time for nature's ultimate underwater showdown.
Tiger Shark Terror
Premieres Monday, July 24 8/7c
Every diver has been warned that sharks feed at night, but is this a myth or does the truth lurk somewhere deep beneath the waves? Professional shark diver Eli Martinez and scientist Matthew Smukall plunge into the nighttime world of Tiger Beach to investigate whether shark behavior changes once the sun goes down.
Mission Critical: Sharks Under Attack
Special Encore Airs Monday, July 24 10/9c
National Geographic underwater photographer and Instagram star Brian Skerry is on a mission to change the perception of our oceans' greatest predators – sharks. After three decades capturing the world's oceans on camera, Skerry knows sharks as kings of the oceans that keep these fragile ecosystems functioning, not as violent "Jaws"-like man-eaters.
Shark Swarm
Premieres Tuesday, July 25 8/7c
Across the vast oceans are underwater oases where sharks congregate in huge numbers. What is the attraction at these mysterious waypoints? Join shark scientist Riley Elliott on a unique expedition as he investigates some of the largest and most mysterious shark gatherings on the planet.
World's Deadliest: Shark Frenzy!
Premieres Wednesday, July 26, 8/7c
The deep blue sea is a majestic place explored by many, but it also holds some of the world's deadliest apex predators … sharks! These savage killers have one thing in common: the need to feed. In their quest, they use sheer force, technique and genetics to achieve their ultimate goal.
WWW.NATGEOWILD.COM
JODI SHEEDY - DIRECTOR OF BIOMEDICAL COMMUNICATIONS AT AMERICAN RED CROSS NATIONAL HEADQUARTERS - BLOOD SHORTAGE ISSUES EMERGENCY APPEAL FOR DONORS
AMERICAN RED CROSS FACING CRITICAL BLOOD SHORTAGE ISSUES EMERGENCY APPEAL FOR DONORS
Donations down 61,000 over the past two months
The American Red Cross - the nation's largest provider of blood products - is in the middle of a critical blood shortage, and Red Cross officials are making an urgent appeal to donors to give now and save lives.
Blood donations have fallen significantly over the past two summer months with 61,000 fewer donations than last year at this time. The Red Cross must collect nearly 14,000 blood donations every day for patients at approximately 2,600 hospitals across the United States. However, summer is one of the most challenging times of the year for donations with schools that host blood drives on break and many people off enjoying vacation.
Senior Vice President for Biomedical Services Recruitment and Field Marketing Cliff Numark will be available for live or taped radio interviews about the blood shortage on Wednesday, July 19, 2017 from 6 am to 1 pm (EDT) via a high-definition studio teleconferencing line.
Every two seconds someone in this country needs blood, but the blood donations are currently being distributed to hospitals faster than they are coming in. Red Cross officials stress that more blood is needed now to replenish the supplies and also be prepared for any major disasters that could occur this summer.
Donations are urgently needed now from new and current donors to fully meet the needs of hospital patients in the coming days and weeks. Please make an appointment today by using the Red Cross Blood Donor App, visiting redcrossblood.org or calling 1-800-RED CROSS (1-800-733-2767).
REDCROSSBLOOD.ORG