IAN BLACKBURN – OWNER/FOUNDER, WINE LA & FOUNDER/CO-WINEMAKER, BEEKEEPER CELLARS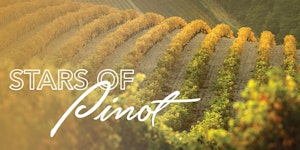 ABOUT STARS OF PINOT
Wednesday / July 19, 2017
Sofitel Los Angeles at Beverly Hills
8555 Beverly Blvd, West Hollywood, CA 90048
LA's best Pinot - and wineLA's biggest event of the year is back and it's bigger and better than ever!
The 3rd Annual STARS of Pinot returns to the luxurious Sofitel Beverly Hills (next to the Beverly Center). STARS of Pinot features over 200 Pinot based wines poured by approx. 60 of the world's top producers. This year we feature two different VIP experiences! (#1) An intimate 5:30 Winemaker Dinner with Kosta Browne's Winemaker and 8 different Kosta Browne wines, or you can select (#2) the 6PM Master Sommelier Pinot Panel and Dinner - Join Master Sommelier Michael Jordan hosting a winemaker panel that includes dinner!
All guests will enjoy unlimited wine tasting; both an appetizer buffet and tray passed hors d'oeuvres; a complimentary take home Pinot Noir wine glass, a live auction benefitting the T.J. Martell Foundation, and everyone is invited to stay for the after party with DJ Raul Campos of KCRW.
WWW.WINELA.COM
WWW.BEEKEEPERCELLARS.COM
STEPHANIE PURYEAR HELLING & JEREMY LAWSON - INCREASE IN APT. LIVING LEADING TO MORE JOBS
APARTMENT RESIDENTS CONTRIBUTE $1.3 TRILLION ANNUALLY TO U.S. ECONOMY
There are 38 million residents renting apartments in America today, and this number is expected to grow. The country could add as many as seven million additional renter households this decade. All this growth means more traffic to businesses in close proximity to apartments—more lattes from the coffee shops, more food from the supermarkets, and more customers at the drycleaners.
Americans are beginning to place greater value on the concepts of walkability, urban revival, and work-life balance. This opens more people up to housing options beyond the traditional single-family house, which helps explain why almost 1.1 million households chose apartment living over the past four years.
Apartment communities offer their residents numerous advantages, including maintenance-free living, 24-hour fitness centers, concierge services such as package delivery and valet trash pick-up, and business centers. Apartment communities also offer an easier work-life balance—they are typically located closer to job centers and leisure activities.
The growth in apartment living translates into growth in the job industry—there are more than 12 million jobs in construction, operations, leasing, management, maintenance, and skilled trades. That means there is a huge demand for qualified people—in fact, the U.S. Department of Labor estimates 11,000 new property management jobs every year.
Those individuals who find successful careers in the apartment industry are from all walks of life. They have a broad range of experience – from military veterans who are searching for a new type of job to recent college graduates ready to take on their first position in the workplace.
KATELYN MAYER - DIRECTOR OF PUBLIC RELATIONS, SHERATON MAUI RESORT & SPA - HAWAII FOOD & WINE FESTIVAL AND OTHER HAPPENINGS
Sheraton Maui Resort & Spa is where the legend of Ka'anapali began. Situated on Ka'anapali Beach at historic Pu'u Keka'a, Black Rock, the oceanfront resort is nestled among 23 acres of tropical landscaping with 83 percent of the resort's 508 rooms and suites facing the ocean.
Sheraton Maui Resort & Spa was named the Starwood Hotels & Resorts 2007 "Hotel of the Year" for the Sheraton brand, and recognized in Conde Nast Travelers' 2012 Top 25 Hawaiian Resorts. Sheraton Maui Resort & Spa has also appeared in TRAVEL + LEISURE magazine's World's Best Awards "Top Resorts in Hawaii" in 2007, 2008, 2013 and 2015.
SHERATON-MAUI.COM