ANTHONY SCOTTO - J. MCCLELLAND CELLARS - 28TH ANNIVERSARY OF A CULINARY EVENING WITH THE CALIFORNIA WINEMASTERS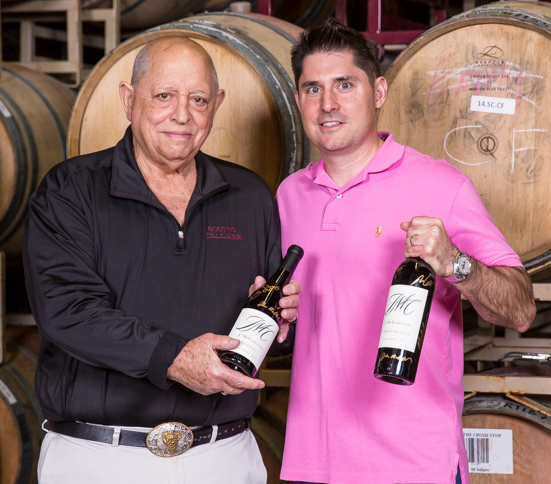 In 2008, the Scotto Family began preparing for the production of a collection of world class wines from Napa Valley dedicated to and named for their long time friend, trusted advisor and iconic California wine industry personality John McClelland. The fruit would be sourced from select Napa Valley vineyards by Winery Director and Winemaker Paul Scotto and vinified with Winemaker Mark Smith at the Scotto family's newly acquired Steele Canyon Winery in the Valley's eastern hills.
In 2014 the J. McClelland Cellars team was enhanced with the addition of Mitch Cosentino, the renowned and frequently awarded winemaker who brought many years of Napa Valley knowledge, experience and vineyard contacts to the project. Since the first release in 2015, JMC wines have garnered more than three dozen prestigious awards and 90+ point scores from highly respected critics as well as national and international wine competitions. Click here to view a complete list.
John McClelland's relationship with the Scottos began in the early 2000s during a meeting with the family to resolve some wine business issues and led to a lasting friendship between John and the entire family. John had a deep knowledge of the industry and a well connected sphere of distribution throughout the U.S. At the same time, 5th generation vintner Anthony III (affectionately known as A3) decided to return to the family's winemaking tradition and began developing a network of distributors and brokers for their wine portfolio. A personal meeting with John and A3 followed that was the beginning of a strong joint collaboration.
John's contribution and working relationship with A3 evolved into a tightly knit bond with the Scotto family and their wine related interests. John became involved with blending decisions and all brand related issues. In celebration of the 10th anniversary of this friendship, the family wanted to honor John for his six decades of service to the industry and his tremendous impact on the Scotto family of wines.
The purchase of Steele Canyon Winery in 2012 provided the platform for the creation of J. McClelland Cellars and the Scotto commitment to produce only the finest from Napa Valley, resulting in our award winning JMC wines. We now invite you enjoy the wines inspired by John McClelland and hand-crafted by Paul Scotto and Mitch Cosentino.
WWW.JMCCLELLANDCELLARS.COM
28TH ANNIVERSARY OF A CULINARY EVENING WITH THE CALIFORNIA WINEMASTERS
The California Winemasters is a perennial Wine Spectator Top 10 Charity Wine Auction set for May 20, 2017 at Warner Bros. Studios in Burbank. This extraordinary event showcases 50 international chefs and 75 of California's Finest Wineries. "Winemasters" has raised nearly $29 million in support of the mission of the Cystic Fibrosis Foundation.
The CF Foundation is a nonprofit donor-supported organization dedicated to attacking cystic fibrosis from every angle. Its focus is to support the development of new drugs to fight the disease, improve the quality of life for those with CF and ultimately, to find a cure.
The Foundation's drug development success has been recognized by Harvard Business School and by publications such as Forbes, Discover Magazine and The Wall Street Journal.
Make your reservations NOW for this wine tasting extraordinaire and spectacular hors d'oeuvres dinner!
CALIFORNIAWINEMASTERS.ORG
CHEF IKAIKA MANAKU & ASSISTANT FOOD & BEVERAGE DIRECTOR, RICKY HAMASAKI TELL US ABOUT MAUI'S NEWEST RESORT, THE WESTIN NANEA OCEAN VILLAS AND THEIR SIGNATURE RESTAURANT, MAUKA MAKAI
ABOUT THE WESTIN NANEA OCEAN VILLAS
Situated on Maui's North Kā'anapali Beach, The Westin Nanea Ocean Villas is designed to provide a relaxing haven complete with culturally inspired programs and authentic Hawaiian experiences. Every feature of the resort — from the Pu'uhonua o Nanea Cultural Center to the locally sourced art — celebrates native culture and traditions. The Westin Nanea Ocean Villas offers world-class amenities including an expansive lagoon-style pool, full-service restaurant, beach bar and a WestinWORKOUT® Fitness Studio. All villas offer many of the key amenities of home, combined with signature Westin® touches, such as the Westin Heavenly® Bed and Westin Heavenly® Bath. Villas also feature fully equipped kitchens and washers and dryers. Visit westinnanea.com.
MAUI'S NEWEST OCEANFRONT RESORT INTRODUCES SIGNATURE RESTAURANT
The Westin Nanea Ocean Villas will unveil Mauka Makai at May 12 grand opening celebration
On Friday, May 12, The Westin Nanea Ocean Villas, the new resort situated on North Kā'anapali Beach, introduced its signature restaurant, Mauka Makai, which honors the farming and fishing cultures of ancient Hawai'i with contemporary flair. The grand opening celebration will showcase local produce and products and will feature chef action stations, specialty cocktails, local beer and live music. It begins at 5:30 p.m. Tickets are $65 inclusive of all food and beverage tastings.
Inspired by the ancient Hawaiian way of life in the ahupua'a, executive chef Ikaika Manaku's regular menu at Mauka Makai was thoughtfully designed with fresh, local ingredients sourced from mountain to sea. The restaurant's featured dishes include Pork and 'Ahi with Maui onion jam, Yamasa caramel and Sriracha honey; Smoked Tako with Pohole fern sprouts, Kula tomatoes, Maui onion and blue ginger; and a Pōhaku Natural Prime Ribeye, served on a hot stone that guests finish cooking at the table. Handcrafted cocktails infused with spirits made on the island include unique components, such as house-made hibiscus syrup and smoky flavors of local kiawe wood. Beer enthusiasts will enjoy crisp Maui-made brews.
Mauka Makai, which is located poolside with stunning ocean views at The Westin Nanea Ocean Villas, is open daily for breakfast from 6:30 a.m. to 10:30 a.m. and dinner from 5:30 p.m. to 9:00 p.m.
WESTINNANEA.COM
STEVE EVANS – THE MOVIE GUY
GREAT MOVIES OPENING THIS WEEKEND AND BOX OFFICE PREDICTIONS AND HOPES. FIND OUT WHAT MOVIES ARE WORTH YOUR HARD EARNED MONEY. GET SET FOR THE WEEKEND.