DOMINIKA JAROSZ - GLOBAL CAMPAIGNS MANAGER, FEEDING THE 5000, A FOOD FESTIVAL MADE FROM TOP QUALITY INGREDIENTS THAT WOULD OTHERWISE GO TO WASTE
FEEDING THE 5000 LOS ANGELES
11-4pm, May 4 2017
Downtown LA, Pershing Square
What is Feeding the 5000?
There's no shortage of fabulous food in Los Angeles. Yet every year millions of tons of it is wasted, at huge cost to our planet. Across the US, food waste accounts for one quarter of all water used. In California, that's around 8000 million gallons a day, over half of all the water used by residents and businesses in Los Angeles county in a month.
Feeding the 5000 is a festival that celebrates the value of food, and calls on everyone to tackle food waste. It is a chance for everyone to come together, enjoy a delicious meal made from fresh, quality ingredients that would otherwise be wasted, and pledge to take food waste #offthemenu in LA.
On May 4 in Pershing Square, Feedback and partners will provide a free meal for thousands, made entirely from top quality ingredients that would otherwise have gone to waste. Feeding the 5000 events have taken place in over 40 locations around the world since the first in London's Trafalgar Square in 2009, helping to catalyse the movement to end food waste in all its forms, whether that's the kitchens of top restaurants, the supply chains of major grocery retailers, or the homes of each and every one of us.
In 2016, Feeding the 5000 events took place in six US cities, including Denver, NYC and DC, with the involvement of top chefs, local dignitaries and hundreds of local partners and volunteers. Feeding the 5000 LA is taking place as part of the LA Times Food Bowl festival: http://lafoodbowl.com/
What's happening on May 4?
On May 4, thousands will gather in Pershing Square in Downtown LA from 11-4pm to feast on a delicious meal made from fresh, top quality ingredients that would otherwise go to waste. Chefs and speakers will take to the stage to talk about food waste issues, recipes and tips to try at home and fun activities for all the family will be available.
Hundreds of volunteers will be involved in sourcing, preparing and producing the food, including through gathering the ingredients and at a 'Disco Chop' event two days before, a party where volunteers prepare produce to the sound of music.
Who is involved in Feeding the 5000 LA?
Feedback has been hosting Feeding the 5000 events since the inaugural event in London in 2009. Their work in the US is supported by The Rockefeller Foundation.
The meal will be prepared by LA Kitchen using recovered produce sourced by Food Forward, and the event is produced and promoted with the help and collaboration of organizations fighting food waste and hunger across the city including LA Food Policy Council, Los Angeles Bureau of Sanitation, Los Angeles County Department of Public Health, Food Finders, Kiss the Ground, Waste Not Want Not Now, Hunger Action Los Angeles, So Cal 350, Fallen Fruit, Tree People, St. Francis Center, L.A. Compost, Downtown Women's Center, Don't Waste L.A., Swipe Out Hunger, Alma Backyard Farms and Council member Jose Huizar.
WWW.FEEDINGTHE5000USA.ORG
GARY CANTER – CANTER'S DELI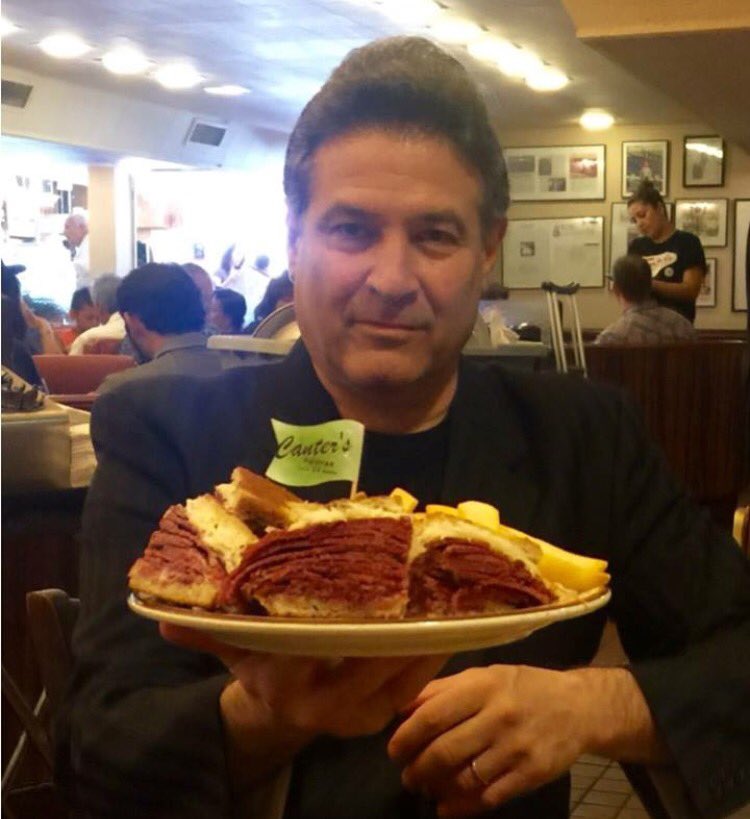 Since 1931, Canter's has been serving up LA's finest deli cuisine. Voted the best pastrami by the LA Times and LA Weekly, Canter's prides itself on delivering the amazing experience that has kept its clientele returning over-and-over again for decades. This culinary landmark is lovingly managed by the third- and fourth-generations of the Canter family, who take a hands-on approach to ensure the highest quality in every aspect of the restaurant. Whether it's the freshly-baked breads, or the famous house-made pickles, Canter's always goes the extra mile to provide the authentic, traditional Jewish deli experience, which helped grow the restaurant from a small storefront to the massive operation that it is today. As inviting as its food, Canter's is also known for its welcoming ambiance, a perfect blend of contemporary comfort with the nostalgic charm of its stylish 1950's decor. Canter's continues to stand out as a unique dining experience that transports patrons back to the golden age of delis.
Canter's Deli is one of California's oldest delis. Located in Los Angeles' Miracle Mile District -the heart and soul of the entertainment industry - Canter's Delicatessen is a third-generation family-run business whose owners have an intense pride in their deli and a hands-on work ethic.
It all began in Jersey City, New Jersey in 1924. After losing a deli in the 1929 stock market crash, Ben Canter and his two brothers moved to California with just $500 in their pockets.Eager to succeed, they opened up a Canter Brother's Delicatessen in 1931 in Boyle Heights, the Jewish center of Los Angeles.
When the character of the neighborhood changed, Ben Canter's daughter, Selmo Udko, and her then husband, Harold Price, partnered with Ben Canter and his wife, Jennie, to purchase a prime location at 439 North Fairfax Avenue. And instead of calling it Canter's Brothers they called it Canter's Fairfax.
In 1953 this new team purchased the old Esquire Theatre at 419 North Fairfax and moved Canter's Deli just up the street to the larger location.
For over seventy-five years now this third-generation family-owned business has served food to locals, tourist, and celebrities alike. With its Art Deco décor and its trademark autumn leaves ceiling, this hangout has hardly changed in its over half century at its current location.
Canter's has also become a favorite whistle stop for hot political contests. Mayor Bradley, Governor Deukmejian, Rudy Giuliani, and Bill Simon have gone from booth to booth introducing themselves to our customers. And with CBS studios just up the block, celebrities frequent Canter's every day. Our catering department caters to many television shows and movies, as well as catering their wrap parties.
Over the years, many celebrities have passed through our doors. In the 50s Marilyn Monroe and Arthur Miller ate here, as did Jack Benny and Elizabeth Taylor. Other celebrity noshers include Sydney Poitier, Mel Brooks, Wilt Chamberlain, Charlene Tilton, Brooke Shields, Jacqueline Bisset, Catherine Oxenberg, John Travolta, Prince, Stevie Wonder, Buddy Hackett, Olivia Newton John, Muhammad Ali, Monty Hall, Bill Cosby, David Brenner, Rodney Dangerfield, Dick Van Dyke, Shelly Winters, Elizabeth Montgomery, The Cars, Henry Winkler, and Greg Morris. The producer of Miami Vice, Michael Mann, wrote here for hours at a time when he was writing for Vegas. The Neil Simon movie, "I Ought to be in Pictures", with Walter Matthau was filmed here. Many celebrities who prefer to go "incognito" sneak in around 3:00 am for a late night nosh!
Canter's is also part of the larger Los Angeles community having received numerous awards from such institutions as the City of Hope, appreciation letters for outstanding and dedicated service, and letters from Jerry Lewis and the Muscular Dystrophy Association thanking Canters for donating food.
Canter's Delicatessen continues to be a Los Angeles landmark and late night hot spot, and, with the 2003 addition of Canter's Deli at Treasure Island in Las Vegas, we are committed to bringing the best delicatessen food to our noshers on the famed Las Vegas Strip and to Dodger fans at Dodger Stadium.
WWW.CANTERSDELI.COM