AWARD-WINNING JOURNALIST BIANCA BOSKER TELLS US ABOUT NEW BOOK CORK DORK
CORK DORK: A Wine-Fueled Adventure Among the Obsessive Sommeliers, Big Bottle Hunters, and Rogue Scientists Who Taught Me to Live for Taste
The account of her year-and-a-half journey, CORK DORK: A Wine-Fueled Adventure Among the Obsessive Sommeliers, Big Bottle Hunters, and Rogue Scientists Who Taught Me to Live for Taste takes the reader inside an elite tasting group, a Burgundy bacchanal, a Michelin-starred restaurant, an fMRI machine, and more as Bosker strives to make sense, once and for all, of our complicated relationship with fermented grape juice.
A fascinating and a hilarious exploration of the wine world, CORK DORK includes:
Bosker's training for and entry into the country's oldest sommelier competition, with hilariously disastrous results (though she does eventually become certified)
Behind-the-scenes looks at two elite Manhattan restaurants, where she trailed sommeliers and watched the complicated dance of service and hospitality unfold
The science behind how we can improve our senses of taste and smell, and thereby live more richly
WWW.BIANCABOSKER.COM
THE AUSSIE GOURMET' NAOMI NACHMAN SHARES SOME OF HER FAVORITE PASSOVER RECIPES THAT MAKE DELICIOUS MEALS ALL YEAR ROUND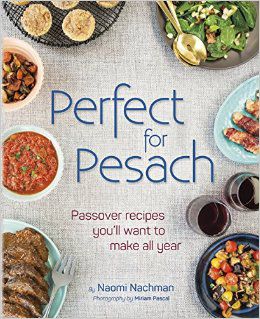 PERFECT FOR PESACH: Passover Recipes You'll Want to Make All Year
Passover is a time for family and friends to come together, usually over a meal. Naomi Nachman, chef, caterer and host of the popular radio show "Table for Two" on the Nachum Segal Network, launches her debut cookbook just in time to make Passover meals easy and delicious.
In Perfect for Pesach: Recipes You'll Want to Make All Year Naomi shares some of her popular recipes from over two decades of cooking and catering for Pesach. Naomi's recipes use innovative flavor combinations with ingredients that are easily accessible from local supermarkets and stores. In addition, while the recipes are all focused on Passover they can be served and enjoyed all year long.
Perfect for Pesach features over 125 delicious recipes beautifully photographed by kosher blogger and cookbook author, Miriam Pascal. Each recipe features Cook's Tips culled from Naomi's years of professional experience and she has provided readers with Freezer Tips, Prep Ahead, How-to information and recommendations for basic kitchen equipment.
From appetizers and starters, to main dishes and desserts, Perfect for Pesach has everything needed to create and serve the perfect holiday meal. And 120 of them are gluten-free!
In addition, Naomi helps represent Kayco, the largest distributor and manufacturer of kosher food and kosher for passover foods- some great new and unexpected items include Gefen's ready to bake flaky pie crust and pourable waffle and crepe batter, among other foods.
WWW.THEAUSSIEGOURMET.COM
WWW.KAYCO.COM