SALLY JAMES - AUTHOR, EDUCATOR, CHEF AND RADIO HOST - TALKS OYSTERS AND ROMANCE
IN LOVE WITH OYSTERS
Alluring Recipes and Tips for Valentine's Day featuring Sequim Bay Oysters
Valentine's Day approaches, and there's probably no better known food for love than succulent oysters. Not only renowned as an aphrodisiac, these divine mollusks are just plain sexy - their succulent texture, briny flavor and even the way we enjoy them.
Jamestown Seafood celebrates the day with three romance-inducing recipes for you to prepare lovingly at home, and also some tips from local chefs on how they'll be serving the delicious Sequim Bay Jades and Blue Opal Oysters. Oysters have always been linked with love. When Aphrodite, the Greek goddess of love, sprang forth from the sea on an oyster shell and promptly gave birth to Eros, the wordaphrodisiac was born. The 18 th Century lover Casanova also used to start a meal eating 50 oysters.
Scientists have worked for years to find the reason. Is it the zinc, the amino acids that trigger sex hormones, or just their silky sumptuous texture? Sequim Bay Oysters are the new kid on the block, farmed sustainably in pristine waters just before the entrance to Puget Sound. And unlike many farmed seafood, farmed oysters contribute to the environment as well as your health.
Chef Josh Baar of Kokopelli Grill in Port Angeles is particularly fond of the Blue Opals which are tumble- farmed. "I love the smaller Blue Opals particularly, their delicate and sweet flavor has such a clean and brilliant brininess, tasting of the fresh ocean", he beams. His favorite way to serve them is with a lime granita which they make in house using juice, zest, and a splash of vodka to brighten, finished with a scattering of cilantro and jalapeno (jalapenos are also considered an aphrodisiac).
For more romantic occasions like Valentine's, he loves a classic French style service, with Gruyere, shallots, cream and panko, gently melted over the oyster in the shell in the oven until golden and silky and slightly crisped at the edges. He arranges the oysters on salt dotted with cloves and juniper berries before baking, the aromas permeating the room with an exotic aura to heighten the occasion, (not to mention the creamy sauce). For his shooters he keeps it simple, combining vodka with some cocktail sauce.
In Seattle at Blueacre Seafood, Orfeo and Steelhead Diner, Chef Kevin Davis goes to town with Sequim Bay Oysters for Valentine's. His most popular is served raw with a black truffle mignonette granita. But it doesn't stop there. You'll also find smoky rich flavors in his oysters roasted over the coals with toasted anise, garlic butter, parsley and apple smoked bacon, or
Asian-influenced light, fresh and exotic: oysters & sea urchin Crudo with green papaya salad, pickled daikon and whirred ginger vinaigrette. And that's just starters. If your mood is to take your loved ones out for Valentine's, you'll also find Sequim Bay Oysters at the following restaurants: Elliot's Oyster House in Seattle; Next Door Gastro Pub in Port Angeles; and Dockside Grill in Sequim.
But if the idea of a romantic candle lit home dinner tickles your fancy, you can purchase the Sequim Bay Oysters from Sunny Farms Country Store in Sequim, and create your own Feast of Love. Owner Kurt Grinnell's parents love the Blue Opals, steaming them just until open. As Terri Grinnell says, "Perfect for Valentine's – Oysters lightly tanned and in the Nude".
Following are some sample dishes from Jamestown Seafood for your enjoyment.
Oyster Bellini Shooters with Peach Puree, Sweet Chili, Rum and Champagne
Creamy Oyster Bisque
Oysters with Ginger, Lime, and Lemongrass Mignonette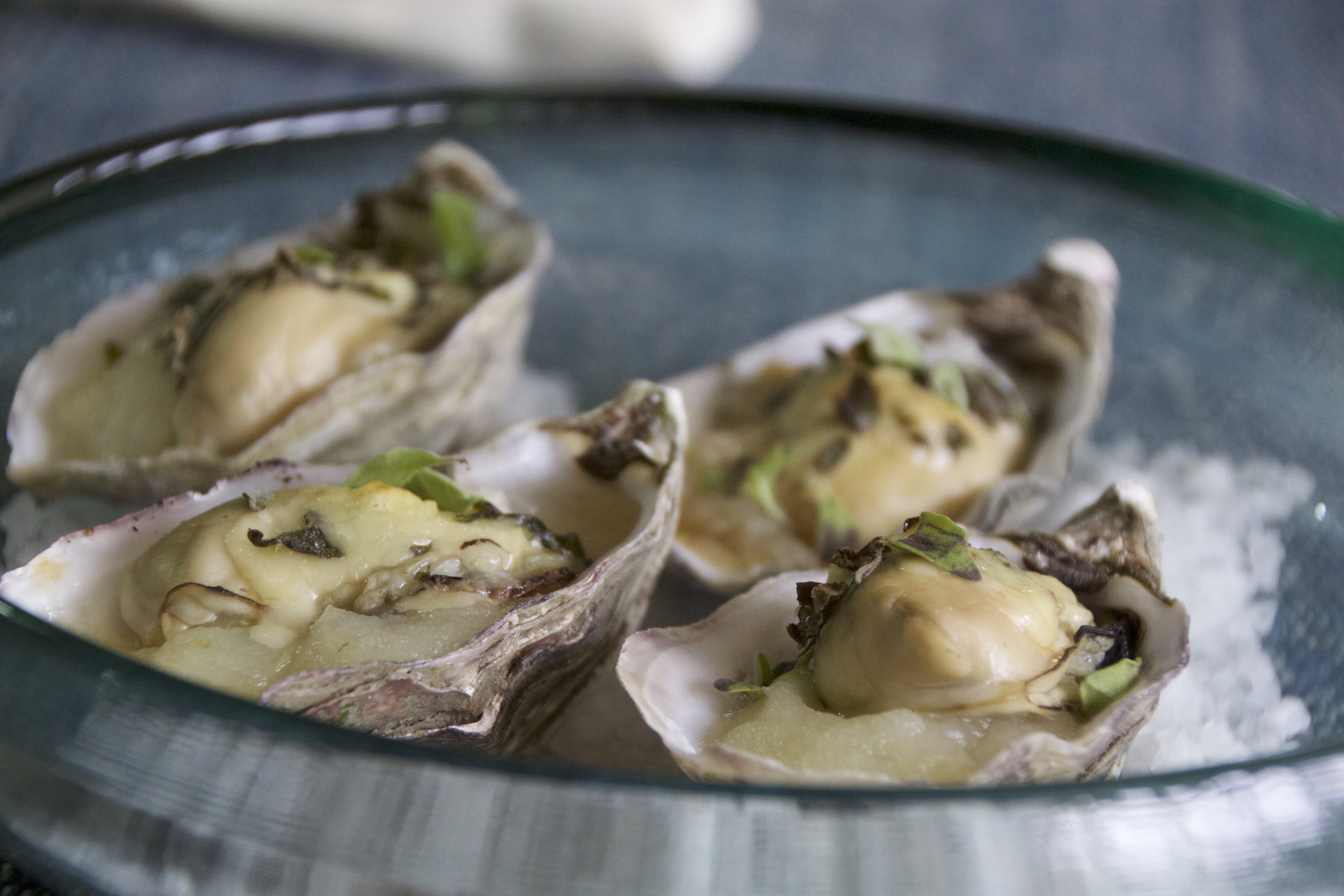 ABOUT JAMESTOWN SEAFOOD
Jamestown Seafood's oyster farm is nestled in the pristine waters of Sequim Bay (pronounced "skwim") along the Strait of Juan de Fuca and just before the entrance to the Puget Sound. Recognizing this watershed as distinctly different from the majority of oyster beds further along and deeper into the Puget Sound, the oyster industry is witnessing the emergence of something entirely new, distinctive and extremely delicious. Oyster production begins at the company owned hatchery, embracing scientifically regulated and meticulously managed spawning and seed grow out procedures. Maintaining a watchful eye on their oyster beds throughout the maturation process, Jamestown Seafood enjoys harvests that are commercially viable, sustainable, consistent, and abundant. Jamestown Seafood produces two varieties of Pacific Oysters (crassostrea gigas): Sequim Bay Jades (Beach Farmed), silky smooth, with unmistakable brine, subtle sweetness and a fresh cucumber finish, and Sequim Bay Blue Opals (Tumble Farmed) which are plump, juicy and succulent, display a clean ocean flavor accompanied by subtle sweetness and buttery texture. The company also recognizes the delicate balance that must be maintained between a thriving watershed and an economically viable commercial fishery. Working in cooperation with local, state and federal agencies, and moving beyond shellfish that are commercially sustainable today, the company is exploring ways to restore once prized, and now depleted, indigenous species.
ABOUT SALLEY JAMES:
Sally James is an award-winning Australian author, educator, chef, television presenter and radio host whose books and recipes have won international acclaim for food & wine pairing, health and creativity. Sally is the author of eighteen cookbooks and publications, including her best-selling Simply Healthy—winner of the prestigious World Cookbook Awards, Versailles, France, 1999 for Best Health Cookbook; Fresh and Healthy–Winner of the 2001 IACP International Cookbook Award in the Health category; Simply Sensational, a finalist for the IACP Award in 2003; Escape to Yountville – Recipes for Health and Relaxation from the Napa Valley, and the Australian Heart Foundation Cookbook. Since relocating to the U.S. in 2001, James has been a guest presenter on the Food Network and UPN Networks, a recurring guest on ABC TV's View from the Bay, and has been featured in magazines including Cooking Light, Wine Spectator, Fitness, Family Circle, New York Times' Savor Wine Country, Plate, In the Mix and Healthy Cooking. She has been a guest chef and lecturer for the American Heart Association, the Culinary Institute of America, Disney's Epcot International Food & Wine Festival, COPIA, Aspen Food and Wine Classic, the National Restaurant Association Show, Draegar's and Publix Markets, the American Institute of Food & Wine, and Johnson & Wales Universities across the United States.
JOHN NEYLAND - HOW TO TURN VALENTINE'S DAY INTO VALENTINE'S YEAR!
HOW TO TURN VALENTINE'S DAY INTO VALENTINE'S YEAR!
Why celebrate and treat someone special in your life for just one day? If you truly love someone, you can show that love in many ways and all year long.
John C. Neyland, author of How to Live the Life You've Yet to Dream (www.johnneyland.com), grew up in an abusive home watching his father mentally and physically abuse his mother driving her to alcoholism and attempted suicide.
John vowed to never repeat the past and what he experienced, turning the phrase from the preacher who married him, 'Love is a verb" into a mantra. Everything he does, ensures that his wife of 33 years is, "not just a part of everything, she's above everything and a Queen", states John.
YOUR LISTENERS CAN TAKE IDEAS FROM JOHN'S ATTITUDE TOWARD MARRIAGE INCLUDING:
• Being the best spouse that you can be
• How to make your spouse a Queen or King
• Adding special touches to everyday life
• Making sure your love knows they are just that…your love.
• What a difference it means when each day is Valentine's day
ABOUT JOHN C. NEYLAND
John C. Neyland, president and Investment Advisor Representative at JCN Financial & Tax Planning Group, is author of How to Live the Life You've Yet to Dream (www.johnneyland.com), a book that is part memoir and part blueprint for readers who want to get more out of life and leave a positive mark on the world.