ROMAIN TEYTEAU, EXPORT DIRECTOR, GEORGES DUBOEUF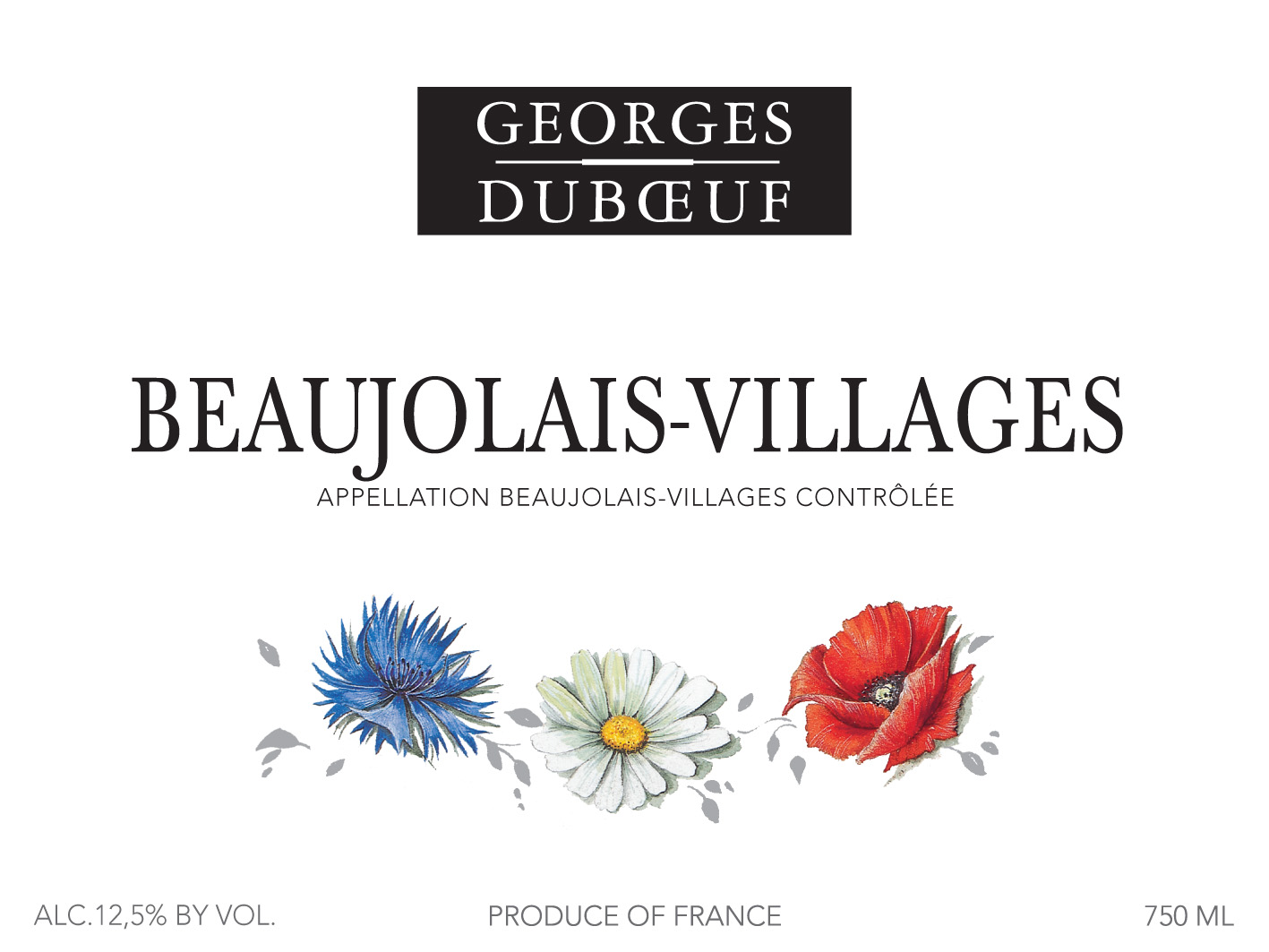 Beaujolais Nouveau symbolizes the end of the growing season and an invitation to partake of autumn's bounty. No other wine is released annually with such anticipation, made and released as a finished product only four-to-six weeks after being handpicked off the vine - literally putting a cork on the end of harvest.
5 BEAUJOLAIS NOUVEAU FACTS
Beaujolais Nouveau is the world's freshest wine - it takes about 60 days for its grapes to go from vine to glass, seeing no oak and only a short time in bottle.
All Beaujolais Nouveau grapes must be picked by hand (Beaujolais & Champagne are France's only regions where hand harvesting is mandatory).
Beaujolais Nouveau owes its fresh, juicy style to the winemaking process called 'carbonic maceration' which facilitates gentle, whole berry fermentation.
Serve Beaujolais Nouveau slightly cool, at about 55 degrees (F). Even though it's red, this fresh wine is most refreshing, fruit-forward & food-friendly when chilled.
Beaujolais Nouveau Day was historically on November 15th until 1985. Now, under French law, Beaujolais Nouveau is always released at 12:01am on the third Thursday of November. The reason? It's France's excuse to celebrate its 100+ Nouveau Day festivals over a four-day weekend, every year!
ABOUT ROMAIN TEYTEAU:
Export Director, North America - Georges Duboeuf & Fils
Born in Paris, France, steps away from one of the country's smallest vineyards on the hill of the Belleville neighborhood, Romain Teyteau did not know that his faculty for languages and his love of great French food and wine would lead him to represent one of the best-known names in French wine.
His father's family is from Bordeaux and his ancestors were coopers (barrel-makers)for the Bordeaux wine industry, so you might say that there was something in his genetic makeup that pointed him towards wine. Also, while studying history and political science at Paris' famed La Sorbonne, Romain started writing restaurant reviews for a travel guide book, for which he traveled through Eastern and Central Europe, Egypt and New York, further sparking his appreciation for, and interest in, all things culinary.
After graduation in 2010, Romain moved to Montreal, where he started the distribution network for a local Canadian winery. Like his soon-to-be employer, Romain made sales calls to various restaurants in and around Montreal on a bicycle. It was later that same year that he was recruited by Georges Duboeuf to become his brand ambassador in New York and then Canada. Once his term with the French government-funded trainee program ended, Romain returned to France, only to be called by Georges to become North American Export Director for Les Vins Georges Duboeuf in 2013.
In addition to this prestigious position, Romain returned to France after three years' abroad with his wife, who he married in New York in 2011. They live in Lyon, near his office at Georges Duboeuf headquarters in Romaneche-Thorins, in Beaujolais.
Romain travels to the US and Canada frequently throughout the year, bringing the Duboeuf "savoir-faire" with him as he happily shares the company's (and the man's) love and knowledge of Beaujolais wines, in general, and specifically, Les Vins Georges Duboeuf, from the premium Cru and Domaines and Chateaux wines to the "first wine of the vintage" – Beaujolais Nouveau. He works closely with Georges and Franck (Georges' son) and also with all the independent winemakers that have been partners with Georges Duboeuf for more than 50 years.
WWW.DUBOEUF.COM
MARIA RODALE – AUTHOR, SCRATCH: HOME COOKING FOR EVERYONE MADE SIMPLE, FUN, AND TOTALLY DELICIOUS
THIS THANKSGIVING, COOK & EAT DELICIOUS REAL FOOD THAT SHOWCASES NATURE'S BOUNTY
SCRATCH: Home Cooking for Everyone Made Simple, Fun, and Totally Delicious
Before "natural" became a marketing buzz word and organic gummy bears became "a thing," the Rodale family was championing the importance of organic and real food. Maria Rodale, CEO and Chairman of Rodale Inc. and granddaughter of company founder, JI Rodale, has been committed to upholding the mission her grandfather embarked on more than 80 years ago—both professionally and personally.
In her first cookbook, SCRATCH: Home Cooking for Everyone Made Simple, Fun, and Totally Delicious, Maria shares the recipes and remembrances that shaped her life. She recounts her childhood living on America's first official organic farm and growing up in a family business that publishes books and magazines about healthy food, fitness, organic gardening and farming (at the time they were pretty much the only ones doing it). Maria also shares numerous memories of the colorful cast of characters who came to influence her home cooking.
From a young age, Maria found herself drawn to the kitchen and quickly learned that "a good meal unites people." Maria's food is a culmination of influences—her farm-to-table roots and Pennsylvania Dutch Heritage; her travels around the world; and the Italian-American family she married into.
SCRATCH is a return to basics: eating and cooking delicious real food that showcases nature's bounty—it shows how we can get back what's been lost and nourish our souls in the process.
WWW.MARIARODALE.COM
ANGELA PATTERSON - CHIEF NURSE PRACTITIONER OFFICER FOR MINUTECLINIC - TIPS TO HELP MAKE SURE YOU AND YOUR FAMILY STAY HEALTHY THIS HOLIDAY SEASON
TIPS TO HELP MAKE SURE YOU AND YOUR FAMILY STAY HEALTHY THIS HOLIDAY SEASON
What Do You Do If You Get Sick Or Injured While Traveling During The Holidays?
Whether it's off to grandma's house for Turkey Day or a New Years' cruise to the Caribbean, nearly 150 million Americans will travel 50 miles or more for the Thanksgiving and December holidays. With that many people on the go, it's important that families plan in advance for a safe and healthy journey.
Just in time for Thanksgiving, Angela Patterson, Chief Nurse Practitioner Officer for MinuteClinic offers listeners some healthy recommendations and advice before their trip. Patterson will discuss: motion sickness and how to prevent children from getting car sick; key medicines for the suitcase to combat common illnesses; the importance of vaccinations and a travel-risk assessment for those visiting abroad; and options available if a family member gets sick and care is needed on the road.
On Thursday, November 17, Angela Patterson is available to talk about MinuteClinic and offer tips and insights to ensure your listeners and their loved ones have the resources to stay healthy while traveling during the busy holiday season.
ABOUT ANGELA PATTERSON:
Angela Patterson is an advanced practice registered nurse, Vice President at CVS Health, and Chief Nurse Practitioner Officer of MinuteClinic. In this role, she is responsible for providing clinical and professional practice governance for the more than 3,100 nurse practitioners and physician assistants who staff the organization's more than 1,100 retail medical clinics located across 33 states and the District of Columbia.
WWW.MINUTECLINIC.COM