JOT CONDIE - PRESIDENT OF THE CALIFORNIA RESTAURANT ASSOCIATION - WESTERN FOODSERVICE & HOSPITALITY EXPO IN LA (AUGUST 28 - 30, 2016)
BIOGRAPHY
Jot Condie joined the California Restaurant Association (CRA) in May of 1999. He was promoted to the position of president + chief executive officer on May 17, 2004. Prior to this post, Jot was the CRA's vice president of government affairs and public policy, serving as the restaurant industry's chief lobbyist in California. Condie was instrumental in the expansion of CRA's Government Affairs staff. He also oversaw the association's Political Action Committee (PAC) and the Issues Political Action Committee (IPAC), both of which have been recognized as being amongst the top tier small business PACs in California.
Prior to joining the CRA, Jot was the legislative director for the California Manufacturer's Association, where he lobbied on behalf of California's Fortune 500 companies. He also served as the chief lobbyist for the Southern California Air Quality Alliance, a consortium of aerospace, manufacturing and high-tech companies with an interest in air quality regulation issues. Before joining the Manufacturer's Association, Jot worked in the State Capitol as staff director for Assistant Assembly Republican Leader Jan Goldsmith, directing a staff of policy consultants and legislative aides. He also served as the legislative director and political advisor to Assemblywoman Carol Bentley, the minority whip.
Jot is a graduate of San Diego State University with a degree in Political Science.
ABOUT THE CALIFORNIA RESTAURANT ASSOCIATION (CRA)
WE ARE CRA. WE KNOW RESTAURANTS.
The California Restaurant Association (CRA) has a proven record of protecting industry interests. We strive to improve the business environment for restaurants, advocating on a slate of national, state and local issues. We are committed to keeping California restaurateurs informed about the latest rules and regulations affecting their businesses.
California is home to more than 90,000 eating and drinking places that employ 1.6 million workers, making restaurants an indisputable driving force in the state's economy. Protecting this workforce and minimizing the impact of government legislation on the industry is our core responsibility.
We are CRA. We're constantly working to improve the restaurant industry, provide better support for your business and cultivate the next generation of foodservice leaders, ensuring the future growth of our vital industry.
THE 2016 WESTERN FOODSERVICE & HOSPITALITY EXPO SHOW DATES ANNOUNCED
The Western Foodservice & Hospitality Expo is a premier 3-day event encompassing everything restaurant and foodservice professionals need to master the emerging trends, up their profits, energize their business and engage their customers in unique and memorable ways. Join 8,000+ peers, and have access to the hottest menu trends, state of the art design and decor, the best in business education and 500 of the leading vendors and purveyors dedicated to serving the restaurant & foodservice community -- all under one roof.
2016 Dates: Sunday, August 28, 2016 - Tuesday, August 30, 2016
Location: The Los Angeles Convention Center, Los Angeles, CA
Event includes:
Exhibit floor featuring over 500 leading companies.
Educational Sessions in the Ferdinand Metz Foodservice Forum giving attendees a chance to increase their knowledge on the latest technology and trends.
Special Feature Areas on the show floor include the Food Trends Experience, International Pavilion, Culinary Demonstration Pavilion, Beer, Wine and Spirits Pavilion, and much more.
The Western Foodservice & Hospitality Expo gathers thousands of restaurant and foodservice professionals to gain experience and knowledge on how to become more informed, more educated, more competitive, and more profitable in the industry. The tradeshow and conference started in 1936. The 2016 event will take place August 28-30 at the Los Angeles Convention Center.
WHAT'S INCLUDED IN YOUR ATTENDEE REGISTRATION?
•
Full access each show day to the Exhibit Hall with 650+ leading industry suppliers—including 150+ that are completely new to the show.
•
Open access to the Ferdinand Metz Foodservice Forum (with Exhibits plus Pass Registration).
•
Exciting Special Events, including:
•
The Food Trends Experience
•
The APPstore - NEW!
•
Beer, Wine & Spirits Pavilion -- NEW!
•
NEW International Showcase featuring the Sabor Latino Pavilion and Japan Pavilion
•
Healthy Choice Options Pavilion
•
Culinary Clash: Battle Los Angeles
•
Culinary Demonstration Theater
•
Torch Award Presentation
•
New Product Showcase
•
and more!
WWW.WESTERNFOODEXPO.COM
WWW.CALREST.ORG
BELAL EL-BANNA - CEO, THE REAL CO - THE REAL CO PARTNERS FOR A BETTER WORLD WITH NON PROFIT "MY CUP COUNTS"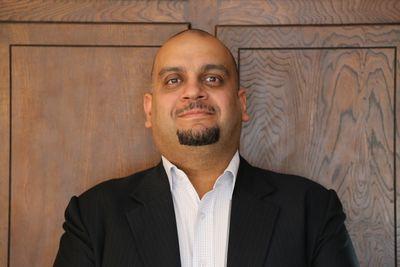 THE REAL CO PARTNERS FOR A BETTER WORLD WITH NON PROFIT "MY CUP COUNTS"
SPECIAL NEEDS ADULT WORKERS BENEFIT FROM NEW PARTNERSHIP
The Real Co™, with a vision to provide high quality, certified, sustainable food to the masses at affordable prices, has penetrated some of the top retailers in the US market, including Whole Foods, Shoprite, Amazon and H-E-B. This is the first 100% single-origin manufacturer and purveyor of the finest staple foods in the world. The Real Co is proud to announce an exciting new partnership with "My Cup Counts®", a division of My Day Counts®, a 501(c)(3)nonprofit since 1951, located in Anaheim, California. Specializing in custom food packaging, My Cup Counts/My Day Counts provides jobs & services to over 750 plus adults with disabilities with a staff of over 150 people. The Real Co products are packaged at "My Cup Counts", which is not just a manufacturing facility, but instead, a revolutionary 60,000 square-foot state-of-the-art facility customized for adults with Special Needs that provides at least minimum wage employment for all their employees. The Real Co's culture is strongly focused on providing employment, support and training for people with special needs.
The product line packaged at "My Cup Counts" comes straight from farms in Costa Rica, Pakistan and the Himalayan Mountain Range. The products packaged are 100% Single Origin and include a unique Organic Raw Cane Sugar, White Basmati Rice and Himalayan Pink Rock Salt. The Real Co aim to have all products packed at this facility to carry the My Cup Counts® logo and identify the person that carried out the packing. The Real Co products are all organically grown, Non–GMO Project Verified, Vegan, Gluten-Free and Kosher Certified.
"We at The Real Co are extremely excited to have found such an excellent partner for our packaging needs," said Belal Elbanna, CEO of The Real Co. "Our partnership with "My Cup Counts®" brings an important new dimension to our mission, empowering disabled people in America who face steep challenges and extreme inequality in the American job market."
With this new arrangement The Real Co has found a winning partner in their mission of manufacturing products in an ethically advanced and environmentally sustainable way. The first U.S. company to pioneer 100% Single Origin foods, The Real Co is now adding one stop to the proud single origin journey of all of its products by partnering with "My Cup Counts". The Real Co is proud to partner with numerous food sources, which include farms all around the world as well as mines in the Himalayan Mountains, that ship directly from farm, to "My Cup Counts", to supermarket shelves. Each time a consumer purchases a Real Co product, they do this with full knowledge, assurance and traceability that they are directly supporting people with special needs in the U.S., farmers across the world and the global environment; that are good for the consumer, good for the farmer and good for earth.
"The Real Co and "My Cup Counts" make a perfect partnership because we both have a deep institutional connection to this kind of work," said Pat Rolfes, Director of My Cup Counts. "Our companies are absolutely committed to an idea that all people deserve the chance to lead a healthy and productive life no matter what their circumstances might be. Our missions align perfectly as The Real Co and "My Cup Counts" are both deeply committed to people, sustainability and making the world a better place for all people. "
ABOUT THE REAL CO
The Real Co's vision is to provide high quality, certified, sustainably grown food at affordable prices to the masses. The Real co has developed an exciting and transparent new food category and method of sourcing products globally and delivering it at a local level. The Real Co enters partnerships with farmers and growers around the world that don't have an established route to distribute their products and creates a way to share their commodity with the world. The company brings full transparency and sustainability to the U.S. food industry. The Real Co products are carefully inspected and sourced by company representatives, and go straight from farm to shelf, eliminating the need for any middlemen. This unique 100% Single Origin method allows everyone in the world to enjoy what is usually impossible to experience: unique, tasty, freshly farmed/mined products at affordable prices.www.thereal.co The Real Co offers transparency to the consumer, and is developing the first Certification of 100% Single Origin Foods in the U.S. The Real Co pays fair wages and reinvests in both the land and the community that grows their products. The Real Co is available nationwide in numerous stores in most states including; Whole Foods, Shoprite, H-E-B, Natural Grocers Vitamin Cottage, Mrs Greens, Kings and Balducci. You can also find it online at www.vitacost.com For more information and for a full list, state by state, please visit www.thereal.co .
ABOUT MY CUP COUNTS
My Cup Counts® is a manufacturer and co-packer of high quality products. We provide exceptional and unique value to our customers through: Sourcing, Customization, Packaging, Distribution and our Social Responsibility Awareness Mark. We are also proud to provide training and jobs to people with special needs. My Cup Counts® is a division of My Day Counts®. We provide jobs & services to over 750 adults with disabilities with a staff of over 150 people, in our 60,000 square foot facility. We are a 501(c)(3) nonprofit organization, established 1951.
www.mycupcounts.org
THE REAL CO INC FOODS INCLUDE:
The Real Co Himalayan Pink Rock Salt, hand-mined at the Himalayan Mountains. This salt is 100% raw; 100% Single Origin; non-GMO; has 84 active minerals in every grain; is unrefined and hand washed in Himalayan mountain water. The salt is available in a 20-ounce tub container and a 20-ounce shaker.
The Real Co Organic Raw Cane Sugar, directly from Assukar Farms, Tayutic Valley in Costa Rica, is unprocessed, unrefined, unbleached and naturally brown unlike most brown sugars on the market. It's 100% natural and organic; 100% Single Origin; raw and alive with natural vitamins and minerals; instantly dissolves in hot or cold liquids and is non-GMO. The sugar is available in 2 sizes: 8-ounces and 16-ounces.
The Real Co White Basmati Rice, directly from Gujrat, Punjab, from Farid Co-op Farm, is packed in bags that come from a single crop and single harvest as well as being aged for at least 8 months, thus ensuring each grain cooks to the same softness, with an exhilarating aromatic aroma when served. Its 100% natural and 100% Single Origin; low-GI and pre biotic; non-GMO and is gluten free. The rice is available in 2 sizes: 16-ounce and 32-ounces.
WWW.THEREAL.CO