DAN SOUZA – CO-EXECUTIVE EDITOR, COOK'S SCIENCE - AMERICA'S TEST KITCHEN LAUNCHES COOK'S SCIENCE (HOW A LITTLE SCIENCE CAN GO A LONG WAY IN THE KITCHEN)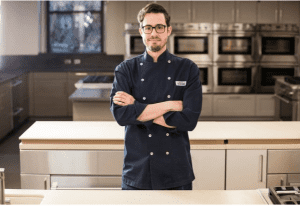 AMERICA'S TEST KITCHEN LAUNCHES COOK'S SCIENCE
New, free digital property dedicated to the science of cooking launches in tandem with major revamp of AmericasTestKitchen.com
America's Test Kitchen, the home cook's essential resource for recipes that work, is announcing– Cook's Science. Publishing both deeply reported stories and innovative recipes, Cook's Science demonstrates how a little science can go a long way in the kitchen. Cook's Science does not require a paid subscription to access its high-quality articles, recipes, and videos.
Cook's Science is led by co-executive editors, Dan Souza and Molly Birnbaum. Souza, who graduated first in his class at the Culinary Institute of America, is a cast member of the top-rated America's Test Kitchen television show. Birnbaum is an award-winning food journalist whose work has appeared in The New York Times, ARTnews magazine, Fast Company, NPR's Cognoscenti, Modern Farmer, and O, The Oprah Magazine.
The first Cook's Science feature follows the trip Birnbaum and Souza took to the Penn State Ice Cream Short Course, a week-long intensive class on the science of commercial ice cream. In its 124th year, the course is legendary in its field, and Birnbaum and Souza came back to the test kitchen with a deep understanding of the ice cream you buy in the supermarket, and how to use that information to make phenomenal ice cream at home (not an easy task!). The resulting story gives readers an inside look into the fascinating world of ice cream producers and production – and a killer recipe for Strawberry Ripple Ice Cream.
The launch of the Cook's Science website will be followed by the publication of a major new cookbook in October, Cook's Science: How to Unlock Flavor in 50 of Our Favorite Ingredients, as well as a series of live events across the country this fall, which will feature Birnbaum and Souza telling the story of their pursuit of the perfect burger.
In addition to the launch Cook's Science the company's flagship website, AmericasTestKitchen.com, has been redesigned, with easier navigation, intuitive search, and faster video load times. New social media tools make it easier for readers to share favorite recipes, reviews, or videos with friends and followers. A new tabbed navigation makes the content-rich site much easier to use on mobile devices so fans can easily find the best brands of kitchen equipment and supermarket ingredients while they shop. Content-rich guides on paleo and gluten-free cooking have been added to the site. The company has also launched a new online shop with books as well as curated equipment kits that feature top-rated kitchen items vetted by the company's legendary testing team.
ABOUT AMERICA'S TEST KITCHEN
America's Test Kitchen began with a single magazine title, Cook's Illustrated, which debuted in 1992. The America's Test Kitchen television show was launched in 2001, after which the company added Cook's Country magazine, a second television program, an online cooking school, three websites that offer recipes and online video, and a robust book program that publishes a dozen new titles a year, which regularly land on bestseller lists.
WWW.AMERICASTESTKITCHEN.COM
JOE ALTON, M.D., DISASTER PREPAREDNESS EXPERT & AUTHOR – HOW TO KEEP COOL (WHAT TO EAT AND DRINK) DURRING THE HOTT SUMMER MONTHS
DANGEROUSLY HOT TEMPERATURES EXPECTED THIS WEEK AS MASSIVE HEAT DOME ENVELOPS MUCH OF U.S.
A massive dome of high pressure in the upper atmosphere will grip the nation's midsection this week, providing favorable conditions for dangerously hot temperatures. In parts of the central U.S., heat index values will be up to 115 degrees at times during the second half of this week. The heat will also spread toward the Northeast and mid-Atlantic late this week into the weekend.
JOE ALTON, M.D., DISASTER PREPAREDNESS EXPERT & AUTHOR SAYS:
The ill effects due to overheating are called "heat exhaustion" if mild to moderate; if severe, these effects are referred to as "heat stroke". Heat exhaustion usually does not result in permanent damage, but heat stroke does; indeed, it can permanently disable or even kill its victim. Heat stroke is preventable in many cases. The Arizona state department of health recommends the following:
Drink at least 2 liters (about a half-gallon) of water per day if you are mostly indoors and 1 to 2 additional liters for every hour of outdoor time. Drink before you feel thirsty, and avoid alcohol and caffeine.
Wear lightweight, light-colored clothing and use a sun hat or an umbrella to deflect the sun's rays.
Eat smaller, more frequent meals instead of large ones.
Avoid strenuous activity.
Stay indoors as much as possible.
Take regular breaks if you must exert yourself on warm days.
ABOUT DR. JOE ALTON
Joe Alton, M.D. (www.doomandbloom.net/ ) is a disaster preparedness expert, member of the Wilderness Medical Society, and NY Times/Amazon bestselling author of the Survival Medicine Handbook and other books. Dr. Alton has also written the just-released and timely "The Zika Virus Handbook". Dr. Alton is a well known speaker and host of The Doom and Bloom™ Survival Medicine Hour syndicated podcast.
WWW.DOOMANDBLOOM.NET
STEVE EVANS – THE MOVIE GUY
GREAT MOVIES OPENING THIS WEEKEND AND BOX OFFICE PREDICTIONS AND HOPES. FIND OUT WHAT MOVIES ARE WORTH YOUR HARD EARNED MONEY. GET SET FOR THE WEEKEND.