DAVID BERNAHL – CO-FOUNDER, LOS ANGELES FOOD & WINE FESTIVAL (AUGUST 25-28, 2016)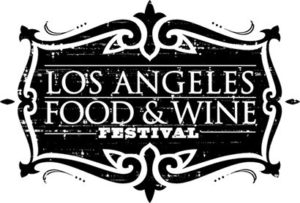 SAVE THE DATE!
6th ANNUAL LOS ANGELES FOOD & WINE FESTIVAL RETURNS AUGUST 25-28, 2016
Michelin starred honorees, James Beard Award winners, Food & Wine Best New Chefs, and 200 wineries, will once again converge on the City of Angels during the annual epicurean jubilee produced by Coastal Luxury Management
WHAT:
The sixth annual Los Angeles Food & Wine Festival, presented with founding partners FOOD & WINE and Lexus, is set to feature three-nights and four-days of unrivalled tastings, dinners, lunches, seminars, book signings, cooking demonstrations, and special events, showcasing the finest in food and drink culture.
In past years, the star-studded lineup has included 2016 James Beard Award winners Jon Shook and Vinny Dotolo as well as celebrated chefs Daniel Boulud, Thomas Keller, Jonathan Waxman, Tyler Florence, Curtis Stone, Giada De Laurentiis, Grant Achatz, , Rick Bayless, Duff Goldman, Michelle Bernstein, Wolfgang Puck, Nancy Silverton, Iron Chef Masaharu Morimoto, Michael Symon, Roy Choi, Michael Chiarello, Scott Conant, Carlo Mirachi, Michael Voltaggio, Robert Irvine, Guy Fieri, Fabio Viviani, Jet Tila, Andrew Zimmern and Graham Elliot, plus local favorites Tim Hollingsworth, Michael Cimarusti, Bruce Kalman, David LeFevre, Jessica Koslow, Ludo Lefebvre, Neal Fraser, Ori Menashe, Walter Manzke, Jason Neroni, Josef Centeno, Sang Yoon, Ricardo Zarate, Ben Ford, Alvin Cailan and Ray Garcia, to name a few.
In addition to the extraordinary culinary talent on-hand, Los Angeles Food & Wine has been lauded for its headlining musical performances from award-wining artists, including Questlove and The Roots, Beastie Boys founding member Mike D, 2015 Academy Award-winner Common, and Grammy-nominee Gavin DeGraw.
In the next several weeks, the festival will be announcing confirmed programming and participants for 2016. Please continue to check www.LAFW.com for updates!
WHEN:
Thursday, August 25 through Sunday, August 28, 2016
WHERE:
Headquartered in the heart of Downtown Los Angeles, with main events directly in front of the iconic Walt Disney Concert Hall and The Broad museum (with closures along Grand Avenue, between 1st and 3rd street), the 6th annual Los Angeles Food & Wine festival will also feature tastings, dinners, lunches, seminars, cooking demonstrations, and special events located across parts of greater Los Angeles including Downtown, Beverly Hills, Santa Monica, Hollywood, and more.
WWW.LAFW.COM
NICOLE NIELSEN & DUSTIN NICOLARSEN, OWNER OF THE DERBY RESTAURANT – WINE DINNER DARIOUSH
ABOUT THE DERBY
The Derby World Famous Restaurant is an award–winning upscale dining establishment located in Arcadia, California that serves mouth watering cuisine to the San Gabriel Valley and surrounding communities. Since its inception in 1922 The Derby, due to its close proximity to the racetrack, has always attracted horse owners, celebrities, and racetrack enthusiasts. Year after year, decade after decade, The Derby has consistently delighted race fans with delicious food, an inviting ambiance, and excellent service.
The Derby is a full service restaurant with the capacity and experience to handle large parties, professional business meetings, celebrations, and special events. The Derby is well equipped to host your next event offering many amenities including: close proximity to Santa Anita Park, complimentary valet parking, patio dining, full bar, excellent wine list, free WiFi, banquet menus, and group friendly dining rooms. Join us today for an amazing dining experience...
HISTORY OF THE DERBY
In every era, fans delight to eat in restaurants of great athletes and celebrities. When Woolf purchased The Derby in 1938, he was at the top of his game. Racing had no competition from Super Bowls and television hype. It dominated much public radio interest and many daily newsprint inches. Even movie-house newsreels reported the preparation and conclusion of high stakes and match races. The $100,000 Stakes Race, the Santa Anita Handicap, was the richest prize in racing at the time. All these elements made Woolf a legend, and The Derby was where he could hold court away from the track. Who wouldn't want to be served in the eatery of one of the most recognized athletes of the day?
George Woolf envisioned his Derby Restaurant to be a gathering place for jockeys and race fans. It was planned as a source of retirement earnings that would allow him to reflect back on his hall of fame career. Each wall, adorned with memorabilia of prestigious horses and races, would cause diners to revisit glorious wagers and harrowing photo finishes. This vision has been fulfilled by the Sturniolo Family, who not only serve the food that delights customers, but also preserve the atmosphere made great by its connection to the sport of kings.
1938 was also the same year Seabiscuit became a thoroughbred legend. Imagine 10,000 fans arriving to watch - not a competitive race- but a simple workout. That was the fame of Seabiscuit. When he ran a race, crowds filled the stands and infields, President's cabinet meetings were delayed until radio broadcasts finished and the horse recorded more newspaper type inches than either FDR or Hitler. Horseracing existed before George Woolf and Seabiscuit, and The Derby restaurant has a history that precedes them, as well. Hudson M. Proctor was The Derby's founder.
Named the Proctor Tavern when it operated in 1922, its close proximity to the racetrack attracted horse owners and horse betters alike. In 1931, it moved to its present location, where only through your imagination can you hear the echoes of the day's last race called bounce off the foothills. It was here that George Woolf became co-owner in 1938 with his partner. Bill Peterson. Woolf was a premier rider and accepted only quality mounts. Fate brought him together with Seabiscuit when the scheduled jockey, Red Pollard, was injured. That was to place Woolf on Seabiscuit during a near miss in a photo-finish of the Santa Anita Handicap, and later, in a victorious match race against Triple Crown winner, War Admiral. These illustrious events added to the fame and mystique of both rider and horse. The storied success of its jockey-owner, increased The Derby's popularity.
In 1946, George Woolf was fatally injured when he was thrown from his mount "Please Me" during the running of the fourth race at Santa Anita Race Track on January 3, 1946. It is unclear if his horse stumbled or if he momentarily blacked out. The controversy would be debated, but it was clear a racing great was lost. Bronze statues of George Woolf and Seabiscuit remain at Santa Anita today, silently observing the atmosphere they helped to establish. Some believe that the spirit of George Woolf watches over the restaurant he helped to establish, as well.
Some of The Derby's great mementoes provoke intermingled memories of Woolf, Santa Anita, Seabiscuit and the Premier Stakes Races that made them great. As you enjoy The Derby's delightful ambiance you may picture yourself astride a horse in the starting gate viewing the field of appetizers and entrees. The Derby maintains its ties to the track all the way to the titles of its menu items. Like George Woolf you need to remain calm and not make too quick a selection. Woolf earned the reputation as the "iceman," a jockey able to carefully select the right moment to make his move, giving him the greatest advantage. You may want to let other members of your party select their dinners first, and only then calculate an order from one of the featured items. But The Derby's ultimate appeal is not in the imaginative setting but the pride of selection, food preparation and great service.
The great Seabiscuit was known for taunting other horses. He would allow them to run alongside, pacing himself until they had run themselves out and then simply pull away. The Derby is much like that. Allowing other steakhouses to flaunt themselves with braggadocios advertising, it quietly runs alongside knowing that its strength will show in the run toward the wire. Patrons may sample the fare elsewhere, but when it comes to placing their bets on the best dining in the San Gabriel Valley, they often return to The Derby.
WWW.THEDERBYARCADIA.COM