LARRY LIPSON – AFFORDABLE WINE REPORT
For fifty years Larry Lipson was the food critic for the Los Angeles Daily News and now reports from Florida weekly with his thoughts and favorite picks for Food & Wine. His lovely Wife Lillian is also on hand at the Lipson Institute for advanced wine studies.
NUTRITIONIST, AUTHOR AND CO-FOUNDER OF THE HEALTHY SHOPPER INC, ANDREA DONSKY - TALKS ABOUT REPLACING "MYSTERY MEAT" WITH A "CLEANER WIENER"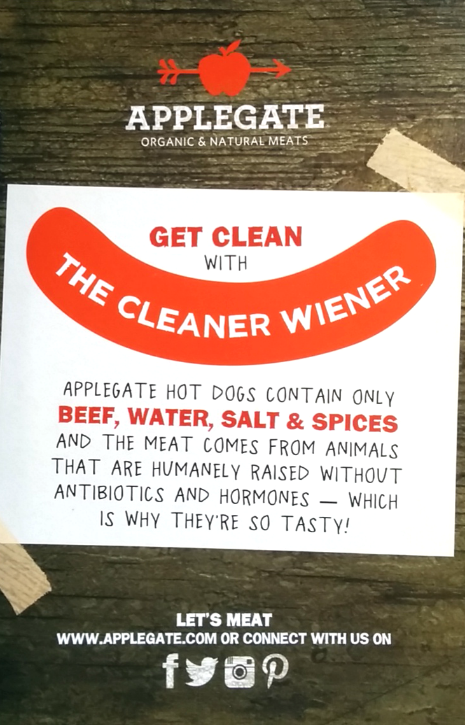 Now That It's Barbecue Season FRANKLY---MAY BE TIME FOR A WIENERVENTION
DEFINED AS: Replacing "Mystery Meat" with a "Cleaner Wiener"
Americans love affair with the hot dog extends from backyard barbecues to ballparks during the summer months. Those in the know about top dog status say more than seven billion hot dogs will be eaten by Americans between Memorial Day and Labor Day. Every year, people in the U.S. bite into an average of 60 wieners each.
BETTER FOR YOU BBQ FOR MEMORIAL DAY
With the average American downing about 2,000 calories at a cookout, how can you have your BBQ and eat it too
Not all hot dogs are created equal. Choose those that are lower in fat, don't have added nitrites or nitrates and are lower in sodium. A typical hot dog has about 16 grams of fat, but a natural one without preservatives, artificial ingredients and fillers can come in at 8 grams. Applegate has a line of all-natural hot dogs that are made with just 100 percent grass-fed beef, water, salt and spices. Also, there are plenty of varieties, including chicken and turkey that cut down on calories and fat. For burgers, go for turkey or if you want ground beef, choose 90 or 93 percent lean.
Roll with It: White with whole grain, wheat, spelt – just as hot dog options have changed, so have the buns.
Grilling is not just for meat any more. Grilling brings out the natural sweetness in vegetables. Veggie kebobs are fun and easy to do. And many fruits taste even better when grilled such as pineapple, peaches, plums and watermelon.
Have fun with condiments. Choose ketchup and mustard with less added sugar – check out the ingredient list and make sure it isn't the first or second ingredient. But don't just stop there, diced onions, avocadoes, sweet bell peppers add flavor as well as boosts the nutritional value as does salsa and relishes.
Swap the sides. Love potato salad, but not the fat? Try using Greek yogurt in the dressing instead of mayo, and get the creaminess, plus the added benefits of calcium and protein. Instead of creamy dressings for salads, use vinaigrettes made with heart healthy olive oils.
APPLEGATE.COM
HOST OF NATIONAL GEOGRAPHIC'S "WORD TRAVELS" SERIES, JULIA DIMON – TIPS FOR TAKING SPECIAL 'SHARE FOREVER' VACATIONS
Travel Junkie and Host of National Geographic International's Word Play
FIND OUT WHY JULIA DIMON IS WORKING TO GET THE BEST REWARDS FOR YOUR TRAVEL DOLLARS!
TRAVEL JUNKIE JULIA'S TIPS FOR TAKING SPECIAL 'SHARE FOREVER' VACATIONS
The renowned TRAVEL JUNKIE, Julia Dimon has visited more than 80 countries during her career as one of the top travel experts in the nation. The TV host for National Geographic Word Travels has hiked with mountain gorillas in Uganda, gone to radioactive Chernobyl, been 'tortured' in a Latvian prison and eaten live scorpions, bugs and slugs all across the globe. Now, this amazing lady is ready to share some of her travel secrets for making exotic vacations affordable or local vacations more exciting. Find out how simply taking advantage of loyalty programs and other tips can be the difference between an OK vacation and a five-star memorable experience.
Dimon will be live from a beautiful Miami, Fla, to explain why this is the best time of year for travel deals, and how you can take advantage of them.
WHAT YOU WILL LEARN FROM THE TRAVEL JUNKIE:
What's new and hot this summer
Off-the-radar destinations that provide more bang for your buck
Summer survival guide: tips and tricks to beat the heat, the crowds, the high prices (apps, websites)
How to get more from your summer vacation by taking advantage of rewards and exclusive benefits available through loyalty programs, such as IHG Rewards Club
Julia's show is called Word Travels and appears on National Geographic Adventure, Travel Channel UK, Halogen, Outside TV, City-TV and OLN. She has also hosted a popular online 18-part travel series, Destination Getaway, for MSNBC, and she hosts a series of segments for Outside Television called "Urban Adventures." Dimon has also been featured as an expert on CNN, New York Times, ABC Nightline, Forbes Traveler, Travel & Leisure Magazine, Lonely Planet, etc.
WWW.IHG.COM/FOREVER
WWW.TRAVELJUNKIEJULIA.COM