JULIA COLLIN DAVISON – NEW CO-HOST AND THE EXECUTIVE FOOD EDITOR FOR THE BOOK DIVISION, AMERICA'S TEST KITCHEN - CHATS SUMMER GRILLING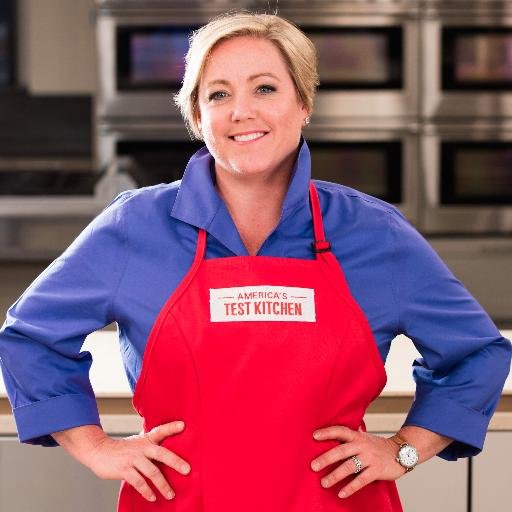 ABOUT JULIA COLLIN DAVISON
Julia Collin Davison is the executive food editor for the book division of America's Test Kitchen and is an on-screen test cook for America's Test Kitchen and Cook's Country from America's Test Kitchen. She began working as a test cook for Cook's Illustrated in 1999 and is responsible for the food and recipe development for all America's Test Kitchen cookbooks. She holds an A.O.S. degree from the Culinary Institute of America and a B.A. in psychology and philosophy from SUNY Albany. Before coming to America's Test Kitchen, she worked in Albany, the Berkshires, San Francisco, and the Napa Valley at several restaurants, catering companies, schools, and wineries. Julia resides in Natick, Massachusetts, where she enjoys cooking with her husband, Ian, and her daughter, Marta.
ABOUT AMERICA'S TEST KITCHEN
America's Test Kitchen is the most-watched cooking show on public television—over 2 million viewers tune in each week—and in January 2016, America's Test Kitchen will launch its 16th season. In addition to the popular segments that viewers have come to love and trust, like equipment reviews, taste tests, and foolproof recipes, the 16th season will feature even more content and numerous visits with well-loved chefs!
The test kitchen chefs cook America's favorite recipes with host Christopher Kimball and deconstruct each recipe to reveal the test kitchen's secrets to foolproof cooking at home. This season includes 57 all-new recipes, including Raspberry Charlotte, Black Bean Burgers, Foolproof New York Cheesecake, Crispy Salt and Pepper Shrimp, Duck Fat–Roasted Potatoes, Cuban Braised Shredded Beef, Chicken Mole Poblano, Ultimate Charcoal-Grilled Steaks, Strawberry-Rhubarb Pie, and more.
America's Test Kitchen is shot just outside Boston. The test cooks are dedicated to finding the best methods for preparing foolproof home-cooked meals. The 2,500-square-foot test kitchen in which America's Test Kitchen is shot is the same kitchen where three dozen full-time test cooks work, testing and retesting recipes 20, 30, and sometimes 50 times, until they find the recipe that they are confident will work every time.
MASTER OF THE GRILL: FOOLPROOF RECIPES, TOP-RATED GADGETS, GEAR & INGREDIENTS PLUS CLEVER TEST KITCHEN TIPS & FASCINATING FOOD SCIENCE
Part field guide to grilling and barbecuing and part cookbook, Master of the Grill features a wide variety of kitchen-tested recipes for meat, poultry, seafood, vegetables, pizza, and more. These are the recipes everyone should know how to make— the juiciest burgers, barbecue chicken that's moist not tough, tender grill-smoked pork ribs, the greatest steak (and grilled potatoes to serve alongside). Regional specialties are included, too—learn how to make Cowboy Steaks, Alabama BBQ Chicken, and Kansas City Sticky Ribs. Colorful photography captures the beauty of the recipes and step-by-step shots guide you through everything you need to know. A section on grilling essentials covers the pros and cons of gas and charcoal grills and which might be right for you, as well as the tools you'll use with them— such as grill brushes, tongs, vegetable baskets, and wood chips and chunks.
"A terrifically accessible and useful guide to grilling in all its forms that sets a new bar for its competitors on the bookshelf." –Publishers Weekly
Are precut steak tips worth buying? Why make divots in burgers? What's the best supermarket barbecue sauce? (And when is it worth splurging for the high-end one?) Are all grill tongs created equal? America's most trusted test kitchen fires up the grill to answer those questions and many more in the inventive new book Master of the Grill.
With recipes and techniques arranged by skill level—from The Basics to The Easy Upgrades to The Serious Projects—cooks of all stripes can dive in and choose their outdoor cooking adventure. Make classic, contemporary, and regional recipes like Perfect Grilled Hamburgers, Barbecued Pulled Chicken, Grilled Tomato and Cheese Pizzas, and Kansas City Sticky Ribs, as well as Grill-Smoked Salmon, Grill-Roasted Prime Rib, Grilled Lobsters with Herbed Garlic Butter, andGrilled Fruit (with a variety of finishing sauces and glazes). Every recipe includes instructions for both charcoal and gas grills and there are hundreds of full-color recipe and step photos throughout the book.
WWW.AMERICASTESTKITCHEN.COM
STEFANIE MICHAELS, THE 'ADVENTURE GIRL' AND TRAVEL EXPERT - SUMMER TRAVEL PLANNING
SUMMER TRAVEL DEALS ARE HEATING UP! FIND OUT HOW TO PLAN YOUR SUMMER GETAWAY WITH THE SOCIAL MEDIA GURU OF TRAVEL!
THE 'ADVENTURE GIRL' STEFANIE MICHAELS SHARES HOT TIPS & SUGGESTIONS FOR A MEMORABLE SUMMER TRAVEL SEASON!
Find Out Stefanie's Favorite Last Minute Deals for a Great Adventure This Memorial Day!
Stefanie Michaels has over 1 million twitter followers who look to her for expert travel advice. Known as the Go-to-Girl for "living life's adventures," Stefanie has carved a unique niche in the world of sharing tips with national publications such as People magazine, Access Hollywood, and the New York Times. Just in time for Memorial Day Weekend and the start of the summer travel season, this amazing expert is available to share her expertise and some great travel tips with your listeners. Find out how to get some great last minute deals and where to go for a FUN family or adults-only vacation. She will also talk about her go-to Myrtle Beach destination!
THE ADVENTURE GIRL SHARES HER TRAVEL CHECKLIST:
FIND OUT WHERE TO GET THE HOTEST DEALS: Summer is synonymous with beach vacation. Find some of the best places to go that will entertain everyone without breaking the bank.
FLASH SALES: Find out how to utilize social media to get last-minute deals.
FINDING REAL DEALS: Learn how you can take advantage of last-minute bargains, even in peak travel season.
Stefanie was been dubbed "America's Tweetheart" in a Vanity Fair Magazine feature for having 1 million Twitter followers, she's been the focus of Time Magazine's feature, "Love me, Love my brand," and sits on Forbes' list of Top 20 Branded Women.
IAN BLACKBURN – WINE LA – UPCOMING EVENTS (STARS OF CA 5/25)
STARS OF CALIFORNIA
MAY 25, 2015 | PENINSULA BEVERLY HILLS
California is a wine region with much to offer. From the Sonoma Coast to the Napa Valley to Monterey to Paso Robles to Santa Barbara to Temecula and everywhere in between, there is a wine for everyone in California. At our STARS of California event, explore the diversity of Californian wine from delicate Pinot Noir to bold Zinfandel at this showcase of the best of California. Enjoy tray served hors d'oeuvres, an amazingly robust silent auction, and much more. All Silent Auction proceeds benefit the T.J. Martell Foundation.
VIP ADMISSION 6:00 PM
GENERAL ADMISSION 7:00 PM
VIP INCLUDES:
VIP Panel & Tasting
Enhanced VIP Buffet
VIP Gift Bag
Unlimited Wine Tasting
Tray Passed Hors D'oeuvres
Selection of Breads, Cheeses, and Chocolates
GENERAL ADMISSION INCLUDES:
Unlimited Wine Tasting
Tray Passed Hors D'oeuvres
Selection of Breads, Cheeses, and Chocolates
ABOUT WINELA
wineLA is about enhancing the wine culture of Los Angeles. To do so, wine must be in rhythm with fashion, music, food and other beverages. It must take advantage of the geography, the architecture and the centers of interest. Los Angeles is a giant playground with an amazing array of venues, spaces, wine bars, restaurants, beaches, roof tops, gardens, and magical views. We want to be a part of the LA lifestyle, the wine lifestyle, and celebrate the people, the place and the passion.
wineLA will promote significant events, occasional classes, and tastings of merit. This is phase two of what we started 20 years ago at LearnAboutWine.com - America's first wine education website and first in wine event creation. LearnAboutWine will now evolve onto a digital platform; the transformation will take some time; so we will slowly rebrand our event efforts onto wineLA, reduce the number of activities we focus on, and elevate our efforts to focus on the next big thing… Doing what is best for the wine industry and the communities we serve. Edicts: innovate, evolve and excite.
We thank you for joining our newsletter, we will be sending fewer emails and packing them with amazing content. We want to be your wine content provider and would love to hear about your favorite places, your music, your locations - we want to be under the influence of what ignites your passion for Los Angeles.
IAN BLACKBURN, CSW, JWE ¬‐ LEARNABOUTWINE & WINELA PROFESSIONAL SOMMELIER, CANDIDATE FOR THE MASTER OF WINE
Ian drinks wine for a living and plans 50-¬‐100 public and private events a year. Ian stays busy buying collectible wines for high profile clients, planning luxury wine trips for his audience, hosting corporate events, and studying for his Master of Wine.
Since 1995, LearnAboutWine has done the hard work of building a better culture for fine wine, opening the doors for more quality products to enter the marketplace and has taught over 800,000 students. With a reach of over 80,000 current subscribers and followers, LearnAboutWine now focuses on the best quality events and classes, and wine credential programs which have graduated over 1000 wine students in the last 9 years with a Junior Wine Executive credential (JWE). See what is happening NOW at our new website winela.com.
WWW.WINELA.COM