ANDY SPARHAWK - THE BREWERS ASSOCIATION'S CRAFT BEER PROGRAM COORDINATOR - AMERICAN CRAFT BEER WEEK
Beer lovers everywhere will toast the country's small and independent craft beer renaissance during American Craft Beer Week from May 16-22. Once again, ACBW events and celebrations will be held across all 50 states.
Get in on the Action: ACBW activities include exclusive brewery tours, multi-course food and pairing dinners, collaboration beers, retail promotions and much more. Find out what your state is doing and how to get involved.
Summer Seasonals: Need to cool down this summer? Discover the top craft beers on tap, which will be sold at baseball stadiums, and other specials this season. Plus, an extra special beer is being brewed just for ACBW…
Bigger Story on Small Beer: The number of breweries in this country is at a record high. With over 4,000 breweries there's more styles to choose from than ever before. Discuss the overall phenomena, including the impact this has on our economy and helpful tips for the average listener to navigate the beer aisle and select the perfect brew.
ABOUT ANDY SPARHAWK
Andy Sparhawk, the Brewers Association's craft beer program coordinator, is a Certified Cicerone® and BJCP Beer Judge. He lives in Arvada, Colorado where he is a homebrewer and avid craft beer enthusiast. On occasion, Andy is inspired to write on his experiences with craft beer, and if they are not too ridiculous, you might see the results here on CraftBeer.com.
CRAFTBEER.COM
GENEALOGIST, JOSHUA TAYLOR - PBS' "GENEALOGY ROADSHOW" SEASON THREE UNCOVERS FAMILY SECRETS ACROSS THE U.S.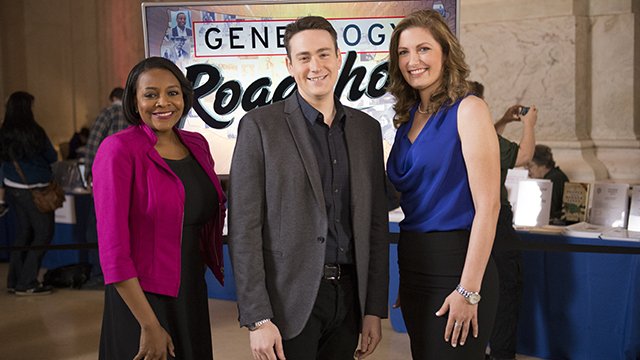 PBS' "GENEALOGY ROADSHOW" SEASON THREE UNCOVERS FAMILY SECRETS ACROSS THE U.S.
Six New Cities Featured as Local Citizens' Lineage is Traced to the Past
Part detective story, part emotional journey, Genealogy Roadshow combines history and science to uncover fascinating stories of diverse Americans this season in and around Albuquerque, Miami, Houston, Boston, Providence and Los Angeles. Each story links to the larger regional and often, national history, to become part of America's rich cultural tapestry.
Genealogy Roadshow brings together genealogists Kenyatta Berry, Joshua Taylor and Mary Tedesco with everyday people whose unique family claims form the basis for significant ROADSHOW stories. Among this season's mysteries: A man seeks to find out if he is descended from Boston's key founders; a woman explores connections to an ancestor's participation in the Manhattan Project; a couple hopes to recover the true story of their family pharmacy during Hollywood's Golden Age; and a woman learns of her family's involvement in the Trail of Tears.
The genealogists used resources in history and DNA as well as family heirlooms, letters, pictures, historical documents and other clues to hunt down the truth behind the familial myths. In each episode, Genealogy Roadshow reaches out to help Americans who are interested in their family heritage and their community history. It proves that no matter one's culture and background, everyone is part of the American story.
WWW.PBS.ORG/GENEALOGYROADSHOW