GENERAL MANAGER AT ENTRE NOUS WINES.
JOE FILIPPINI JOINS THE SHOW TO CHAT ABOUT THE 27TH ANNUAL CULINARY EVENING WITH THE CALIFORNIA WINEMASTERS
WELCOME TO ENTRE NOUS WINES, A SMALL FAMILY WINERY IN THE HEART OF NAPA VALLEY DEDICATED TO EXQUISITE, HAND-CRAFTED ESTATE WINES.
"Entre Nous" in French means "between us" – bringing those together who have both a role in making the wine and those who enjoy drinking it. In addition, "entre nous", when applied to wine – indicates this is a beverage that is best enjoyed with others!
Entre Nous released their first wine in 2007 – a Cabernet Sauvignon. This gem of a property in Oakville is planted to 26 acres of vines – most of which is sold to premium wineries. Each year, Kristine Ashe harvests from select blocks and makes about 500 cases of wine. All grapes for their wines are from the estate.
Proprietor Kristine Ashe grew up in Marin County in the San Francisco Bay area and used to take trips up to Napa – where she ultimately fell in love with the lifestyle and the region's wine. In 2000 she purchased her Oakville Estate – hired well regarded vineyard manager David Abreu – who promptly sectioned the property into smaller blocks to better micro manage the vineyard.
Today the vineyard is carefully managed, fruit is watched closely and dropped throughout the growing season, leaving only the most healthy quality bunches to fully ripen before harvest. The property is organically farmed – even sheep are brought in seasonally to graze the cover crop between the vines.
More recently, much sought after winemaker Phillipe Melka was hired and currently is their winemaker. Phillipe consults for a number of premium producers in Napa. He is well recognized in the industry and was voted American Winemaker of the year in 2005 by Robert Parker in Food & Wine Magazine. Philippe has a geology degree as well as a degree in oenology and agronomy (he knows his Napa terroir very well). He is as detailed in the vineyard as he is with the wine-making.
A WORD FROM JOE:
Entre Nous has been quite the unexpected and gratifying journey. Our family endeavor has taken me from sage brush and barbed wire to biodynamic farming and hand de-stemming some of the finest grapes in the world. Collaborating with relatives really strengthened our connection to one another, and created a community electrified with talent, zeal and unparalleled work ethic. I've found my place here, surrounded by family, friends, and work that I love. I don't take a single moment for granted. – Joe
WWW.ENTRENOUSWINES.COM
ABOUT THE 27TH ANNUAL CULINARY EVENING WITH THE CALIFORNIA WINEMASTERS
Saturday, May 14th, 2016 6PM
at Warner Bros., "Midwest Street"
A wine tasting extraordinaire and spectacular hors d'oeuvres dinner benefiting the Cystic Fibrosis Foundation. One of WINE SPECTATOR'S "TOP TEN U.S. CHARITY WINE AUCTIONS" will be held on the "Midwest Street" backlot at Warner Bros.
The California Winemasters is a perennial Wine Spectator Top 10 Charity Wine Auction set for May 14, 2016 at Warner Bros. Studios in Burbank. This extraordinary event showcases 50 international chefs and 75 of California's Finest Wineries. "Winemasters" has raised nearly $29 million in support of the mission of the Cystic Fibrosis Foundation. The CF Foundation is a nonprofit donor-supported organization dedicated to attacking cystic fibrosis from every angle. It's focus is to support the development of new drugs to fight the disease, improve the quality of life for those with CF and ultimately, to find a cure. The Foundation's drug development success has been recognized by Harvard Business School and by publications such as Forbes, Discover Magazine and The Wall Street Journal. Make your reservations NOW for this wine tasting extraordinaire and spectacular hors d'oeuves dinner!
TIFFANI THIESSEN - ACTRESS, WIFE, MOTHER & HOST OF COOKING CHANNEL'S DINNER AT TIFFANI'S MAKES EVERYDAY OCCASIONS SPECIAL WITH DELICIOUS CULINARY TIPS AND TRICKS
MAKE EVERYDAY OCCASIONS SPECIAL, WITH DELICIOUS CULINARY TIPS AND TRICKS
Join actress, wife, mother and host of Cooking Channel's Dinner at Tiffani's, Tiffani Thiessen
A meal is more than just food on the table. It's also the source of powerful memories—from "Grandma's spaghetti sauce" to "mom's signature homemade cookies."
Actress, wife, mother and "Cooking Channel" host Tiffani Thiessen knows this first hand. Finding time to whip up an elaborate four-course meal from scratch can be tough, especially with her busy schedule, but that doesn't mean delicious food – or a special moment – has to be sacrificed. Tiffani is sharing her favorite tips and ingredients because as a working mother herself, she understands the importance of buying quality products for her family that help her turn the simplest of moments into special memories…from a morning cup of coffee to weeknight pasta.
TIFFANITHIESSEN.COM
WWW.COOKINGCHANNELTV.COM
ABOUT TIFFANI THIESSEN:
Host of Cooking Channel's "Dinner at Tiffani's," actress Tiffani Thiessen began her acting career with a starring role in the television series "Saved By the Bell." At the same time, she made her feature film debut in "Son In Law" opposite Pauly Shore. In 1993, Aaron Spelling cast her in "Beverly Hills 90210," where she portrayed Valerie Malone. A versatile performer, she has proven her talent from comedy to drama in a variety of film and television roles. From Woody Allen's comedy "Hollywood Ending" to SNL's "The Ladies Man," Tiffani's charisma has kept her career moving constantly forward and has gained her the adoration of millions internationally. She most recently starred as Elizabeth Burke in the USA Network original series, "White Collar."
MARK LACH - CREATIVE DIRECTOR, PREMIER EXHIBITIONS, INC - ARTIFACTS RECOVERED FROM RMS TITANIC WILL BE ON DISPLAY FOR THE LAST TIME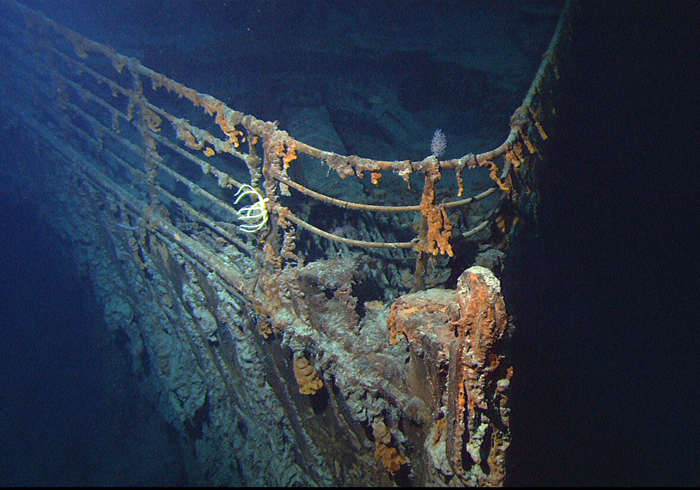 SEVEN SOON-TO-BE RETIRED ARTIFACTS WILL BE EXHIBITED ONE LAST TIME DURING THE 104TH ANNIVERSARY OF THE SINKING OF TITANIC
The infamous story of Titanic is as fascinating to people around the world today as it was in 1912…Seven priceless artifacts recovered from the wreck site of RMS Titanic will be retired from public view forever and put into permanent conservation after a 4-month special engagement exhibit in Las Vegas. This will be the last time people can see these artifacts, incredibly rare paper documents and clothing, for themselves. The rarest artifacts ever recovered, the vast majority of paper and textiles aboard Titanic rapidly decomposed in the harsh undersea environment that exists 2.5-miles below the surface of the Atlantic, unlike heartier glass, metal and ceramic items that largely were intact when the wreck site was found in 1985.
On Thursday, April 14th, 104 years after Titanic struck an iceberg in the Atlantic, Mark Lach, Creative Director, Titanic: The Artifact Exhibition for Premier Exhibitions, will be available to discuss the artifacts that will be retired this year, never to be seen in public again. Among them is the haunting declaration of intent to seek U.S. citizenship of an immigrant who went down with the ship and a chilling mateless leather shoe that has never before been on display. This is the first time recovered artifacts from the wreck site of Titanic will be retired from public view. The selection represents a remarkable cross section of Titanic's passengers and provides an intimate glimpse into life aboard the ship over a century ago.
MORE ABOUT MARK LACH:
Mark Lach has been a part of Titanic: The Artifact Exhibition since 1999 serving as its creative director and original exhibition designer.
During his tenure with Titanic, Lach visited the wreck site of Titanic on the 2000 and 2004 Expeditions. Lach is a part of an exclusive group of individuals who have gone down in a submersible to the wreck site and was a part of the team recovering artifacts that are conserved and put on display in Titanic: The Artifact Exhibition by Premier Exhibitions.
In addition to the creative design of Titanic: The Artifact Exhibition Lach has had a storied career designing some of the world's most famous and popular traveling museum exhibitions.
PREMIEREXHIBITIONS.COM