ALEX LOVICK, WINERY CHEF FOR INGLENOOK - INGLENOOK WILL BE HOSTING "THE YOUNG GUNS POP-UP DINNER" FOR FLAVOR! NAPA VALLEY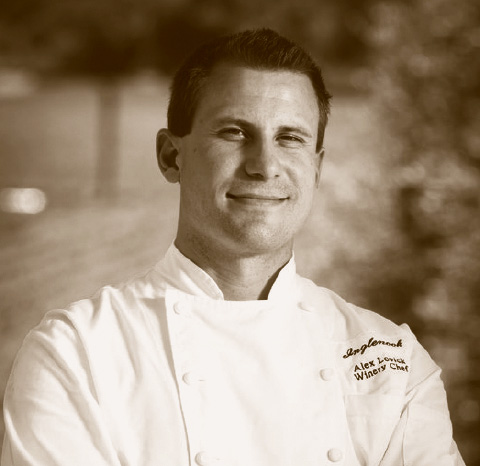 The Inglenook legacy began in 1879 when Gustave Niebaum, a Finnish sea captain, wine connoisseur and entrepreneur, came to Rutherford to build a wine estate that would rival Europe's finest. When Niebaum's grandnephew, John Daniel, Jr. inherited the chateau and vineyards in the 1930s, Inglenook had already earned international acclaim. Francis and Eleanor Coppola purchased the property in 1975 and have spent forty years reuniting the original vineyards, returning winemaking operations to the chateau, and restoring Inglenook's illustrious heritage with the help of renowned wine consultant Stéphane Derenoncourt and Managing Director and Winemaker Philippe Bascaules. In honor of this estate and its historical significance, we have restored the name, Inglenook.
ABOUT ALEX LOVICK:
A native Northern Californian, Alex began his career by apprenticing with Chef Walter Manzke in Carmel. He refined his culinary skills at The Little Nell in Aspen, regarded as Colorado's premier luxury resort, working with Chef Ryan Hardy. Alex has traveled extensively in Russia and Western Europe, which has served to inspire his menus. Since venturing to the Napa Valley, Alex has worked as a private chef for numerous clients, including the Nickel Family on their yacht, Far Niente. He has also worked at various wineries such as Kuleto Estate, Robert Mondavi Winery, and Stag's Leap Wine Cellars. As Winery Chef for Inglenook, Alex not only oversees all culinary aspects of the Estate, but also wine and food education, the Chef's Garden and Foraging program. Focusing on local sustainable ingredients, Alex allows the seasons to dictate his menus, cultivating the bounty of the expansive Inglenook Estate
A SPOTLIGHT ON FLAVOR! NAPA VALLEY MARCH 16 – 20, 2016
Flavor! Napa Valley ® is a five-day food and wine festival which showcases world-class wines and culinary star talent in one of the most beautiful wine regions in the world. The events, which take place March 16-20, 2016, range from local and celebrity chef demonstrations to intimate winemaker workshops, along with grand tastings and one-of-a-kind experiences to support programs and scholarships at The Culinary Institute of America's Greystone Campus in St. Helena, CA.
"THE YOUNG GUNS POP-UP DINNER"
An Evening with the Bay Area's Rising Star Chefs, Featuring Wines from Inglenook
Friday, March 18, 2016; 6:30 - 10 p.m. at Inglenook winery in Rutherford
$185 per person
This five-course dinner, paired with Inglenook wines, features seven of the Bay Area's brightest rising star chefs, who each share a passion for local ingredients. Inglenook's legacy dates back to 1879 when Gustave Niebaum came to Rutherford to build a wine estate to rival Europe's finest. Francis and Eleanor Coppola purchased the property in 1975 and have restored Inglenook's illustrious heritage. Dinner will be hosted in Inglenook's grand chateau, which was built in 1887. The location and history of this dinner pairs perfectly with the bright, young participating chefs, which include:
•
Alex Lovick, host chef, Inglenook
•
Perry Hoffman, executive chef, SHED Cafe
•
Sean Massey, chef de cuisine, Morimoto Napa
•
Trevor Kunk, executive chef, PRESS Restaurant
•
Jason Raffin, executive chef, Scotland Yard
•
Ari Weiswasser, executive chef, Glen Ellen Star
•
Laura Cronin, pastry chef, Perbacco/Barbacco/Volta
•
Phillippe Bascaules, host winemaker, Inglenook
WWW.INGLENOOK.COM
FLAVORNAPAVALLEY.COM
PHIL KEOGHAN - SHOW HOST, THE AMAZING RACE
THE AMAZING RACE sends 11 teams on a trek around the world. Each Team is comprised of two people who have a pre-existing relationship with one another. At every destination, each Team competes in a series of challenges — some mental and some physical — and when the tasks have been completed, they learn their next destination. Teams who are farthest behind will gradually be eliminated as the contest progresses, with the first team to arrive at the final destination winning at least $1 million.
Jerry Bruckheimer, Bertram van Munster, Jonathan Littman, Elise Doganieri and Mark Vertullo are the executive producers for Jerry Bruckheimer Television and Earthview Inc. in association with ABC Studios and Amazing Race Productions. THE AMAZING RACE was created by Bertram van Munster and Elise Doganieri.
NEXT EPISODE: FRIDAY 2/26
THE RACE CONTINUES IN COLUMBIA, WHERE CLAUSTROPHOBIA COULD PREVENT A RACER FROM GOING DEEP INTO THE CATACOMBS TO RETRIEVE THEIR NEXT CLUE, ON "THE AMAZING RACE,"
"Bros Being Jocks" (Cartagena, Colombia) – The race continues in Columbia, where claustrophobia could prevent a racer from going deep into the catacombs to retrieve their next clue, on THE AMAZING RACE, Friday, Feb. 26 (8:00-9:00 PM, ET/PT) on the CBS Television Network. Phil Keoghan (@philkeoghan) is the host.
ABOUT PHIL KEOGHAN:
An Emmy award winning producer and host of The Amazing Race, Phil Keoghan, has experienced a life full of travel and adventure. He started traveling around the world at the age of two and has been globetrotting ever since. Serving as host and a producer of CBS's multi Emmy Award-winning reality series, THE AMAZING RACE, Keoghan continues to travel at a pace few could match. After surviving a near death experience at the age of 19, where he found himself lost at 120 feet inside a 22,000 ton ship wreck, Keoghan was prompted to write a list of things to do before he died. For more than 20 years, he has lived this, Life List, in front of a TV camera working in more than 100 countries as an actor, author, television host, producer, and cameraman.Some of his adventures include having a five star meal on top of an erupting volcano; changing a light bulb on top of Verazano bridge; breaking an unofficial bungy jumping record with eight others; swimming from Asia to Europe across the Bosporus; and putting a golf ball across Scotland. Most recently, he rode his bike from Los Angeles to New York City to help raise awareness for the National MS Society. Keoghan filmed the grueling 3,500 mile adventure and turned it into a documentary film titled THE RIDE. Phil's challenging Life List evolved into his life philosophy and the title of his bestselling book, No Opportunity Wasted, NOW, (Eight ways to create a list for the life you want). The book was later developed into an award winning television series produced in the US, Canada and New Zealand. With a passion to help others get the most out of life, Keoghan is a regular motivational speaker at colleges and major corporations throughout North and South America, Asia, New Zealand and Australia. Phil lives in Los Angeles, Calif. with his wife and daughter. His birthday is May 31.
WWW.CBS.COM/SHOWS/AMAZING_RACE