BOB CABRAL - DIRECTOR OF WINEMAKING, THREE STICKS
ABOUT THREE STICKS WINES:
Three Sticks Wines is a boutique, family-owned winery founded by Bill Price (William S. Price III). Founded in 2002, the winery is named for Bill's surfing nickname, "Billy Three Sticks," which was assigned to him in his youth as a reference to the three Roman numerals that follow his name. As a long-time fan and collector of wines from the Durell Vineyard, Price purchased the property from Ed Durell in 1998, and launched Three Sticks a few years later.
In 2015, Bob Cabral, former winemaker for Williams Selyem, and Ryan Prichard, former assistant winemaker for Medlock Ames, joined the Three Sticks Team. Don Van Staaveren, who had been with Three Sticks since 2004, remains as Winemaker Emeritus. Cabral and Prichard will be focusing on the Pinot Noir and Chardonnay production, while Van Staaveren will continue to focus on the Cabernets.
The winery is housed in an industrial area near downtown Sonoma, among a cluster of other artisan wine producers known as the Eighth Street Wineries. In keeping with the winery's "no crush" policy, every lot of grapes to come in is treated with utmost care and minimal handling. The winemaking team insists on keeping every vineyard block separate from the others from the moment they are picked on through fermentation, barrel aging and final blending.
In 2014, Three Sticks opened a tasting salon in downtown Sonoma: The Adobe (a.k.a. the VallejoCasteñada Adobe, #theadobe). Built circa 1842 and located just off the plaza in downtown Sonoma, the Vallejo-Casteñada Adobe was one of Sonoma's oldest and longest occupied residences and remains one of the last standing buildings from California's Mexican Period. It's transformation into the Three Sticks tasting salon was directed by noted San Francisco designer Ken Fulk.
ABOUT BOB:
There is very good reason Bob Cabral's name is synonymous with great Pinot Noir. With decades of experience in Sonoma County, Bob's passion, experience and following for his work with the varietal is second to none. From 1998 to 2014 Bob was winemaker for Williams Selyem. There, he led the winery into a new era, overseeing an expansion of new vineyard sources and bottlings for the brand, along with the construction of a state-of the art winery.
Bob's interest in wine and farming began in childhood helping his grandfather make wine in a barn. Growing up pruning grapes, irrigating vineyards and harvesting grapes became routine on his family's 70-acre ranch near Escalon, CA. A fourth generation farmer and grape grower from the great San Joaquin Valley, he took all he learned at the family farm and applied it to his degrees at Fresno State University. While in college, his passion for Pinot Noir became evident as he spent every spare dime, and a good chunk of his student loans, on buying wines from all over the world—mostly Burgundy and Russian River Valley Pinot Noirs.
After graduating in the mid-1980s, Bob knew that Sonoma County was where he could best hone his skills and make wines to rival the best in the world. He spent 11 vintages in various winemaking positions—associate winemaker at DeLoach Vineyards, custom crush winemaker at Kunde Family Estate, winemaker at Alderbrook Vineyards and winemaker at Hartford Court Winery—before taking his seminal position at Williams Selyem.
Bob's winemaking philosophy has remained constant throughout his career—to source and farm the best fruit possible, with minimal intervention in the cellar. He was awarded the 2011 Wine Star Award from the Wine Enthusiast as "Winemaker of the Year." He joined Three Sticks in 2015, with fervent enthusiasm. Bob lives in the Russian River Valley where and is a devoted husband and father to his wife and daughter.
WWW.THREESTICKSWINES.COM
MAYA WARREN, PH.D. LEAD FOOD SCIENTIST AND "TASTEMASTER", COLD STONE CREAMERY - IRRESISTIBLE CHOCOLATE DELICACIES ABOUND THIS VALENTINE'S DAY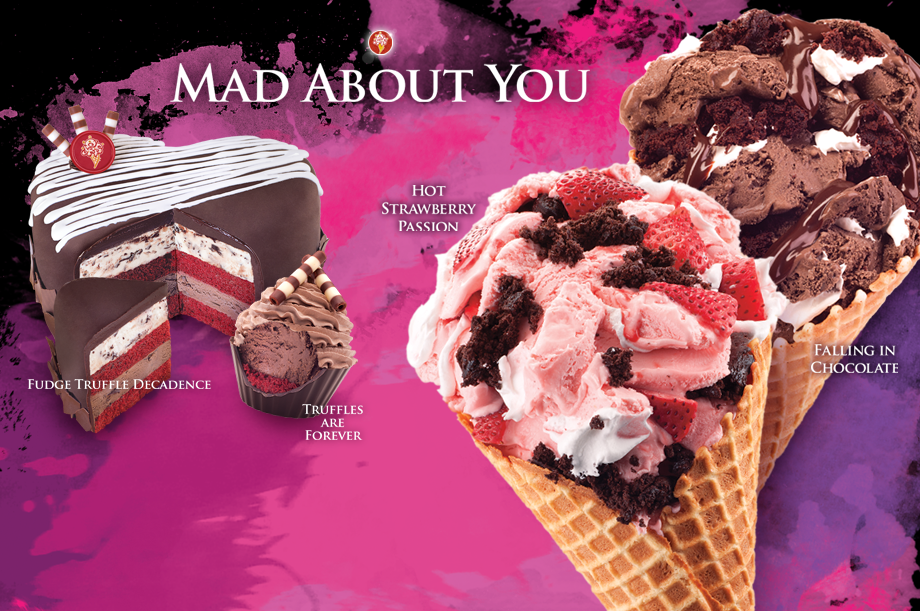 Step aside fancy jewelry and expensive tickets to sports games – get your Valentine a gift this year that will actually make them feel good – Chocolate. Chocolate, it turns out, is actually good for your mood. It contains phenylethylamine, a mood elevator that makes your pulse race slightly, and raises blood-glucose levels. Renowned sex therapist Dr. Ruth Westheimer says that "the taste of chocolate is a sensual pleasure in itself, existing in the same world as sex." The reason? Chocolate stimulates the release of endorphins, natural hormones produced by the brain that generate feelings of pleasure and promotes a sense of well being.
This Valentine's Day, America's premiere creamery, Cold Stone Creamery, is offering an enticing lineup of Chocolately Fudge confections to share with loved ones with the return of customer favorite, Fudge Truffle Ice Cream with the Falling In Chocolate™ Creation™ It will be available for a limited time during their True Love Promotion beginning January 6th through March 1st.
MORE ABOUT MAYA WARREN:
Maya Warren came to recent public awareness as a contestant on the popular CBS television show THE AMAZING RACE. Warren and her partner beat out 10 other teams to win the entire competition. In addition to her love for adventure, Warren is a lover of food and holds a Ph. D. in food science from the University of Wisconsin – Madison.
MORE ABOUT COLD STONE CREAMERY:
Cold Stone Creamery® delivers the Ultimate Ice Cream Experience® through a community of Franchisees who are passionate about ice cream. The secret recipe for smooth and creamy ice cream is handcrafted and made fresh in each store and then customized by combining a variety of mix-ins on a frozen granite stone. Headquartered in Scottsdale, Arizona, Cold Stone Creamery is a subsidiary of Kahala Brands™, one of the fastest growing franchising companies in the world, with a portfolio of 18 quick-service restaurant concepts. Cold Stone Creamery operates approximately 1,500 locations in over 26 countries. www.ColdStoneCreamery.com.
WWW.COLDSTONECREAMERY.COM
JON SEDA – ACTOR, CHICAGO P.D. – TO GUEST STAR IN LAW & ORDER: SVU THIS WEEK
WEDNESDAY FEBRUARY 10TH ON NBC 9-11PM ET
LAW & ORDER: SVU - "Nationwide Manhunt"
9pm ET/PT
Chicago P.D. detectives Lindsay (guest star Sophia Bush) and Dawson (guest star Jon Seda) join SVU in the hunt for two escaped murderers (returning guest stars Dallas Roberts and Jefferson Mays) they helped to convict. Starring Mariska Hargitay, Kelli Giddish, Raúl Esparza and Peter Scanavino. Also guest starring Andy Karl and Anna Deavere Smith.
CHICAGO P.D. - "The Song of Gregory William Yates"
10pm ET/PT
AFTER ESCAPING FROM AN UPSTATE NEW YORK PRISON, GREGORY YATES SETS HIS SIGHTS ON CHICAGO. – After infamous criminal Gregory Yates (guest star Dallas Roberts) escapes from a New York prison, Lindsay (Sophia Bush) and the team learn that he intends to flee New York and is headed for Chicago. The SVU team informs Intelligence that Yates has been gathering information on Lindsay and after Platt (Amy Morton) calls in a triple homicide likely at the hand of Yates, Benson (guest star Mariska Hargitay) and Fin (guest star Ice T) catch the next plane to Chicago. Upon investigation of the crime scene, the team learns that another tenant in the building is missing and they work to find a connection between Yates and the woman. Also starring Jason Beghe, Jon Seda, Jesse Lee Soffer, Patrick Flueger, Elias Koteas, Marina Squerciati, LaRoyce Hawkins and Brian Geraghty. Guest starring Eamonn Walker, Brian Tee, Samuel Hunt and Barbara Eve Harris.
ABOUT JON SEDA:
Jon Seda stars as honest detective Antonio Dawson in the Chicago P.D. Intelligence Unit in the NBC drama "Chicago P.D." Seda, a New Jersey native and amateur boxer, hung up his gloves in 1992 when he made his screen debut as a fighter in "Gladiator." Throughout the '90s, Seda's star rose through various film and television projects, but audiences really fell in love with him when he played the love interest of Jennifer Lopez in the biopic "Selena." In 1995, Seda was nominated for Best Male Lead at the Spirit Awards for his role in the film "I Like It Like That" opposite Rita Moreno. His other film credits include "Carlito's Way," "Twelve Monkeys" and the 1996 critically-acclaimed film "The Sunchaser" opposite Woody Harrelson which he was nominated for the Cannes Film Festival's esteemed Palme d'Or (Best Actor Award).
In 2010, Seda appeared in the Emmy Award-winning HBO World War II miniseries "The Pacific," starring as legendary U.S. Marine Jon Basilone. He later joined the cast of the acclaimed HBO series "Treme" as a series regular.
His television credits include roles on "Homicide: Life on the Street," "Ghost Whisperer" and "Oz." Seda has also guest-starred on "Hawaii Five-0," "The Closer," "Burn Notice," "House," "CSI: Miami," "NYPD Blue," "Las Vegas" and "Law & Order," among many others.