FARIDEH SADEGHIN - TEST KITCHEN DIRECTOR, ITALIAN COMFORT FOODS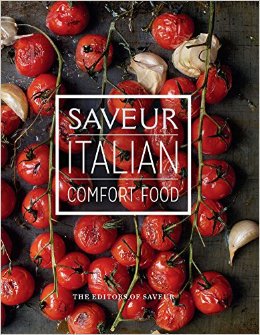 From the editors of America's favorite culinary magazine, comes the new iconic Italian cookbook. SAVEUR: Italian Comfort Food features 100 recipes from the magazine's archives and editors. Each fantastic recipe is paired with gorgeous full-color photography, sidebars, and more to celebrate this favorite cuisine.
With classic and brand new recipes, this cookbook presents the flavors, ingredients and techniques you need for Italian comfort food. This masterful selection illuminates SAVEUR's authority, heritage, and culinary wealth.
SAMPLE CONTENTS:
Aperitivi & Antipasti
Soups & Salads
Pasta, Risotto & Pizza
Fish & Meat
Vegetables & Sides
Desserts
Italian Pantry Staples
Special features on Italian cocktails, pantry staples, wine,salumi, cheese, and more round out this culinary adventure.Italian Comfort Food is for home cooks who love Italian cooking from the source and reveres SAVEUR's standard of excellence.
ABOUT FARIDEH SADEGHIN - TEST KITCHEN DIRECTOR:
Farideh worked in restaurants in New Zealand for 7 years before moving back to the US and interning at Saveur in the test kitchen. After 8 months of interning and freelancing, she started fulltime in the test kitchen, which she now runs. She also does styling and photography for the magazine, and loves anything with chocolate or whisky in it.
ROYA SOLEIMANI - TRENDS MANAGER, GOOGLE - WEEKLY TOP SEARCH TRENDS
Google's Top Search Trends program provides a revealing — and sometimes surprising — look at the people, places and topics that send the country searching for answers each week.
Topics That Fascinated the U.S. Selected from Millions of INTERNET Searches!
Hear the hottest content on the web each week directly from the source! Become part of Google's weekly Top Search Trends program to find out what news makers and trends are capturing the imagination of the country each week. Encompassing searches from across pop culture, sports, music, politics, news, and more a Roya will discuss five of the hottest trending queries on the web.
GOOGLE.COM/TRENDS
STEVE EVANS – THE MOVIE GUY
GREAT MOVIES OPENING THIS WEEKEND AND BOX OFFICE PREDICTIONS AND HOPES. FIND OUT WHAT MOVIES ARE WORTH YOUR HARD EARNED MONEY. GET SET FOR THE WEEKEND.