MORGEN MCLAUGHLIN - EXECUTIVE DIRECTOR, SANTA BARBARA VINTNERS – MOVIE PREMIERE OF SOMM: INTO THE BOTTLE
SANTA BARBARA WINE MOVIE PREMIERE
Join us at the beautiful Bacara Resort and Spa for the Santa Barbara movie premiere of SOMM: INTO THE BOTTLE, the sequel to the 2013 cult hit SOMM.
Jason Wise's SOMM: INTO THE BOTTLE raises the curtain into the seldom seen world that surrounds the wine we drink. How many people understand how wine is produced? How it is grown? What goes on in the cellar? From those questions to how many hands touch a bottle, to why wine costs what it costs, to how certain wines end up on a wine list, this movie offers a never before seen look into the world of wine.
After the premiere, join us for Chef tastings by Bacara's famed Executive Chef Vincent Lesage. The reception also includes eleven esteemed Santa Barbara County wineries pouring an outstanding selection of wines.
Saturday, January 16
2:30 to 4:30 p.m. SOMM Screening & Audience Q&A
4:30 to 6:00 p.m. Wine & Chef's Tasting Reception
$80.00 per person
About SOMM: INTO THE BOTTLE
Director: Jason Wise (SOMM)
Cast: Brian McClintic, Dylnn Proctor, Ian Cauble, Fred Dame
Producer: Jason Wise, Christina Wise (LAW ABIDING CITIZEN, JUMPER), Jackson Meyers
Featured Wineries at the Reception:
•
PENCE
•
Scar of the Sea
•
Palmina
•
Silver Wines
•
Lucas & Lewellen Vineyards
•
Presqu'ile
•
Rancho Sisquoc
•
Sunstone Winery
•
Baehner Fournier
•
Imagine Wine, LLC
•
The Valley Project
ABOUT SB COUNTY VINTNERS ASSOCIATION:
The Santa Barbara County Vintners' Association is a non-profit organization (501c6) founded in 1983 to support and promote Santa Barbara County as a premium wine producing and wine grape growing region. The Vintners' Association produces festivals, seminars, and wine tastings as well as providing information to consumers and the wine and travel media.
Through the Santa Barbara Vintners' Foundation, the Association contributes to the community through local charitable, art and educational and scholarship organizations with proceeds from its various events, such as Santa Barbara Wine Auction, held every other year and benefitting Direct Relief International, and silent auctions at all the Association's festivals.
ABOUT MORGEN MCLAUGHLIN:
Morgen has been deeply involved in the wine and tourism industries since childhood through her family's various projects on the East Coast and Colorado. Wanting to follow her own path outside of wine, Morgen graduated from Boston College with degrees in English and Secondary Education. As she prepared to enroll in Graduate School, she was pulled back into the family wine business as the General Manager and eventual Co-owner of McLaughlin Vineyards. After twelve years at the winery and diversifying the business into special events, direct to consumer initiatives and ag-tourism projects, she left to become the President and CEO of Finger Lakes Wine Country Tourism Marketing Association in Corning, New York. Morgen led the organization and region through six and a half years of tremendous growth and national and international visibility. Morgen lives in Santa Barbara County with her husband (a fellow wine professional) and three sons. She currently serves on the Visit Santa Barbara Board of Directors, Santa Barbara Vintners Foundation Board of Directors, Santa Barbara County Agriculture Advisory Committee, and the Santa Barbara County Right to Farm Committee.
WWW.SBCOUNTYWINES.COM
DR. LOUIS J. ARONNE – AUTHOR, THE CHANGE YOUR BIOLOGY DIET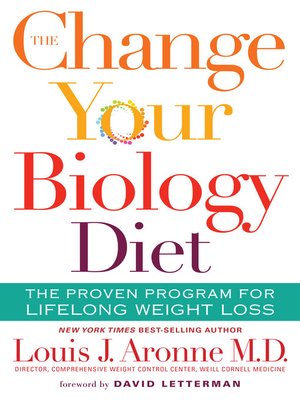 THE CHANGE YOUR BIOLOGY DIET: The Proven Program for Lifelong Weight Loss
In THE CHANGE YOUR BIOLOGY DIET: The Proven Program for Lifelong Weight Loss, Dr. Louis J. Aronne, Director of the Comprehensive Weight Control Center at Weill Cornell Medicine and New York-Presbyterian, shares his science-based, life-changing program to help people alter their eating habits and achieve permanent weight loss. Unlike fad diets and the fast, dramatic weight loss chronicled on reality TV, Dr. Aronne's approach focuses on the biological factors that cause weight gain. Armed with the scientific facts on how their bodies control weight, readers will understand how to take action and combat the forces that have kept them from achieving their goals.
TOPICS IN THE BOOK INCLUDE:
•
The "fattening factors" of modern life that are catalysts for increased weight, including insufficient sleep, medications, and the rise in the use of air conditioning. (Temperature does affect how many calories you burn. If you allow yourself to be hot enough to perspire a bit in the summer, you are using extra energy and will also want to eat less. In the winter, lowering your thermostat and getting out in the cold to take a walk can stimulate your metabolism.)
•
The food that you eat has a direct physical effect on your brain. Years of consuming too much high-calorie food produces a power surge the body can't handle. Over time, this overload changes the brain and damages the nerves in the appetite control center.
•
Twelve proven strategies for lifelong weight control — "The Breakthrough Dozen" — can reset your biological tendency to gain weight and can protect your appetite control center from damage by minimizing calorie overload. (For example, the order in which food is eaten affects its glycemic load and therefore impacts weight loss. At meals, always eat vegetables and protein first. Eat carbs late in a meal and late in the day. The worst thing you can do is start a meal with bread! "Eat this before that," advises Dr. Aronne.)
•
Even if a person has a genetic predisposition to gain weight, it is not written in stone. Genetics are part of the picture, but the newly emerging field of epigenetics is showing that what you have inherited is not your destiny. It appears that what you eat affects which of your genes turn on and which turn off.
•
Adding more "everyday" movement throughout the day is more beneficial than running on a treadmill. The book includes a list of "40 Ways to Get Active" that can be easily incorporated into anyone's daily routine.
•
Beyond diet and exercise, the latest frontiers in medical treatments to assist weight loss, including the new generation of weight loss medication and developments in bypass surgery, when lifestyle changes alone aren't working.
In order to allow individuals to personalize a program that works for them, Dr. Aronne offers two different adaptable versions of The Change Your Biology Diet: the Quick Start Diet (a sixweek, three-stage program) and the Two-Stage Diet (a low-carb, low-glycemic eating plan). Supplementing these are two weeks' worth of meal plans and more than fifty simple, delicious recipes.
Much more than a diet plan, The Change Your Biology Diet is both a comprehensive look at what is going on in the body to cause weight gain and a science-based program to help individuals alter the biological processes preventing them from managing their weight. Readers will learn the simple changes they can make in the way they eat and move that will help them drop the weight, make long-term lifestyle improvements, and set out on the road to good health.
ABOUT DR. ARONNE
Louis J. Aronne, M.D., FACP is an internationally recognized weight management expert and Director of the Comprehensive Weight Control Center at Weill Cornell Medicine and New York-Presbyterian. He is the Sanford I. Weill Professor of Metabolic Research at Weill Cornell Medicine, and has an adjunct appointment at Columbia University College of Physicians and Surgeons. Dr. Aronne is Chairman of the American Board of Obesity Medicine, the credentialing board for physicians who specialize in weight management. Dr. Aronne helped to develop the VA MOVE program, currently the largest weight management program in the country. He recently launched BMIQ (BMIQ.com), a unique online weight control program delivered by doctors, nurses, and dietitians. Dr. Aronne has written more than sixty papers and book chapters on obesity. In addition, he wrote a New York Times bestseller The Skinny, published in 2009. He is a graduate of Johns Hopkins University School of Medicine and graduated Phi Beta Kappa from Trinity College in Hartford, CT. He is a member of the Alpha Omega Alpha medical honor society. Dr. Aronne and his wife live in the New York metropolitan area.