DANIEL SIEBERG, GOOGLE TRENDS EXPERT - GOOGLE REVEALS THANKSGIVING TRENDS AND TRAVEL TIPS
Trends Expert Provides Insight into the Most Popular Thanksgiving Customs and How to Navigate the Highway Stuffing or dressing, puh-kahn or pee-can pie, deep fried or roasted turkey? For the first time ever, Google is answering these questions and more with Thanksgivings trends. Find out the most popular – and maybe surprising – Thanksgiving recipes and other fascinating trends for your city.
In addition to Thanksgiving trends, Google can help you get you through the Thanksgiving travel rush, based on historical and real-time traffic information. With Thanksgiving being the top travel holiday of the year, Google offers insight into the best and worst days to leave during Thanksgiving week, the ideal times to drive on the holiday, the cities that have the worst traffic, and which destinations are the busiest during Thanksgiving and Black Friday.
MARGE KLINDERA – BUTTERBALL TURKEY TALK LINE EXPERT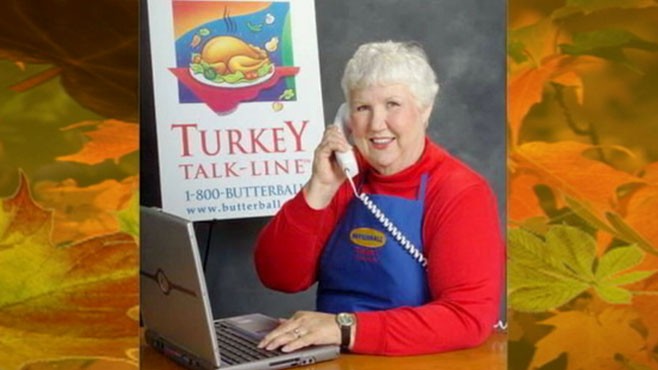 Each Thanksgiving for the last 30+ years, the Turkey Talk Line fields thousands of consumer calls with questions from basic turkey 101 – like thawing and basting the bird - to SOS emergency calls hours before the Thanksgiving meal.
This year, the Talk Line is giving new meaning to the popular #TBT (which means 'throw back Thursday' if you didn't know) with a special Thursday edition - "Throwback Thanksgiving" - asking everyone to share nostalgic Thanksgiving memories this holiday season. The experts are also digging into the Talk Line archives for never before seen photos, archived recipes and their most memorable calls since the 1980's.
MARGE WILL TALK ABOUT
Tried-and-True, "Turkey 101": tips on holiday meal prep
Turkey Then & Now: how the Thanksgiving table has changed over the decades
Most Memorable Calls: as Talk Line experts dig into the archives they'll throwback to some of their most memorable calls
1-800-BUTTERBALL (1-800-288-8372)
WWW.BUTTERBALL.COM
COOKBOOK AUTHOR AND MOM KATIE WORKMAN SHARES HER SECRETS & SHORTCUTS FOR A DELICIOUS SPIN ON YOUR FAVORITE HOLIDAY MEALS
Busy parents everywhere know that the holidays can be the most stressful time of year. Between decorating your home, gift shopping and planning meals for family and guests, parents really do it all this time of year. But, you don't have to get lost in the hustle and bustle of this hectic holiday season!
With some easy time-saving shortcuts using frozen and refrigerated staples, you can get it all done and still put a delicious meal on the table every single night. The National Frozen and Refrigerated Foods Association (NFRA) has teamed up with cookbook author Katie Workman to share the best meal hacks and seasonal tips to help you craft delicious and creative dishes that are simple and convenient – perfect for weeknight meals and holiday gatherings throughout the season.
ABOUT KATIE WORKMAN:
Katie Workman is the author of Dinner Solved! and The Mom 100 Cookbook. She is also the founding editor in chief of Cookstr.com; a regular contributor to NPR; columnist for the Associated Press and Eating Well magazine, and a food writer whose articles have appeared in The Wall Street Journal, Everyday with Rachael Ray, New York magazine, The Daily Beast, AARP.com, and many others. She also posts regularly on her blog, themom100.com. She sits on the board of City Harvest, New York's leading food rescue nonprofit, and lives with her husband and two children in New York City.
WWW.EASYHOMEMEALS.COM