EMMY-AWARD WINNING AUTHOR KAREN SCHALER SHARES HER SECRETS FOR GETTING THE BEST DEALS & AVOIDING "SOME" OF THE PITFALLS OF TRAVELING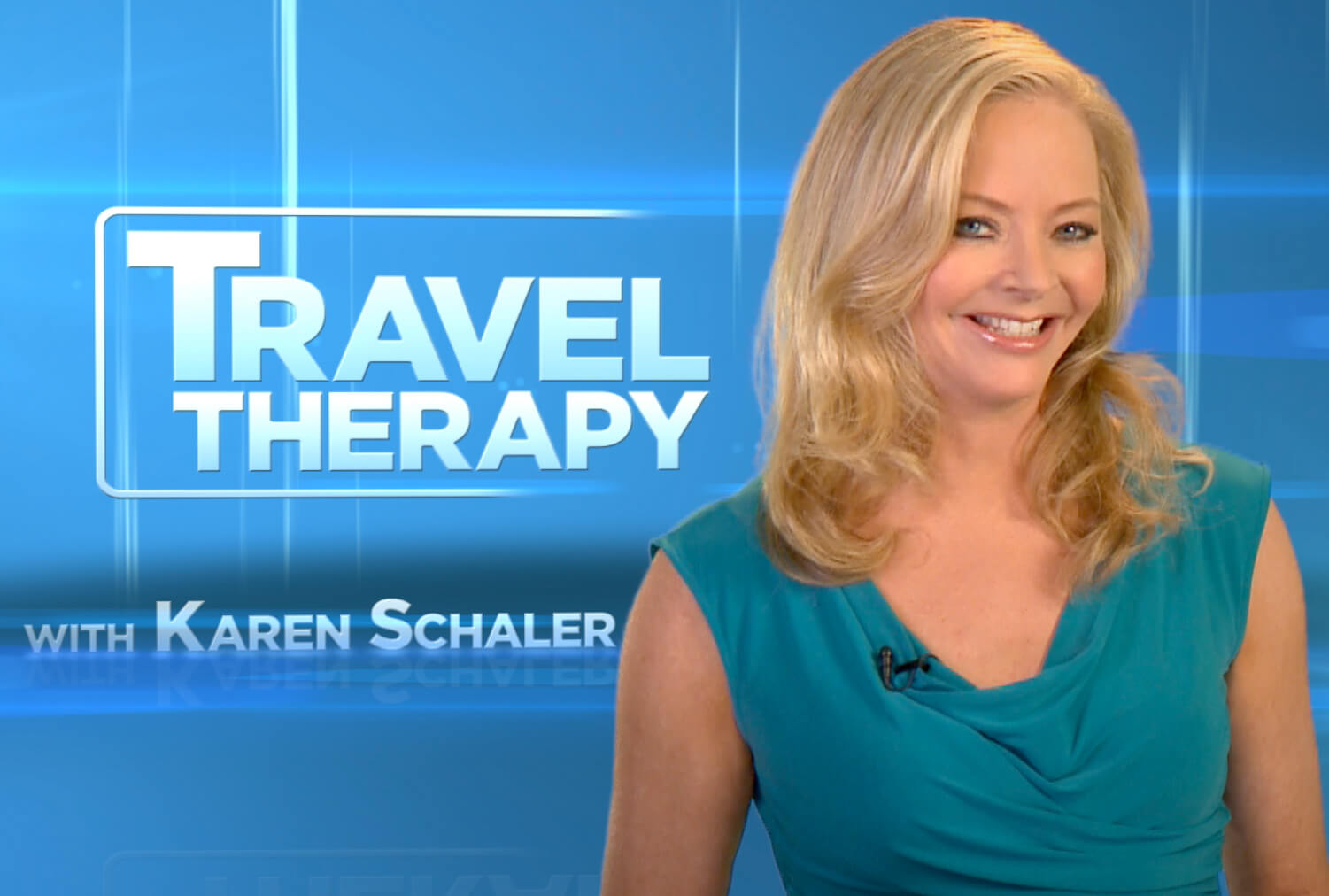 A timely new survey shows that 44% of those surveyed lost their tempers and one-third have even YELLED at a stranger during past trips. This new survey from Homewood Suites by Hilton and Home2 Suites by Hilton showed that one of the best ways to relieve the stress of holiday travel is to not stay with relatives. Also, 46% of respondents noted they purposefully spent time somewhere else instead of meeting with relatives soon.
Fortunately, we have the perfect expert with time timely advice on how to reduce the stress of traveling. Karen Schaler has traveled to more than 60 countries as the author of the empowering book Travel Therapy: Where do you need to go? She's also hosted a national travel show on ABC called TRAVEL NOW and has made appearances on the Today Show, MSNBC, Fox and Friends and dozens of national media where she helps vacation-starved consumers choose the best trips "based on what you're going through in life." Find out why American's simply aren't taking their vacation days because of travel stress, and what they can do to reduce travel-related stress.
ABOUT KAREN SCHALER:
Three-time Emmy award-winning national TV host/correspondent, Karen Schaler, is the creator and host of the TRAVEL THERAPY TV segments seen across America on top ABC, NBC, CBS, FOX and CW stations on OK! TV and on ABC in New York City, on WABC-TV, during Good Morning America Weekends and Rachael Ray.
After several years of hosting ABC's national travel show and traveling to more than sixty countries Schaler launched her own inspiring and empowering TRAVEL THERAPY TV segments featuring top trips to take based on what you're going through in life inspired by her groundbreaking travel book TRAVEL THERAPY – Where Do You Need to Go?
Schaler's TRAVEL THERAPY video series has also been named one of AOL's Featured Partners for providing premier travel & lifestyle content on AOL and Huffington Post where the Travel Therapy videos are syndicated to more than 200 editorial outlets around the world. Look for the Travel Therapy logo & link to the video series on AOL's travel pages.
With more than a decade of national and international TV reporting, hosting, anchoring, producing and writing experience, Schaler is sought after lifestyle and travel expert, spokesperson and keynote speaker and has appeared on top network television and radio shows including: NBC's Today, Good Morning America, Fox & Friends, Inside Edition, Fox's America's News HQ, ABC News Now, MSNBC's Countdown, CNN, Martha Stewart Living Radio and the BBC.
WWW.HOMEWOODSUITES.COM
WWW.HOME2SUITES.COM
HOME IMPROVEMENT EXPERT DANNY LIPFORD SHARES EASY TIPS ON HOW TO GIVE YOUR HOME A HOLIDAY FACE-LIFT
The flights have been booked and there's no turning back- your home is the host for this year's holiday festivities. There is no better time than now to make your home a holiday haven for your guests all season long. The feeling can be overwhelming but it doesn't have to be!
From quick cosmetic fixes in your bathroom to unfinished projects your kitchen; you can get it all done and still have time to kick back, relax and enjoy the time with your friends and family. Home Improvement Expert Danny Lipford is here sharing his most simple and inexpensive ideas to help you improve your home for this holiday season and all year round!
Danny Lipford is a veteran remodeling contractor and television personality known to audiences as Host of the Emmy-Nominated and nationally-syndicated home improvement TV and radio shows: Today's Homeowner with Danny Lipford. Danny served as the home improvement expert for CBS's The Early Show and The Weather Channel for more than a decade, and has made more than 160 national television appearances. Danny has been a longtime contributor to Better Homes & Gardens Magazine and BHG.com, and is a source for hundreds of other popular magazines and websites each year.
WWW.TODAYSHOMEOWNER.COM
BILL RANCIC TEAMS UP WITH INTUIT QUICKBOOKS TO HELP SMALL BUSINESSES SUCCEED & TO ANNOUNCE TOP FINALISTS OF A BIG GAME CONTEST
What makes a small business successful? It's a question facing many Americans, since small businesses are the lifeblood of the US economy. In fact, small businesses have delivered 60 percent of net new jobs since the end of the recession in mid-2013. Despite this, one in two small businesses fail in the first five years, and two of three fail in the first ten. That's why entrepreneur Bill Rancic is teaming with Intuit QuickBooks to provide help, encouragement and a formula for success for small businesses. On November 13th, Rancic will discuss an exciting campaign designed to show small business owners how to achieve their goals. He'll also cite some great examples of several small businesses that were chosen from thousands who entered and are finalists in a special contest to win a free 30-second ad worth millions that will air during the biggest game of the year. Your viewers and listeners will enjoy hearing the amazing stories of these unique small businesses. For more information, visit:
smallbusinessbiggame.com
.
Nearly a decade ago Bill Rancic burst onto the scene as the first-ever winner of the hit show, The Apprentice. Rancic is the author of the best-selling books, "You're Hired: How to Succeed in Business and Life" and "Beyond The Lemonade Stand." Bill and his wife Giuliana also co-authored the best-seller, "I Do… Now What" where the duo share secrets to everlasting love and understanding. Rancic has also hosted a nationally-syndicated television show, "America Now." He and Giuliana also star on the top-rated reality show, "Giuliana and Bill," as well as sharing hosting duties for a prime time program, "Ready for Love."
ABOUT BILL RANCIC:
Award-winning personality Bill Rancic hosts the successful nationally-syndicated television show, America Now, and serves as co-executive producer with his wife Giuliana Rancic on the top-rated reality show, Giuliana and Bill. The duo will also share hosting duties for the upcoming NBC prime time program Ready for Love, scheduled to debut in December 2012.
Bill's unique life experiences as an entrepreneur, best-selling author, television personality and restaurateur of the popular Chicago restaurant RPM-Italian chain have given him the opportunity to travel the world and experience different lifestyles and numerous cultures.
Nearly a decade ago, Bill burst on the scene as the first-ever winner of the NBC hit show The Apprentice. With tremendous experience that ranges from Main Street to Wall Street, Bill has had a first-hand look at peoples' personal and professional codes, choices, values and behaviors. Addressing the many challenges individuals face, Bill directly relates his discussions to the corporate arena and explores important topics, such as working professional relationships and surviving the daily ethical challenges in business.
A published author of New York Times best-selling book, Bill wrote You're Hired: How to Succeed in Business and Life and Beyond The Lemonade Stand, Most recently Bill and Giuliana co-authored the best-seller I Do… Now What where the duo share secrets to everlasting love and understanding.
Bill believes that it is necessary for successful people to give back to the community, and he demonstrates this in his volunteer work. He serves as a national spokesperson for the Starkey Hearing Foundation (SHF) to help the organization on its mission to change the social consciousness of hearing and health care. Much of his efforts have been focused on helping those in Haiti after the devastating 2010 earthquake. In addition to SHF, Bill is a Spokesperson for the Mercy Home for Boys & Girls, a Chicago-based organization that betters the lives of children and families in need.
Throughout his career, Bill has been blessed with opportunities to meet many leaders in business and politics and has seen the world through the eyes of others. He is a cultured man, with strong messages of leadership, entrepreneurship, dedication and volunteerism.
SMALLBUSINESSBIGGAME.COM