DUGGAN MCDONNELL - AUTHOR OF DRINKING THE DEVIL'S ACRE: A LOVE LETTER FROM SAN FRANCISCO AND HER COCKTAILS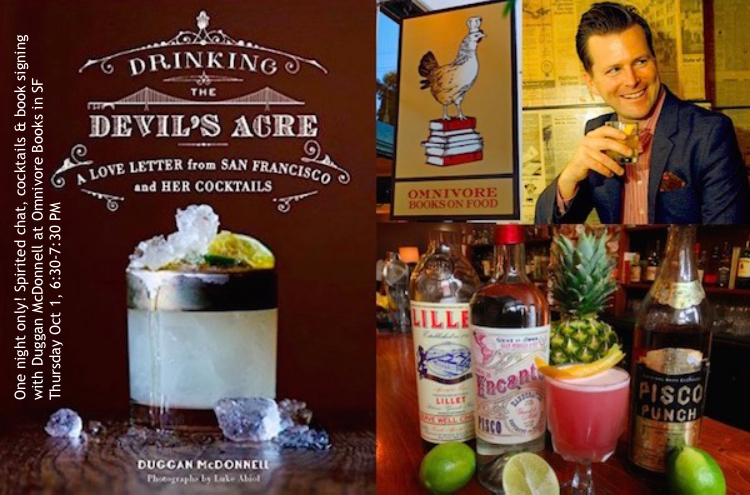 During the 1870s and '80s, the Devil's Acre was a single, bar-filled block within San Francisco's infamous Barbary Coast that boasted the wickedest, wildest saloons in America. A few short blocks away, marble-floored drinking palaces poured the high art of the cocktail. From this, San Francisco's electrifying nightlife was born and a few generations later, the city's farm to glass cocktails have never tasted better.
Quench your thirst with these tales and recipes from a city devoted to drink. Duggan McDonnell (part culinary anthropologist and part whimsical professor) masterfully weaves essays on prominent spirits, insights into San Francisco's historic love affair with amaro, and recipes for his Bartender's Secret Formulas together with 25 iconic cocktail recipes made famous by the City by the Bay, from the legendary Pisco Punch and the ingenious Mai Tai, to the Gold Rush era Sazerac and the more modern day Lemon Drop. An additional 45 recipes show the evolution of these classic elixirs over time, resulting in such liquor-splashed favorites as The Revolver and The Last Word.
Through the lens of the Devil's Acre, we see that San Francisco is and always will be one long, unending romp of bottles popping—a party to which the whole world is invited.
Duggan McDonnell is a barkeeper, distiller, winemaker, educator and community organizer. A true champion of the cocktail, Duggan teaches regularly at the Culinary Institute of America at Greystone, Tales of the Cocktail in New Orleans, the California Historical Society, for the U.S. Bartenders Guild, and many more. He is the co-founder and C.E.O. of Campo de Encanto Pisco, and lives in San Francisco, California.
Luke Abiol is a photographer and creative consultant based in San Francisco. He has collaborated with the likes of Nike, Wallpaper, Monocle, Stone Island, BMW, and Freunde von Freunden. When he's not photographing or consulting on creative projects, Luke spends his time making books and cooking big meals for his beautiful wife and four children.