"FUELED UP" GAME DAY DISHES & TAILGATING TREATS WITH CHEF SUZANNE CLARK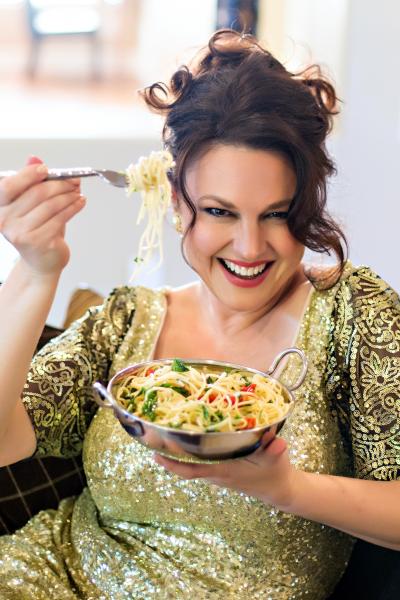 Lifestyle expert Suzanne Clark is on hand to show/tell the most fabulous "fueled up" game day dishes & tailgating treats! Suzanne will walk listener's (whether football fans or foodies) through easy and creative recipes to please the crowd!
The Chevron Game Day Chef Challenge
Suzanne will also be on hand to discuss The Chevron Game Day Chef Challenge… inviting your listener's to compete for a grand prize of $25,000 in Chevron gift cards. The Game Day Chef Challenge is a cooking contest where fans can submit their go-to game day recipe that includes one or more ingredients purchased from a Chevron or Texaco station – Ingredients from a gas station? Yes… it gets very creative!
Suzanne can even discuss her winning dish - Fueled Up Game Day Crispy Chicken Sandwiches using ingredients from a gas station: Sprite, buttermilk, bbq, peach iced tea, dill pickle and honey roasted peanuts!
EXECUTIVE CHEF AT THE HYATT REGENCY MAUI RESORT & SPA GREGORY GROHOWSKI TALKS ABOUT THE LEGEND OF SHEP GORDON SIT DOWN DINNER TO TAKE PLACE AT THE HAWAII FOOD AND WINE FESTIVAL NEXT WEEKEND
Gregory P. Grohowski was born and raised in the Michiana (Southern Michigan and Northern Indiana) area of the Great Lakes Region, Midwest United States. While working as a culinarian through high school and college, Gregory enrolled in Paragon Restaurants Corporation's chef apprentice training program at the Studebaker Mansion and Tippecanoe Place Restaurant (National Historical Landmark). After successfully completing his apprentice program at age 23, Gregory was hired as the head restaurant chef for Paragon Restaurants, Inc., Steak and Seafood Division. During this period, Gregory earned third place in the professional division at the annual "Grand Rapids Chocolate Lover's Festival".
After two seasons in the Mackinac Island, Gregory was offered the position of Assistant Banquet Chef at the Grand Hyatt Kauai Resort and Spa. A few years later hurricane Iniki blew Gregory to the Five Diamond Hyatt Regency Maui Resort and Spa. With the addition of Hyatt Regency Maui, Hawaii, he was awarded the position of Executive Chef for the Five Diamond Wind Star Sail Cruises, a division of Holland American Cruise Line Corporation. During his employment, Gregory worked with nationally recognized Chef/Owner of Los Angeles' Patina Restaurant Group, Joachim Splichal to impletment a new food program for Wind Star Cruises. This opportunity took him to some thirty Islands of the Caribbean and the South Pacific Islands of Tahiti, French Polynesia.
Working throughout the Caribbean and Tahiti, French Polynesia, with Wind Star Cruises, Gregory returned to the Grand Hyatt Kauai Resort and Spa where he was appointed to Executive Sous Chef. Overseeing 160 kitchen and stewarding personnel, the kitchens produced some 2500 meals per day. After a four year period Gregory was appointed to the Hyatt Lake Las Vegas resort as the Executive Sous Chef. After the Hyatt Lake Las Vegas Resort and Spa, Gregory was called to the Hyatt Westlake Plaza as the Executive Chef, as well as the Hyatt Regency Monterey to oversee the hotel's food operations. Currently, Gregory has returned to Hyatt Regency Maui as the Executive Chef.
Hawaiian Airlines Presents Legend of Shep Gordon
DATE: Sunday, September 6, 2015
TIME: VIP Reception at 5:00pm
TIME: General Entry & Dinner at 6:00pm
LOCATION: Napili Garden at Hyatt Regency Maui Resort and Spa
PRICE: General $250 | VIP $500
From managing the careers of prominent musicians such as Alice Cooper to celebrity chef, Emeril Lagasse, Shep Gordon has more than earned a documentary movie about himself. Supermensch: Legend of Shep Gordon was produced in 2013 by Mike Meyers to honor a kind and gentle soul who has coached, counseled, supported and helped many of his friends in the entertainment business. Mensch means gentleman in Yiddish. To celebrate his life and achievements, the Festival honors Shep with a six-course dinner created by six of his chef friends at the Hyatt Regency Maui Resort and Spa.
WWW.MAUI.HYATT.COM
WWW.HAWAIIFOODANDWINEFESTIVAL.COM