DONNA KALEZ - GM OF DANA WHARF WHALE WATCHING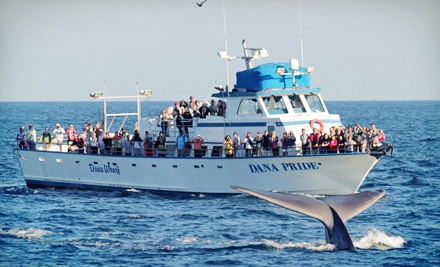 The Original Whale Watching Company in Orange County
Dana Wharf Whale Watching began in 1971 and was the first whale watching company in Orange County. We are the premier year-round whale watching facility in Southern California if you are coming to Whale Watch you want to do it from Dana Point with Dana Wharf the pioneers of the industry. We interact with over 1000 whales during the Gray whale migration in the winter and view hundreds of 90 feet Blue whales in the summer. In addition to whales, thousands of dolphins, sea lions, sea faring birds and even shark are found year-round in our waters, so we always have plenty of wildlife to see. We are also home to the original Dolphin Stampede video.
Whale watchers off the coast in Dana Point, California are having an absolute blast watching blue whales, humpback whales, minke whales and pods of dolphins this summer. On their daily whale watching excursions, Dana Wharf Whale Watching has treated passengers to some truly amazing sights. The water life has been especially active so far this summer. They've even seen humpback whales breaching which is a rare sight in California.
Summer is when the huge blue whales are plentiful off the coast of Dana Point. Between June and October, Dana Point has more blue whales than anywhere on earth. Blue whales are the largest known animal to have ever lived. They are a rare and amazing sight, not to be missed.
Dana Wharf Whale Watching features special discounts daily after 4pm for 2 hour whale watching trips for $29, half-price Tuesdays for all trips for $22.50, seniors ( 55+) can whale watch any time for $35 and kids are always discounted at $25 – the lowest price for kids available anywhere.
DANAWHARF.COM
BILL YATES - GM, RUTH'S CHRIS ANAHEIM NATIONAL FILET MIGNON DAY
Ruth's Chris Steak House is a chain of 136 steakhouses across the United States and in several international locations. The restaurant is regarded as an upscale fine dining establishment, marking a gradual elevation in its status since its founding in the 1960s.[3] Ruth's Chris is currently the largest luxury steak company in number of locations, operating income, and overall profit, larger than The Palm and Morton's.
MENU
The restaurant's signature is serving USDA prime steaks that are seared at 1800° Fahrenheit (982.2 °C) and served on ceramic plates heated to 500° Fahrenheit (260.0 °C). Half an ounce (1 Tbsp) of butter is added just before the plates leave the kitchen in order to create the signature 'sizzle'. Ruth Fertel firmly believed that the success of her steaks was due as much to the sound and smell of the 'sizzle' as well as the taste. "You hear that sizzle, and you think, 'I wonder if that's my steak'", she commented in an interview shortly before her death.
In addition to steaks, the restaurant also serves entrees of chicken, lamb, fish, shrimp and lobster.
Portions generally are large enough to serve two or more diners. Family style side dishes include au gratin potatoes, topped with a bechamel sauce and Cheddar cheese. Some recipes, such as the BBQ shrimp, New Orleans style creamed spinach or the sweet potato casserole, are traditional 19th century Louisiana recipes that originate with Ruth Fertel's family, particularly her great-uncle Martin, a Louisiana Delta farmer from a French-Alsatian family. Some of these recipes have been made publicly available by the family and by the company.
Also available are dessert selections, with the restaurant's signature creme brulee being a staple item throughout the chain.
In 2009, Ruth's Chris introduced their "Ruth's Classics" menu of prix fixe meals where guests choose a three-course meal; starter, entree and side, and dessert. This menu is updated seasonally every three months.
BEVERAGES
The award-winning wine list includes over 200 wines, primarily from leading Californian vineyards such as Mondavi, Beringer and Stag's Leap. 25 or more wines are available by the glass, depending on location.
The seasonal vintage-inspired cocktail selection, introduced in 2011 by Beverage Director Helen Mackey, includes both classic and contemporary hand-crafted cocktails.
WWW.RUTHSCHRIS.COM
HAPPY NATIONAL FILET MIGNON DAY
Filet mignon is the star of the show on August 13 as people across the country annually celebrate National Filet Mignon Day.
•
Filet mignon is French for "cute fillet" or "dainty fillet".
•
In French, filet mignon may be called "filet de boeuf", which translates to beef fillet in English.
•
When found on a French menu, filet mignon may also refer to pork rather than beef.
Usually from a steer or heifer, a filet mignon is a steak cut of beef taken from the smaller end of the tenderloin of the beef carcass.
The tenderloin from which the filet mignon comes from, is the most tender cut of beef and is also considered the most desirable and therefore the most expensive.
Filet mignon is commonly cut into 1 inch to 2 inch thick portions, grilled and then served as is. When found in grocery stores, filet mignon is already cut into bacon wrapped portions. The usual method for cooking the filet mignon is to cook it on high heat by either grilling, pan frying, broiling or roasting. Restaurants may sometimes prepare the fillets served in a cognac cream sauce, au poivre with peppercorns or in a red wine reduction.
Due to the low levels of fat found in the fillets, bacon is often used in cooking. The bacon is wrapped around the fillet and pinned closed with a wooden toothpick. Flavor is added from the bacon and this process keeps the fillet from drying out during the cooking process.
CELEBRATE
Enjoy a nice evening with a delicious filet mignon meal, together with friends and family. Use #NationalFiletMignonDay to post on social media.