THE WING KING DREW CERZA, FOUNDER OF THE NATIONAL BUFFALO WING FESTIVAL JOINS THE SHOW FOR NATIONAL CHICKEN WING DAY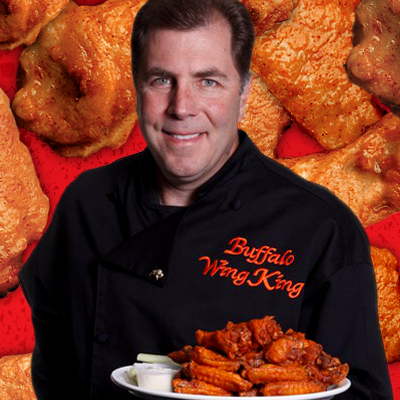 WING KING DREW CERZA IS CHANGING THE WAY BUFFALO IS VIEWED, ONE CHICKEN WING AT A TIME.
Drew's "hottest" moment to date came in 2007 when he edged out Bobby Flay in a "Chicken Wing Throwdown" on the popular Food Network show. Since then, he has become the wing ambassador for this American food icon. In 2003, Drew was named a "Buffalo Citizen of the Year" and in 2011, the "Tourism Executive of the Year." He travels the country in search of unique wings that capture the local flavor of different regions.
The "Wing King" has been featured on many media outlets including the Food Network's "All-American Festivals," "Unwrapped," and "Emeril Lagasse Live;" the Travel Channel's "Bar Food Paradise," "Taste of America," and "Food Wars;" NBC's "The Today Show," ABC's "The View" and "Regis and Kelly;" CBS' "Morning Show;" FOX Network's "Fox and Friends;" PBS and the BBC.
NATIONAL CHICKEN WING DAY CELEBRATED ANNUALLY ON JULY 29
Whether you like them hot and spicy, sticky sweet or plain Jane and whether your prefer them served with blue cheese, plum sauce or celery sticks, chicken wings have to be the most versatile protein on the planet. Americans have been attesting to this fact, gobbling up wings by the boat-load with more than 27 billion eaten in 2013 and 1.23 billion wings consumed during Super Bowl weekend alone. That's over 100-million pounds of wings. To give you some idea of what that looks like picture the chicken wings laid out end to end -- they'd circle the perimeter of the Earth not once but twice!
CHICKEN WING HISTORY
Buffalo, New York lays claim to the birthplace of the chicken wing and that's why they are often called Buffalo wings as well. The story goes that Teressa Bellissimo created chicken wings at the Anchor Bar, which she owned with her husband Frank, when her son Dominic and some of his college friends decided they wanted a late night bite to eat. She wanted a fast and easy dish so she deep-fried some chicken wings, which in 1964 were usually reserved for soup stock. She tossed them in butter and hot sauce. Naturally, they were an instant hit. The Bellissimos weren't the first Buffalo restaurateurs to realize the potential of chicken wings. John Young had opened Wings'n Things on Jefferson Avenue in 1963. But his wings were breaded and dressed in a tomato-based sauce.
The Anchor Bar's chicken wing recipe turned out to be irresistible to customers and competitors. Other restaurants in town started catching on. Duff's, in Amherst, started selling them in 1969. A few years later, the City of Buffalo declared July 29 Chicken Wing Day and in its proclamation proudly noted that "thousands of pounds of chicken wings are consumed by Buffalonians in restaurants and taverns throughout the city each week."
The name Buffalo is commonly applied to foods other than wings, including chicken fingers, shrimp and pizza that are seasoned with the Buffalo-style sauce or variations of it. A common variation on the buffalo sauce flavor is found in potato chips, many of which also incorporate a blue cheese flavoring to simulate the complete Buffalo wing experience. Today, there are many flavors of prepared wings available, besides the original hot Buffalo style. Flavors include barbecue, lemon pepper, pepper Parmesan, garlic, sweet-and-sour, and honey mustard. Since the first introduction, restaurants have introduced hundreds of different flavors of chicken wings.
WWW.BUFFALOWING.COM
NATIONAL BUFFALO CHICKEN WING FESTIVAL! LABOR DAY WEEKEND, SEPTEMBER 5TH & 6TH 2015
Location:
Coca-Cola Field
275 Washington St.
Buffalo, NY 14203
Ticket Info:
Admission Tickets
$5 per day
Children 8 and under are free. Tickets are available at the gate.
WWW.NATIONALCHICKENWINGDAY.COM
ONE OF THE NATION'S TOP HEALTHCARE EXPERTS, DR. GARTH GRAHAM PROVIDES TIPS TO PLANT THE SEEDS FOR GROWING GOOD EATING HABITS
According to the CDC, your zip code is a greater predictor of your health than your genetic code. It can impact access to healthy foods and your ability to stay active. While many families enjoy the summer months as a time to unwind, millions living in underserved communities struggle to feed their families healthy meals and keep their kids active without the help of school-provided meals and activities.
This summer, Dr. Garth Graham, cardiologist and president of the Aetna Foundation, is providing easy tips that all families can use to stay healthy during the summer and throughout the year. Dr. Graham is working to promote nutrition and physical activity, enhance health equity and advance innovations that enable better health. He's is available to share his expertise and tips to listeners to help them access and locate healthy and nutritious meals and stay active this summer in the your area.
TIPS FOR KEEPING CHILDREN HEALTHY DURING SUMMER MONTHS:
FIND YOUR LOCAL FARMER'S MARKET – Convenient access to the right tools is key to maintaining a healthy lifestyle, and many farmer's markets accept SNAP. The USDA National Farmers Market Directory is a great place to start.
FIND A GARDEN IN YOUR NEIGHBORHOOD – The American Community Gardening Association is a great resource to find a community garden near your home.
GET YOUR KIDS INVOLVED – Get your kids excited about eating fresh fruits and vegetables by taking them to the market with you and allowing them to pick out new produce to try. Also, getting your kids to help you grow a garden is also a great way to get them moving.
GET OFF THE COUCH – Even when kids are escaping the heat inside the house, introduce activities that encourage movement, such as with video games with virtual dancing or sports.