ROBERT STURM - FOOD DESIGNER SAYS MEN DON'T HAVE TO GIVE UP 'MAN FOOD' TO BE HEALTHY
Food Designer Says Men Don't Have to Give Up 'Man Food' to Be Healthy, Chef Robert Sturm shares about transition into healthy living through 'The Daniel Plan'!
From Outback's "Blooming Onion" to McDonald's "McRib," Chef and Food Designer Robert Sturm has done is it all. But after years of designing food for some of America's most prominent restaurant and fast food establishments, he's decided to help out the everyday man.
In 2011 at Pastor Rick Warren's Saddleback Church, Sturm began to participate in "The Daniel Plan," a 40-day lifestyle movement dedicated to becoming physically, mentally and spiritually healthy, focusing on five key essentials: faith, food, fitness, focus and friends. The plan was such a success that Saddleback's members lost a collective 260,000 pounds, and Chef Sturm has lost over 35.
After personal success with the plan, Sturm's new passion for healthy eating has had a tremendous impact on his life, family and other men at his church. Now a reformed gourmet food-a-holic, Sturm is a contributing chef to "The Daniel Plan Cookbook" and is available to offer assistance in making "manly" food without the health risks.
Robert Sturm is one of California's premier chefs and food designers and has been in the food industry for over 30 years. Sturm was trained at the Culinary Institute of America. He serves as the corporate chef for Rose and Shore and is an independent consultant for the food industry in Southern California. Sturm is the three-time winner of the U.S. Chef's Open, a past gold medal member of the U.S. Culinary Olympic Team, and represented the United States in the World Cup Ice Sculpting Championships in Asahikawa, Japan, winning a gold and a bronze medal. He has been featured in many publications, appears on television and radio, and has been a featured chef at the United Nations, the White House, and the Kremlin. Sturm is a Daniel Plan Chef and a contributing author to "The Daniel Plan Cookbook."
CHEF MIKE LOFARO OF HUMUHUMUNUKUNUKUAPUA'A AT GRAND WAILEA RESORT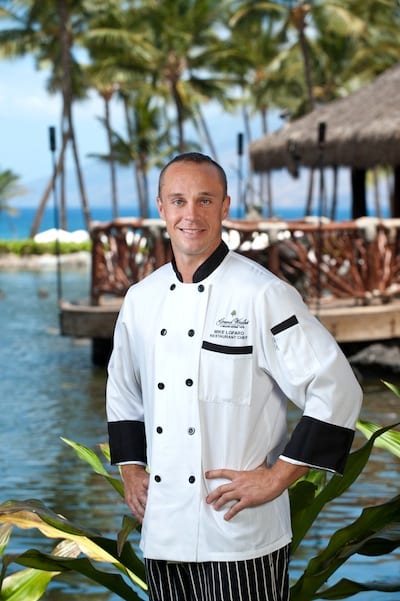 As chef de cuisine at Grand Wailea's prized restaurant, Humuhumunukunukuapua'a (Humu,) Chef Mike Lofaro thrives on thrilling diners with delicious and elegant dishes that focus on his love for the water and what he fondly refers to as his "hunting grounds," the Pacific Ocean.
The waterman chef. Lofaro surfs, paddles outrigger canoe (with a fishing pole perched on the `iako,) stand-up paddles, and spearfishes all before noon when he arrives to his seafood restaurant exhilarated and smelling like the sea. It is this connection with the ocean's fish, lobster, squid or seaweed that inspires his new menu.
The menu highlights seafood: ahi tartare, shiso leaf, ginger lime vinaigrette and soft herbs on a bed of slivered cucumbers; crispy Hawaiian snapper with coconut fried rice, toasted almonds and Thai American sauce; shrimp, pork and hearts of palm dumplings with fine herbs yuzu kosho and pimenton; carpaccio of hamachi, yuzu, Hawaiian chili and celery ginger shaved ice; and the favorite hand-caught Hawaiian spiny lobster or Hawaii island-raised Kona Maine lobster.
Smartly executed to spotlight the main ingredient with simple and balanced flavors, his signature dishes scream the ocean while introducing locally-grown produce such as the Waipoli greens and garden herb salad mixed with `Aina Lani Farm delectables, Meyer lemon vinaigrette and shaved radish. Proceeds from the sale of the salad also support Maui farmers, and that is a story worth tasting. Lofaro and the other resort chefs meet with farmers year round and buy produce grown locally and sustainably to serve in Grand Wailea restaurants and lounges.
There are plenty of options from the land on the menu as well: hoisin and pear braised Kobe short ribs with ginger braised kale, glazed baby carrots, cinnamon and hearts of palm; and brioche and lemongrass crusted rack of domestic lamb served with Asian ratatouille, black bean oyster sauce and broccolini.
The CIA pedigree. Saltwater born and raised, Lofaro grew up in the East Coast on the water with a big Italian family that treasured family gatherings and savory food, and fishing just as much as he does. His father taught him to fish, and they spent many vacations on the water sailing. He describes his mother as an amazing cook and his early influence.
At 14, Lofaro was peeling shrimp in the kitchen of a local seafood restaurant and went on to graduate from the esteemed Culinary Institute of America in Hyde Park, New York. He was executive chef at Mill's Tavern in Providence, Rhode Island where he achieved the distinguished Mobil Four Star Award, and worked with famed chef Michael Mina of Aqua in San Francisco. Mina sent him to Maui to open the first Michael Mina's at Grand Wailea. When that restaurant did not materialize Lofaro stayed on the island, near the water.
In 2014 The Maui News readers' poll named Lofaro "Best Maui Chef" and his restaurant "Best Resort Restaurant".
Lofaro was a private chef and caterer on Maui, shaped custom Hawaiian outrigger canoes, and is raising three sons and a daughter with his wife Elizabeth . . . in the surf.
About Humuhumunukunukuapua'a:
Humuhumunukunukuapua`a is the restaurant that visitors to Hawaii dream about. The romantic thatched-roof, open-air bungalow sits amid a salt water pond teaming with tropical fish swimming near the surface. When you approach, the restaurant seems to be floating and the walk across a suspended plank creates anticipation for an unforgettable experience. Lava rock waterfalls and lit tiki torches create the perfect Hawaiian setting. Situated near the ocean, diners are treated to magical sunsets played out across the Pacific before the night sky is painted with a brilliant celestial show.
GRANDWAILEA.COM
STEVE EVANS - "THE MOVIE GUY"
GREAT MOVIES OPENING THIS WEEKEND AND BOX OFFICE PREDICTIONS AND HOPES. FIND OUT WHAT MOVIES ARE WORTH YOUR HARD EARNED MONEY. GET SET FOR THE WEEKEND.