COUNTRY MUSIC STAR KELLIE PICKLER STARS IN "VEGGIETALES: BEAUTY AND THE BEET"
Beauty and the Beet Puts a Tune-Filled, All-Veggie Spin on a Classic Fairy Tale Starring Country Superstar Kellie Pickler
Take the timeless and enchanting story of "Beauty and the Beast," toss with the unique flavors of VeggieTales and blend in the sweet voice of country music superstar Kellie Pickler – and the result is BEAUTY AND THE BEET, a brand-new VeggieTales musical that premieres Oct. 14 exclusively on DVD and digital download.
Pickler (American Idol, Dancing With the Stars) brings her unmistakable voice to the role of Mirabelle, a sweet-potato singer whose family band is on the brink of superstardom. BEAUTY AND THE BEET blends the irresistible charm and appeal of VeggieTales with a heartfelt message about the importance of unconditional love.
A BEAUTY AND THE BEET companion CD, featuring 10 brand-new songs – including an all-veggie rendition of the classic Christmas carol Deck the Halls – will also be available in stores and on iTunes to coincide with the release of the movie on Oct. 14.
Mirabelle's kindness extends to Finnegan J. Beet, the bitter and lonely owner of a rundown mountaintop resort where Mirabelle's family breaks down en route to their biggest concert ever. Matching the Beet's heartless actions with her own genuinely sweet nature, Mirabelle proves that just as God loves us all whether we deserve it or not, unconditional love is its own reward.
In addition to Mirabelle and Mr. Beet, the zesty supporting cast includes Bob the Tomato, Larry the Cucumber, Jimmy the Gourd, the French Peas and a host of other favorite veggies.
Both the DVD and the CD also include Mac and Cheese, a giddy new "Silly Songs With Larry" segment in which Larry the Cucumber reveals the surprising and heretofore untold history of his family's unexpected contributions to Italian cuisine.
BEAUTY AND THE BEET is just the start of the fun in store this fall for VeggieTales fans, because Bob the Tomato, Larry the Cucumber and their friends will also star in a brand-new Netflix original series, VeggieTales In the House, which premieres Thanksgiving weekend exclusively on the streaming platform.
Kellie Pickler appears on the BEAUTY AND THE BEET soundtrack album courtesy of Black River Entertainment. She grew up immersed in the country life of small town Albemarle, N.C. At age 19, she gained fame as a contestant on "American Idol," followed by a move to Nashville where she has recorded four critically acclaimed albums (Small Town Girl, Kellie Pickler, 100 Proof, and her current album The Woman I Am), performed for fans around the world, and made countless television appearances, including a 2013 win on Dancing with the Stars.
Kellie Dawn Pickler (born June 28, 1986) is an American country music artist and television personality. She gained fame as a contestant on the fifth season of American Idol, and finished in sixth place. In 2006, she signed to 19 Recordings and BNA Records as a recording artist, releasing her debut album, Small Town Girl, later that year. As of 2014, it has sold over 900,000 copies. The album, which was certified gold by the RIAA, produced three singles on the Billboard Hot Country Songs charts: "Red High Heels" at number fifteen, "I Wonder" at number fourteen, and "Things That Never Cross a Man's Mind" at number sixteen. She released her self-titledsecond album in Fall 2008 and has produced the singles "Don't You Know You're Beautiful" at number twenty-one, "Best Days of Your Life" at number nine (which she co-wrote with Taylor Swift and her first Top 10 hit), "Didn't You Know How Much I Loved You" at number fourteen, and "Makin' Me Fall in Love Again" at number thirty. In 2012, she was ranked as the 14th best American Idolalumna.[1] She also parted ways with her former record label. In October 2012, she signed with Black River Entertainment. On May 21, 2013, Pickler and her partner Derek Hough were declared the winners of sixteenth season of Dancing with the Stars.
EMMA SWAIN – CEO, ST. SUPERY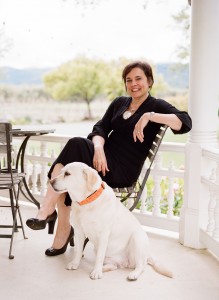 St. Supéry Estate Vineyards & Winery is a family owned, sustainably farmed winery. We are located in the renowned Rutherford growing region in the heart of Napa Valley. Our vineyards and winery are certified Napa Green. We are proud to be recognized for our exceptional Sauvignon Blanc, Cabernet Sauvignon and estate red and white blends. All of our wines are estate grown, produced and bottled.
Emma Swain is the CEO of St Supéry Estate Vineyards & Winery. She received her Bachelor of Science in Agriculture and Managerial Economics from the University of California, Davis and is a Certified Public Accountant. Emma has worked in the wine industry for more than 20 years. She began her career with Niebaum-Coppola Winery and served as the Chief Operating Officer at Sebastiani Vineyards prior to joining St. Supéry Estate. Emma currently serves as a board member for the Napa Valley Vintners, as well as serving on multiple sub-committees. Emma also volunteers locally with a number of environmental, educational and health-based charities. She is an avid runner and has several half marathons under her belt of accomplishments.
CHECK OUT THE WEBSITE FOR UPCOMING EVENTS:
WWW.STSUPERY.COM